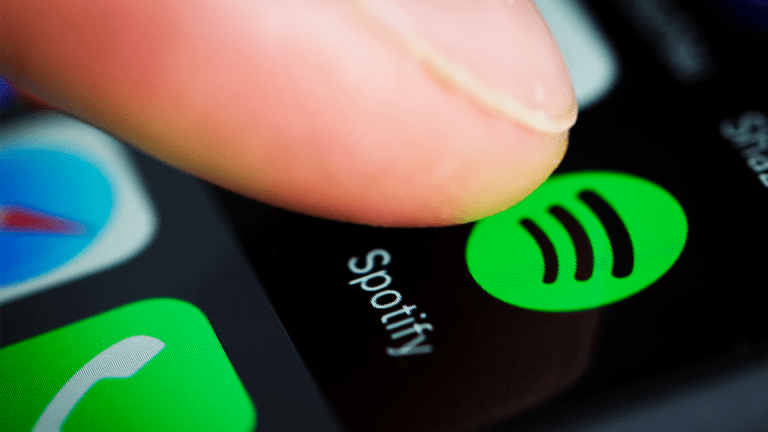 As Spotify Nears Its IPO Tuesday, There's Some Good News and Some Bad News
The online music giant is forecasting strong revenue and subscriber growth. But it also expects substantial operating losses and limited margin growth.
Ahead of its unusual IPO, Spotify's (SPOT) - Get Free Report guidance provides reasons to be both optimistic and concerned about the online music leader's financial prospects. 
On Tuesday, Spotify will be going public through a direct listing. No new shares will be sold. Rather, 55.7 million existing shares (over a quarter of Spotify's outstanding shares) will become eligible for sale. There are no IPO underwriters, but Goldman Sachs, Morgan Stanley and Allen & Co. have been hired as advisers.
Trades on private markets have given the company a valuation as high as $26.5 billion, after accounting for outstanding stock options, warrants and restricted stock units (RSUs).
Few of the investor concerns voiced about Spotify in the run-up to its IPO have been about its subscriber growth. That growth has remained pretty strong in the face of intensifying competition from Apple (AAPL) - Get Free Report  and (to a lesser extent) others.
Nor has it been about how beloved Spotify's services are with its user base, given the impressive user-engagement figures it has shared.
Rather, the concerns have mostly revolved around Spotify's long-term profitability and margin profile, given the nature of its deals with top music labels as well as its large marketing and R&D investments. The Q1 and full-year guidance that the online music leader issued on March 26 doesn't exactly soothe those concerns, even if it's encouraging in other respects.
This column has been updated from March 26 to provide details about Spotify's direct listing.
The Good News
Spotify forecasts its revenue will be up 22% to 27% annually in Q1 to €1.1 billion to €1.15 billion ($1.37 billion to $1.43 billion), and 20% to 30% in 2018 to €4.9 billion to €5.3 billion ($6.1 billion to $6.6 billion). That implies sales growth will decelerate meaningfully from a 2017 level of 39%. But it's worth keeping in mind that Spotify expects a strong euro to have a €260 million to €300 million impact on full-year sales. On a constant-currency basis, Spotify is guiding for 26% to 37% growth.
Premium subs, which grew 46% in 2017 to 71 million, are expected to reach a range of 73 million to 76 million in Q1, and a range of 92 million to 96 million by year's end. By comparison, Apple Music had 38 million paid subs earlier this month. The company's efforts to expand its global footprint will likely play an important role here; Spotify recently launched in Japan, South Africa and Indonesia, and has plans to launch in India and Russia.
The guidance implies Spotify's monthly average revenue per user (ARPU) for paid subs, which was at €5.32 ($6.63) last year, will keep declining due to a mix shift towards Family and Student plans. But the company had already signaled as much.
Spotify is also forecasting healthy user growth for its ad-supported services: Total monthly active users (paid plus ad-supported) are expected to grow 26% to 32% this year to a range of 198 million to 208 million. With Spotify claiming about 60% of its gross subscriber adds in recent years have been former users of its ad-supported services, these services act as a valuable customer-acquisition channel.
The Bad News
In spite of strong revenue growth and recent margin improvement, Spotify is forecasting a full-year operating loss of €230 million to €300 million ($286 million to $374 million). That's improved from a 2017 operating loss of €378 million ($471 million), but still nothing to sneeze at for a company that had just €477 million ($594 million) in cash at the end of 2017 and -- since it's doing a direct listing -- won't be raising any funds through its IPO. Big operating expense increases are presumably a major culprit; Spotify's opex rose 64% last year to €1.23 billion($1.53 billion).
It's quite likely that Spotify's 2018 free cash flow (FCF) will be better than its operating loss. With the help of deferred subscription revenue growth, low capex and accruals for owed licensing and payroll tax payments, Spotify produced €109 million ($136 million) in FCF last year. However, for now, the company isn't providing any 2018 FCF guidance.
Likely to worry some investors: After seeing its gross margin (GM) grow from 14% in 2016 to 21% in 2017, and reach a level of 24.5% in Q4, Spotify is only guiding for a full-year GM of 23% to 25%. Clearly, the strong margin growth Spotify delivered last year thanks to revised deals with top labels was a one-off event.
The company argues its ability to offer data-driven services for artists that help them connect with and grow their fan bases offers a path to margin expansion, even if its deals with music labels don't improve further. But this is very much a wait-and-see story for now. Meanwhile, the fact that Spotify's licensing deals are typically renegotiated every two years adds a dose of uncertainty to its long-term margin outlook -- particularly since the tech giants Spotify is competing with could provide the labels with some negotiating leverage.
The Big Picture
Spotify is clearly doing a lot right when it comes to revenue, user and subscriber growth. And it's also creating a highly engaged user base and leveraging the plethora of listening data it has to both enhance the user experience and offer new services for creators. But that doesn't necessarily mean the company merits the $25 billion-plus valuation it has received in some private trades. Relative to Dropbox (DBX) - Get Free Report , which could pair solid revenue/subscriber growth with a near-70% GM and substantial FCF, Spotify's financial story is pretty messy.
Between heavy opex growth -- needed to stay a step ahead of rivals and keep subscriber growth strong now that a lot of "easy sells" have already been signed up in the U.S. and Europe -- and the margin pressure exerted by its music deals, it remains an open question just how much cash flow Spotify will produce over the long run. And that's especially true given that it's competing against tech giants who are able to keep their marketing and cloud infrastructure expenses down, can absorb short-term losses for their music services without flinching and who in some cases are bundling their subscription music services with unique video content or services.
Throw in the fact that Spotify has registered to make over a quarter of its outstanding shares eligible for sale following its direct listing, and its shares could struggle to trade at the kind of valuations they've seen on private exchanges.
Apple is a holding in Jim Cramer'sAction Alerts PLUS Charitable Trust Portfolio. Want to be alerted before Cramer buys or sells AAPL? Learn more now.