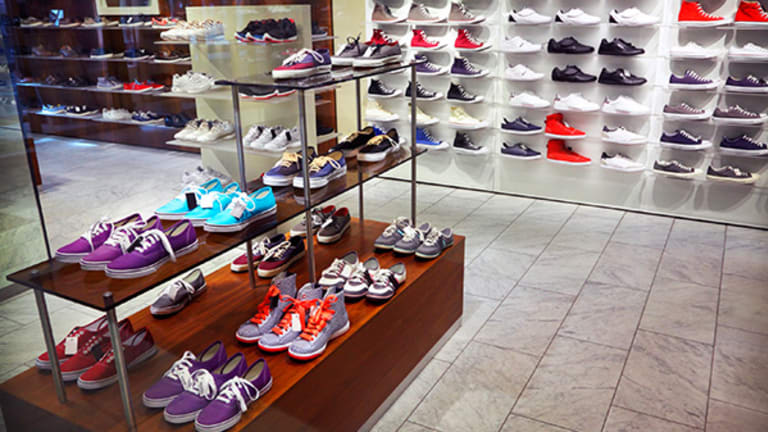 Sports Direct Stock Pounded on Profit Slump, Brexit Woes
The British sports retailer reported a 57% decline in underlying profits and will suspend its share buyback program.
Sports Direct (SDISY)  shares fell sharply Thursday after the British sports retailer said first-half profits plunged and warned that full-year results will be at the lower end of expectations.
First-half results revealed profits fell 57% to £71.5 million ($90.7 million) and the company warned that earnings before interest, tax, depreciation and amortization will be at the lower range of expectations for the full year. In October, it warned that full-year profits could be £15 million lower than expected.  The company also said that it will pause its £90 million share buyback announced in late July.
Shares in the group fell 8.3% to 289 pence by 10:00 a.m. GMT, extending the year-to-date decline past 48%.
The beleaguered British sporting goods store has come under fire for a series of failings this year, including its treatment of workers, who are said to be paid well below minimum wage.
A television documentary called its distribution center a "sweatshop," its executives have faced questions in a public hearing led by U.K. lawmakers, and both its CEO and CFO have resigned.
"The group is currently facing a number of strategic challenges across its business model and operations, and currency headwinds, which we expect to continue to adversely impact financial performance over the medium term," the company said. It expects that amortization and depreciation costs will increase by about £130 million for the year.
The company said gross margins have been "significantly impacted by unfavorable movements" in the pound. Overall, gross margin fell by 40.4% due to the 19% fall in the pound since the Brexit vote in late June and the requirement to for an increase in provisions for slow-moving stock.
Sports Direct said that it was evaluating its proposition and is "aiming to be the 'Selfridges' of sports retail in the medium to long term."
Sports Direct said that it will be taking delivery of a corporate plane in the coming weeks. It also has a corporate helicopter.
The company has seen severe public relations headwinds due to perceived failings in its corporate governance structure.
The company's practices were also the subject of a parliamentary investigation earlier this year. The Business, Innovation and Skills committee of lawmakers also called for a review of the working practices and corporate governance at Sports Direct.
Last month, a parliamentary select committee made a surprise visit to the company's distribution plant in Shirebrook, England, and accused it of covertly attempting to record their private conversations.