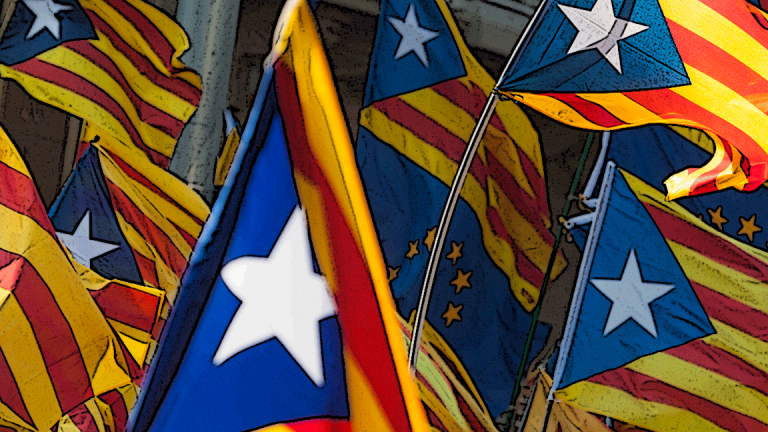 Spain's Ibex, Banks Fall as Catalan and Spain Showdown
Catalan parliament formally proposes independence as Spain votes to take direct control of the region.
The Catalonia parliament Friday formally proposed a declaration of independence as the Spanish senate votes on taking direct control of region in the country's worst political crisis in decades.
Spain's main market the Ibex 35 was down 1.02% to 10,242.4 as the crisis between the government and the autonomous region comes to a head.
The ruling party of the Catalan parliament, Junts pel Si, put forward the motion, which reads, "we shall constitute the Catalan Republic as an independent, and sovereign, democratic and social state of law."
The move comes as the Spanish senate vote on implementing Article 155, which will see the pro-independence government in Catalan removed. By ratifying the measure, Madrid will be allowed to take control of the region's budget, police and state-run media.
"Catalans must be protected from an intolerant minority that is awarding itself ownership of Catalonia, and is trying to subject all Catalans to the yoke of its own doctrine," Spain's Prime Minister Mariano Rajoy told the senate Friday, adding that the government had "no other choice" but to adopt the "exceptional measures."
CaixaBank (CAIXY) was marked 3.12% lower, changing hands at €3.82, extending a more than 11% loss over the past month. Banco Bilbao Vizcaya Argentaria SA (BBVA) - Get Report was down 2.18% down, extending a 3.71% one-month loss, changing hands at €7.22.
Banco de Sabadell SA (BNDSY) was marked 5.57% lower in Friday afternoon trading to €1.58, extending a 13.55% loss in a month. Meanwhile, Banco Santander SA (SAN) - Get Report lost 1.34% to change hands €5.74.
Sabadell and CaixaBank had already announced that they planned to move their headquarters out of Catalonia to stay within the European Union to maintain regulatory continuity. Staying within the EU gives banks access to the European Central Bank's emergency liquidity funds.
More of What's Trending on TheStreet: