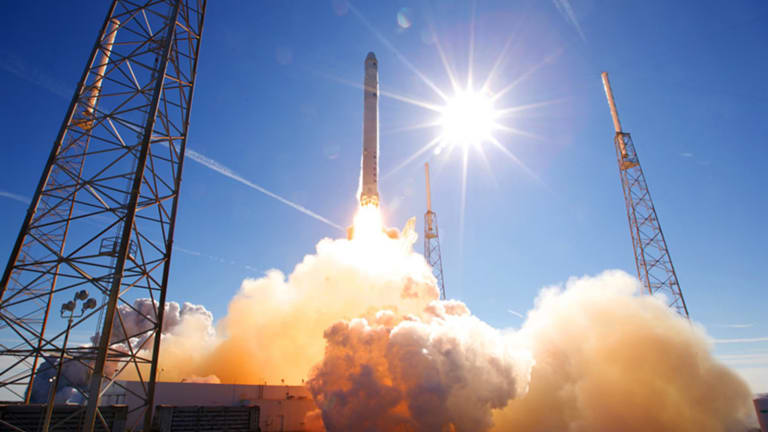 SpaceX Gets Go-Ahead to Compete for National Security Space Missions
The U.S. Air Force announced Tuesday that it has certified Space Exploration Technologies' Falcon 9 rocket to be used for national security space missions.
NEW YORK (TheStreet) -- The U.S. Air Force announced Tuesday that it has certified the Falcon 9 rocket operated by Elon Musk'sSpace Exploration Technologies for national security space missions.
"This is a very important milestone for the Air Force and the Department of Defense," said Secretary of the Air Force Deborah Lee James in a statement. "SpaceX's emergence as a viable commercial launch provider provides the opportunity to compete launch services for the first time in almost a decade. Ultimately, leveraging of the commercial space market drives down cost to the American taxpayer and improves our military's resiliency."
Last year, Musk sued the Air Force, arguing his company should be permitted to compete against the United Launch Alliance, a joint venture between Boeing (BA) - Get Report and Lockheed Martin (LMT) - Get Report. The lawsuit was eventually settled, with the Air Force vowing to work with SpaceX to get it certified to compete for contracts. The Air Force said it invested more than $60 million and 150 people in the certification effort. It encompassed 125 certification criteria, including more than 2,800 discreet tasks, three certification flight demonstrations, verifying 160 payload interface requirements, 21 major subsystem reviews and 700 audits in order to establish the technical baseline from which the Air Force will determine future flight-worthiness for launches.
"This is an important step toward bringing competition to National Security Space launch," said Musk, who serves as both the CEO and the company's lead designer. "We thank the Air Force for its confidence in us and look forward to serving it well."
The first opportunity for SpaceX to compete to provide launch services is expected to be in June, when the Air Force is scheduled to release a request for proposals to launch a GPS satellite.