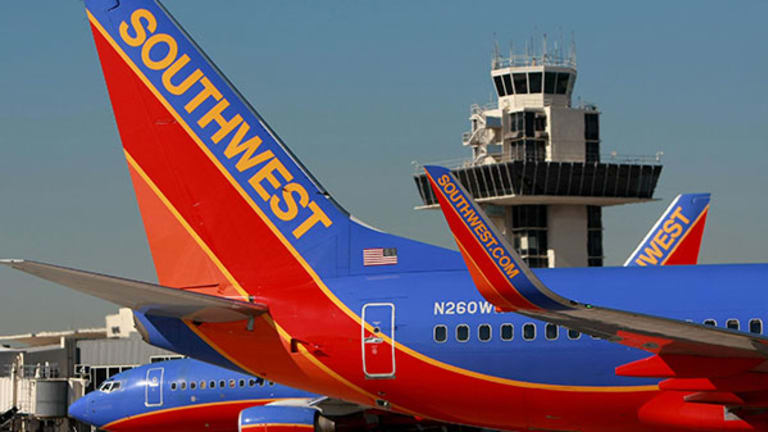 A new report concludes that 46 years after it began flying, Southwest Airlines Co. (LUV) - Get Southwest Airlines Co. Report still has a significant impact every time it enters a new market: Fares decline and passenger traffic climbs.
"The Southwest effect is alive and well," says the report, compiled by Alan Beckenstein, a professor at Darden Business School at University of Virginia, and Brian Campbell, founder of consulting firm Campbell-Hill Aviation Group.
"A few industry writers have questioned whether the Southwest effect still exists today, or has it been overtaken by the fares/traffic effect created by other low cost carriers" and by Southwest's higher operating costs, the report said.
However, it said, "we find no evidence that the Southwest effect has been eroded or overtaken in significance or magnitude by other airlines."
Rather, the introduction of non-stop Southwest service generally results in a 15% fare reduction and a traffic increase between 28% and 30%, the study said. That occurs even at airports where Southwest had already provided connecting service through one of its focus cities before it added non-stop.
On average, one-way fares are $45 lower when Southwest serves a market non-stop. If Southwest provides connecting service in a market, the average one-way fare decline is $17. Southwest produces $9.1 billion annually in domestic consumer fare savings, the study says.
In ten sample markets that Southwest entered between 2012 and 2015, the report found that the average fare declined between 8% (Chicago Midway-Pensacola) and 45% (Nashville-Pensacola.), while the number of passengers increased between 13% (Chicago-Pensacola) and 543% (Nashville-Pensacola.)
Other big fare declines: 32% in St. Louis-Grand Rapids and 30% in both Chicago-Wichita and Chicago-Memphis. Other big traffic gains: 464% in Las Vegas-Flint, Mich. and 98% in St. Louis-Grand Rapids.
In 2013, Southwest began flying to Charlotte, the second biggest hub for American Airlines Group Inc. In response, the average Charlotte-Dallas one-way fare fell 14% to $219, while Charlotte-Houston fell 18% to $237 and Charlotte-Midway fell 15% to $188.
Meanwhile, traffic rose 38% in the Dallas market, 36% in the Houston market and 15% in the Midway market.
One thing that has changed in recent years is that nearly all of Southwest's new routes have involved destinations outside the U.S.
More of What's Trending on TheStreet:
3 Highest Grossing James Bond Movies Now That We Know Daniel Craig Is Returning
Southwest began service to Pensacola in November 2013. Since then it has added 19 cities, including Cincinnati; Long Beach, Ca. and Richmond. The remaining 16 new Southwest cities are all in Central America and the Caribbean - starting with Montego Bay in 2014.
Chris Curry, director of aviation at Tallahassee International Airport, calls Southwest four times a year seeking service. The trend to open international markets is not "necessarily bad for Tallahassee," Curry said.
"The destinations that we would like served are focus cities -- Houston, Fort Lauderdale, BWI -- with a significant number of flights to Central America and the Caribbean," he said. "At the end of the day, they will still need service from other cities to feed the focus cities."
While it is true that Southwest costs, particularly labor costs, have risen, Southwest has nevertheless been able to retain its fare advantage, the report said.
This Is Why Boeing Should Fear a Blockbuster Deal Between United Technologies and Rockwell
Even in cases where Southwest competes with ultra-low-cost competitors, which "always have a zero-seniority labor cost advantage initially, this does not necessarily translate into a lower total unit cost because a large carrier like Southwest captures efficiencies and economies of scale and scope that no small start-up or early stage airline can duplicate," the report said.
On Monday, S&P Global Ratings upgraded all of its credit ratings for Southwest to BBB+ from BBB, citing some of the same factors that the Southwest effect report described.
"Southwest has maintained a substantial cost advantage over its larger competitors since it began operating in 1971, although the gap has narrowed somewhat in recent years as the company raised its employee pay and its network competitors reduced their costs in bankruptcy," S&P Global Ratings said.
"The company's operating costs benefit from its high aircraft utilization, productive employees, and relatively simple operations that focus on point-to-point (rather than connecting) flights," the ratings agency said.
More of What's Trending on TheStreet:
The 30 Nastiest Storms in Recent U.S. History Have Caused Mind-Blowing Damage
Editors' pick: Originally published Aug. 16.
This article is commentary by an independent contributor. At the time of publication, the author held no positions in the stocks mentioned.