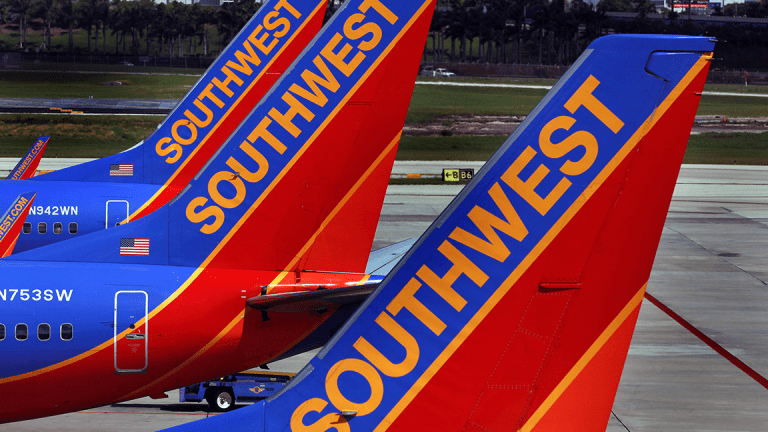 Southwest Airlines Jumps After Profit Beat
Southwest Airlines announces an earnings and revenue beat. Last year was its 46th consecutive year of profitability.
Southwest Airlines Inc.  (LUV) - Get Report  jumped after the company announced a fourth-quarter earnings and revenue on Thursday.
The airline said fourth-quarter net income was $654 million and earnings per share were $1.17. This is a decline from the previous year's fourth quarter record net income of $1.7 billion and record earnings of $2.94. Zacks Investment Research consensus EPS was expecting $1.06 a share for the quarter.
Shares of the U.S. airline rose 6.3% to close at $54.21 in trading on Thursday.
For the fourth quarter, revenue rose 8.4% to $5.7 billion from $5.26 billion last year. Consensus expected revenue of $5.67 billion.
Load factor in the quarter declined 1.4 percentage points from a year earlier. Unit revenue rose 1.8%.
For the year, Southwest's net income was $2.5 billion and earnings per share were $4.29, a decline from 2017's record net income of $3.4 billion and record earnings per share of $5.57. Excluding special items, the airline had record annual net income of $2.4 billion and record earnings per share of $4.24.
Southwest posted its 46th consecutive year of profitability in 2018.
Annual operating income was $3.2 billion, reflecting an operating margin growth of 14.6%. Annual operating cash flow also reached a record of $4.9 billion and record free cash flow of $3.1 billion.
"Based on current revenue trends, our cost outlook, and energy futures, we are currently expecting a strong first quarter 2019 financial performance," said Gary Kelly, Southwest chairman and CEO. "We are well-positioned to generate stellar annual after-tax returns on capital in 2019, barring any unforeseen events. Our outlook is bright thanks to the never-ending commitment of our superb People to deliver low fares and great service."