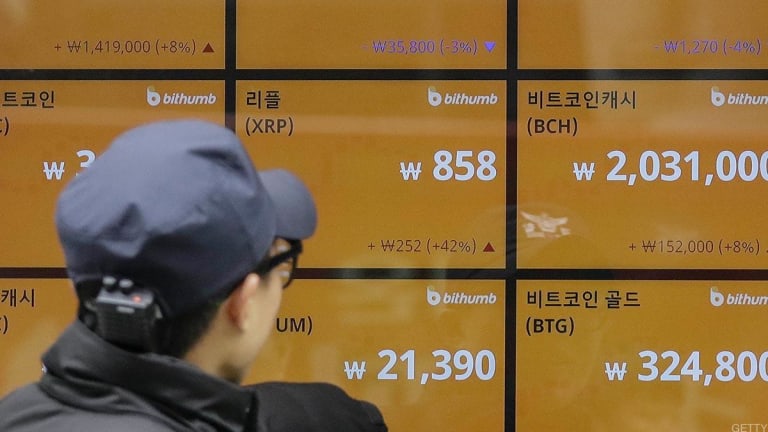 Want to Know Where Blockchain and Bitcoin Are Headed? Look to South Korea
TheStreet's Jordan French visits South Korea for Blockchain Week. What do the country's unbridled markets and monopolistic corporate dynasties portend for the future of cryptocurrencies?
Blockchain has become a global phenomenon and Asian businesses and investors are now in the thick of it. Investors in South Korea were among those that were captivated by cryptocurrency craze and that country's increased regulations haven't stopped its citizens from participating.
South Korea is the third largest market for Bitcoin trades in the world -- behind only the United States and Japan. Due to demand spikes over the last year, the spread between Bitcoin's price on South Korea's exchanges was over $1,000 more than on exchanges elsewhere, earning the nickname the "kimchi premium." And in January, rumors of a possible South Korean ban on trading, following bearish remarks on cryptocurrencies by Justice Minister Park Sang-Ki sent prices tumbling. 
The growing number of real-world blockchain use cases leaves many pundits wondering how the country's chaebol -- Korea's large family-owned business conglomerates such as Samsung (SSNLF) , LG, and Hyundai -- would take to blockchain technology.
TheStreet is investigating Korea's cryptocurrency scene during Blockchain Week in Seoul, which runs from July 15-20. Several trends point to a country that can actually serve as an important barometer on the state of blockchain globally.
1. Merging two big crazes: gaming and crypto
The gaming industry is among the sectors that's seeing blockchain adoption. Both the gaming and cryptocurrency communities attract the more tech-savvy users and they are the ones likely to be early adopters of cutting-edge technologies.
Jared Psigoda, CEO of BitGuild -- the decentralized gaming platform that infamously cobbled together $20 million in under six hours -- noted that "gamers in particular understand cryptocurrency because virtual money has been a part of gaming for the last ten years. For example, dating back to World of Warcraft, there was a $100-million market for buying digital gold."
Much of the gaming community has been working with some form of currency that predates cryptocurrencies. In fact, some of the earliest, analogies to describe how cryptocurrencies work drew from how gaming arcades exchanged fiat money for the "local" currency or token that arcade machines used.
Elay De Beer, CEO of blockchain-based Buff.game remarked that "there is a big overlap between the crypto and gaming communities and as both sectors continue to show massive growth year over year there will be an increasing interest in the Asian market to adopt new gaming-crypto projects."
The video game industry in Asia occupies three out of the top five largest gaming markets globally. South Korea is ranked fourth in the list. With the entry of blockchain-based gaming-focused startups in the local market, Korean gamers are now poised to lead the trend of using cryptocurrency for gaming.
Korea-based mobile-gaming platform Nitro is bringing cryptocurrency adoption to gaming. The platform enables game developers to crowdfund their projects by letting gamers contribute using cryptocurrencies. It hits two birds with one stone as it encourages gamers not only to embrace crypto assets but also helps smaller and independent game developers succeed.
2. Other creative industries could benefit, too
South Korea also has a burgeoning creative industry. The country's 3D and visual effects firms like Dexter Studios have drawn interest and praise from Hollywood and China. Given the global appetite for visual spectacles in motion pictures, digital effects can only keep growing.
However, access to digital solutions is critical for success in creative industries. Dexter Studios had to partner with Oracle to effectively manage the storage of its library of digital content and trim more thirty times the company's annual storage costs. Not all ventures can have access to enterprise-grade resources. Fortunately, blockchain can provide a potential solution for these kinds of bottlenecks in the industry by providing mechanisms to make computing resources available.
Marco Iodice, CEO of graphics rendering firm Leonardo Render, shared that "a vast amount of power is needed to meet the demand for rendering services and facilitate this growth." He believes that the blockchain infrastructure can be repurposed to fit other market demands. For example, the massive computing power being used in Bitcoin mining computing can be redeployed to handle graphical rendering for creative industries.
3. Chaebols can truly boost adoption
Other Korean industries are also positioned to adopt new technologies. Korea's chaebol are now also integrating blockchain into various business processes particularly in finance and supply chains. They're already embracing the real-world advantages through cryptocurrency-based systems, which can only be good news for the entire crypto space.
Electronics giant Samsung is building its own distributed ledger system for use in supply chain management. The system, used to track international shipments, is expected to cut the company's expenses by 20%. Blockchain is particularly useful in record keeping and can be used to trim overhead in areas like shipping documentation.
Fellow South Korean giant LG, through one of its subsidiaries, also recently launched its own blockchain platform, called Monachain. The platform is for use by LG's enterprise clients. The platform features capabilities like digital identity, cryptocurrencies, and supply chain management.
4. Becoming a global barometer
These developments show how South Korea can serve as a barometer for what's happening and what's possible with blockchain.
South Korea's love for gaming and cryptocurrencies provide opportunities for gaming-focused blockchain ventures to create a captive market out of local gamers. Other ventures around the globe could take a cue from this and explore how they could effectively target consumers and encourage wider adoption.
Blockchain now also serves effective delivery mechanism for various resources like computing power and data which industries could tap into to augment their needs. The lower barriers to access to these resources can only help smaller ventures become more competitive globally.
Finally, blockchain's use by big established enterprises only legitimizes the technology as a disruptive force in business today. If the very traditional
chaebol
are already embracing blockchain, other established, global institutions might consider doing so as well.
The author holds stock in investment holding company, Leucadia, and remains a partner in an emerging technology fund. He holds no positions in cryptocurrencies or in any companies that invest in them.