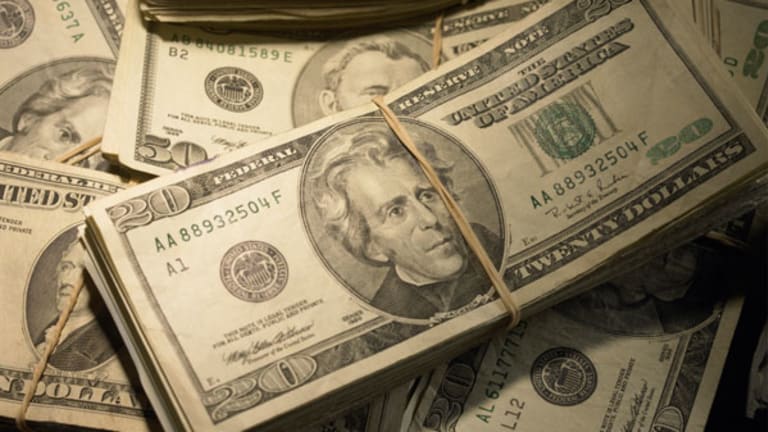 Publish date:
Soup, Teeth, Optimism and Anarchy: Best of Kass
In highlights from this week's trading diary and posts, Kass tells us about how negativity isn't nullification and sings the praises of soup.
In highlights from this week's trading diary and posts, Kass tells us about how negativity isn't nullification and sings the praises of soup.
Doug Kass fills his blog on RealMoney every day with his up-to-the-minute reactions to what's happening in the market and his legendary ahead-of-the-crowd ideas. This week he blogged on:
How being negative does not nullify an attempt to be opportunistic.
How soup is a winner--and good food.
Click here for information on RealMoney, where you can see all the blogs, including Doug Kass'--and reader comments--in real time.
PHEW!

Originally published Oct. 28 at 2:51 p.m. EDT
To summarize, Friday afternoon, I have been trying to document how and why I have moved from an outsized net short position at noon on Thursday to one of my lowest gross/net positions as of 2:30 p.m. ET.
I have done this despite continuing to be negative with regard to the market's outlook over the next six months, but being negative does not nullify an attempt to be opportunistic (in a trading kind).
I believe my rationale and how I react to a volatile and relatively illiquid market influenced by a news event is instructive. Or at least I hope so.
To be sure, I have not been frozen. Rather, I have purposely gone step by step in explaining (in brief terms) why and how I reduced my portfolio exposure and took profits this afternoon.
Again, my experience is that the spinsters are moving full-speed ahead with incomplete information. My job as a money manager is to capitalize on this in order to deliver superior investment returns.

That revelation of the Clinton emails materially impacted the market and brought the S&P 500 Index down to the important support level of 2120 discussed in my opening missive of Friday morning.
Perhaps, most importantly, Friday's action and news underscores the opportunistic trading nature of this market being favored over the buy-and-hold crowd.
This will no doubt change at sometime in the future. I have not given up on my investment shorts and longs. But, for now, I am more of a trader than investor as I "take" what Mr. Market gives me.
This has been a great week, a fantastic month and an even better year.
And we still have two months to go!
Position: None.
The Marathon Man Returns
Originally published Oct. 28 at 10:53 a.m. EDT

Janeway: "My name's Peter Janeway. But you can call me Janey, all of my friends do."
Babe: "I'm not your friend."
--"Marathon Man"
Position: Long CPB, HIG, large OAK.
Back from a quick dentist visit--an extraction is now on my schedule for Monday afternoon after not sleeping a wink last night owing to horrible pain in my jaw.
But, like a stock loser, at least my loss will be cut short!
So, 'til Monday, Dr. Conroy (who happens to be long Hartford Financial Services Group (HIG) - Get Report !), here's to you.
In the meantime, it's nice to return to my office to see some good winners in Campbell Soup (CPB) - Get Report , HIG and Oaktree Capital Group (OAK) - Get Report .
So, it turns out to be a good day after all!
Less Anarchy
Originally published Oct. 27 at 5:26 p.m. EDT

As I have repeatedly written, leveraged ETFs are for trades and not for long-term leases. (Rebalancing is value-destructive and leads to premium decay and poor tracking over lengthier periods of time).
After some disappointing EPS reports after the close--including high-profile Amazon (AMZN) - Get Report (now covered!)--the futures (especially of a Nasdaq-kind) are lower, and I have sold more than half of my ProShares UltraShort S&P500 ETF (SDS) - Get Report longs this afternoon.
I have moved from large-sized to small-sized.
SDS was my Trade of the Weekon Monday at $16.58. (It is trading at about $16.90.)
I remain in an opportunistic trading mode (witness Amazon and others) in an attempt to ring the register more frequently in a market filled with uncertainties.
So sorry, Hayden, Rubin and Hoffman--less SDS, less anarchy and a reduced exposure.
Position: Long SDS small.
The Market Has Been Bruised but Not Knocked Out
Originally published Oct. 27 at 7:01 a.m. EDT

Like the World Series match-up between the Chicago Cubs and Cleveland Indians or the presidential election between Donald Trump and Hillary Clinton, our market year is coming to an end and the reality of elevated share prices and declining profits has begun to set in.
This week--and the past two days in particular--have been accompanied by more market concerns and have raised more market questions.
Given rich stock prices and valuations and evidence of many more Peaks (in housing, autos, hedge funds, buybacks, etc.), company share prices have gotten far more penalized when consensus has not been met than when consensus estimates were realized.
While the Bull Market has not been decisively challenged in recent days, a dent and vulnerability in the Bull Market is growing conspicuous and my personal confidence in the market's vulnerability has increased.
That's my view, which by no means is conclusive in a world full of uncertainties, especially with market prices governed in large measure by the dirty pool of central bank liquidity and the hands of risk parity and volatility-trending quant strategies that are fundamentally agnostic to income statements, balance sheets and private market values.
Position: Long SDS large; short SPY, QQQ.
Action Alerts PLUS, which Cramer co-manages as a charitable trust, has no positions in the stocks mentioned.
At the time of publication, Kass and/or his funds were long/short XXX, although holdings can change at any time.
Doug Kass is the president of Seabreeze Partners Management Inc. Under no circumstances does this information represent a recommendation to buy, sell or hold any security.