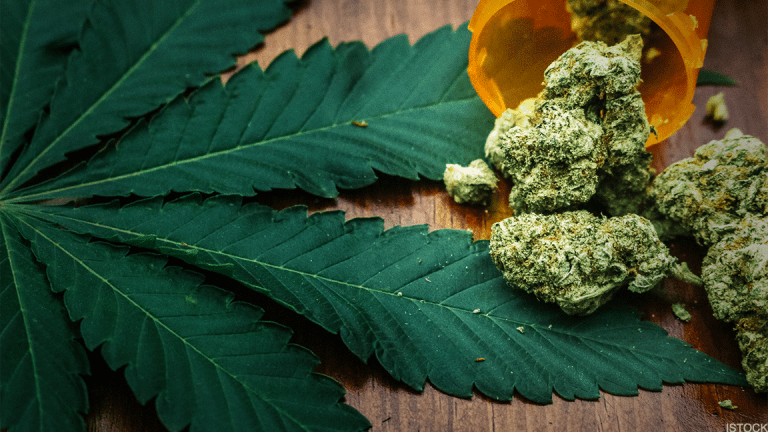 Here's How Some Major Players in Legal Weed Use Regulation to Their Advantage
No federal legality, no problem. These cannabis firms are using the complicated regulatory landscape to win business and churn profits.
When Attorney General Jeff Sessions rescinded to Cole Memo in January, many outside of the legal cannabis industry were concerned it was a kiss of death. If the federal government returned to a more hands-on approach to the industry, would all of its fledgling businesses come crashing down?
The answer has been a resounding no from most bigtime players in cannabis. They say that federal legality won't happen in this administration, but that doesn't really doesn't present a problem. For most, state-level regulation seems to work fine for now, regardless of its intricacies.
But for some in the cannabis industry, complicated regulation is a huge competitive advantage. With thousands of entrepreneurs entering the space every year in the 29 states with some legal marijuana, it can be tough to navigate convoluted zoning, taxing and packaging regulations.
That's wherever companies like Kush Bottles Inc. (KSHB) , Canna-Hub, Wurk and Green Bits come in. They all offer services and products aimed at streamlining complicated regulations for everyone from cultivators to dispensaries. And none of them touch a single plant.
For meeting packaging needs
Kush Bottles tallied 128% revenue growth year-over-year in 2017; figure analysts expect to grow another 160% in 2018. A major driver of Kush's growth has been due to regulation.
The company, which creates packaging products and solutions for cannabis firms, enjoyed a major windfall at the start of the year when California legalized medical and recreational weed. Part of California's legal setup, as it were, requires all pot is sold in certified child-proof packaging. That's among Kush's biggest sources of revenue.
Before California legalized weed, CEO Nick Kovacevich said Kush would have competed with ZipLoc and brown bags. Now that there's regulation, his business can become the leader in a newly regulated, fully legal market.
For finding space
There's also Canna-Hub, which creates, develops and operates cannabis real estate parks, "essentially cannabis communities," CEO Tim McGraw said.
A big issue for cannabis business is the sky-high tax rates local governments charge in regulated cannabis zones. In some municipalities, that rate can go as high as 25% of an entity's gross revenue, McGraw said. He's been able to talk it down close to zero for his two properties in California.
"The demand for local real estate that doesn't have high taxes is very, very high," McGraw said. "That's created for us an ungodly demand."
Canna-Hub has curried the favor of local regulators in part because of the jobs regulated cannabis can bring to "sleepy towns," McGraw said. The company's Williams, Calif., campus is expected to bring in about 1,300 local jobs and its Mendota, Calif., campus 200 local jobs.
"Every day after work now, the restaurants are going to be filled," McGraw said. It's a boom for a local economy, especially in a town as small as Williams, which has a population of 5,192 people.
For tracking revenues
Any state that legalizes cannabis has to track every movement of every plant, from cultivation to consumption. That's where Green Bits comes in -- providing retailers with the adequate resources to focus on making strong sales instead of keeping up with highly granular regulatory standards.
Green Bits CEO Ben Curren explained that the cannabis industry is so heavily regulated that it would be as if Starbucks Corp. (SBUX) - Get Starbucks Corporation Report had to report to the government every coffee bean that goes into every cappuccino.
"It actually breaks every current point of sale inventory system out there," Curren said. "This is what really creates a big opportunity for us because we really track all of that stuff behind the scenes, automate the reporting to the government."
For managing people
And there's Wurk, a workforce management company designed specifically for the cannabis industry, aimed at helping navigate tax codes, basic financial services and regulation.
Wurk has found banks that are willing to work with cannabis companies on seemingly everyday financial tasks such as direct deposit. It's harder for legal weed companies than it is for most to access that kind of banking, due mostly to the nebulous regulatory landscape.
"It's challenging. Some states are easier than others," Wurk CEO Keegan Peterson said. His business operates in 27 states currently. "Because we're in so many states, we have more of a history to lean on," Peterson said, adding that it makes the process of finding suitable pro-cannabis banks less painful.
Wurk was founded in 2015 when Peterson was approached by a family friend who ran a marijuana dispensary with more than 100 employees. The friend had been dropped by seven payroll providers simply because it was a cannabis company. Peterson saw an opportunity -- and went for it.
Before You Go
Get ready for the must-attend investing conference of 2018, hosted by none other than TheStreet's Jim Cramer. From an exclusive interview with PayPal (PYPL) - Get PayPal Holdings Inc. Report
CEO Dan Schulman to expert panels that touch on investing in the stock market to alternative investing, you won't want to miss the event TheStreet is hosting on May 5. Details are below.
How to Diversify Your Portfolio: A Boot Camp for Investors
Date: Saturday, May 5, 2018
Location: 117 West 46th Street, New York City