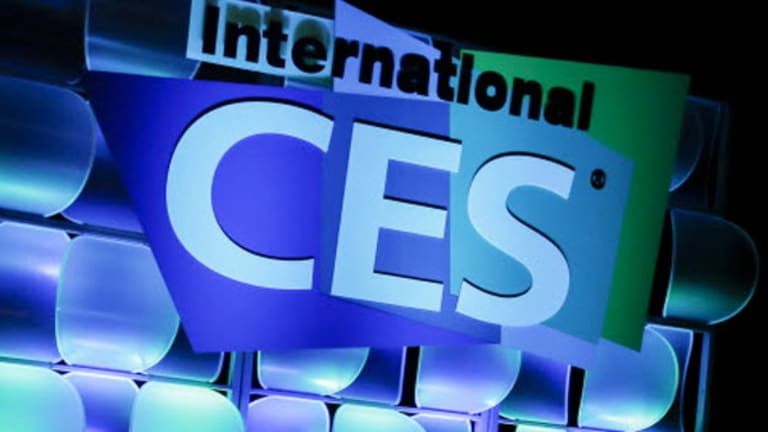 Software Makers, Entertainers Move to a Brave, New World of In-Vehicle Activities
This year's CES highlights the possibilities when a vehicle is more than mere transportation.
As driverless technology moves away from the laboratory and closer to production, automakers are visualizing what new opportunities vehicle travel may hold for en route activities beyond napping, shopping, reading or watching a video.
Last year, Daimler AG (DDAIF) unveiled its Mercedes-Benz F 015 luxury in motion, whose seating arrangement could adjust to a miniature version of a lounge when the vehicle is in driverless mode, with all four occupants facing one another.
At this year's CES exhibition in Las Vegas, an annual confab that has been surpassing traditional auto shows in terms of displaying futuristic technology, companies that once only touted entertainment or other digital services are seeking to expand their market to cars.
Nissan Motor  (NSANY) on Wednesday tweeted a hint that it plans to introduce Microsoft's (MSFT) - Get ReportCortana digital assistant into the cockpits of its automobiles. The software maker has been experimenting how to integrate Cortana into a windshield so occupants might, for instance, make dinner reservations or view their location on a digital map.
Honda Motor (HMC) - Get Report said it is teaming with DreamWorks Animation to create an augmented and virtual reality (VR) proof of concept for "in vehicle experience." Once distraction no longer is an issue because a robot is driving the car, why not wear VR goggles?
A proof of concept, called Honda Dream Drive, uses VR goggles to allow passengers to experience a virtual world activated by the motion of the vehicle. The CES display, Honda said, will featuring content from DreamWorks' animated movie Trolls.
"Entertainment in the car is rapidly changing as consumers rely more and more on personal devices and Honda sees new opportunities to create unique experiences for our customers," said Honday's John Moon. "The collaboration with DreamWorks enables Honda to enhance the in-vehicle experience through new ways of delivering information and entertainment."
Real-world services ready to be used today are becoming more sophisticated as well. Hyundai Motor (HYMLF) said that its Blue Link wireless emergency communication service will allow Alphabet (GOOG) - Get Report Google Home to be used to activate door locks and ignition via voice activation.
If the Hyundai collaboration with Google sounds a lot like what Amazon (AMZN) - Get Report offers with its Echo speaker and Alexa digital assistant, that's because the concept is the same.
How soon before an Amazon drone will be able to deliver a hot pizza to a driverless car full of hungry pre-teens trapped in freeway traffic?
Doron Levin is the host of "In the Driver Seat," broadcast on SiriusXM Insight 121, Saturday at noon, encore Sunday at 9 a.m.
This article is commentary by an independent contributor. At the time of publication, the author held no positions in the stocks mentioned.