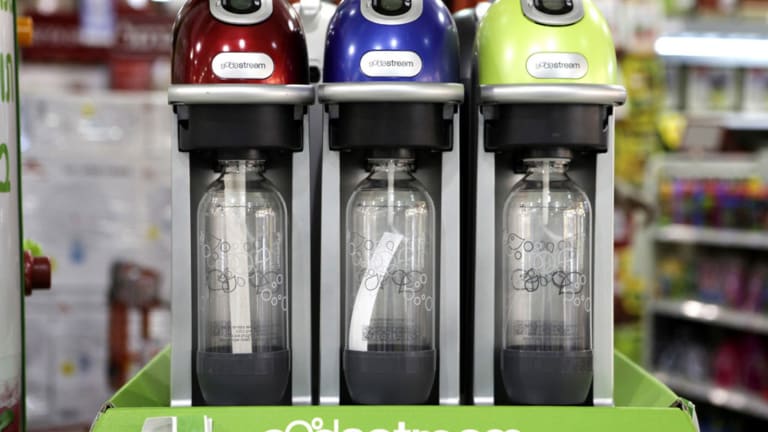 SodaStream's Fourth-Quarter Profits Bubble Over
The once-beleaguered company is continuing its amazing comeback in a quarter of tripled profits. Here's why investor need to get "busy with the fizzy" now.
On Wednesday, Israel-based SodaStream (SODA) proved the naysayers wrong yet again by releasing Wall Street-smashing fourth-quarter results. And investors are celebrating some sparkling profits.
In the lead-up to the earnings release, headlines about the carbonation machine company predicted SodaStream couldn't possibly continue its breathtaking momentum. Well, those headlines were wrong. Profits for the quarter shot up year over year by more than an extraordinary 300%. Specifically, earnings for the quarter came in at 71 cents per share, from 24 cents per share in the fourth quarter of 2016. This blew way past Wall Street's expectations of 30 cents per share. Revenue grew by 17%, to $131.8 million, versus analysts' expectations of $124.8 million. During the quarter, the company registered a 22% increase in sales of its starter kits, as well as a 10% jump in sales of carbon dioxide refills.
"Consumers are responding positively to our messaging around health and wellness, convenience and the environment, and are using SodaStream to produce sparkling water in record numbers," said the company's CEO, Daniel Birnbaum.
And the company is finally making significant inroads in the American market, with 20% revenue growth in the region. SodaStream's largest segment, Western Europe, recorded 18% gains. Asia-Pacific, including Japan, saw growth of 9%.
This is yet another chapter in SodaStream's incredible comeback story. The company, originally positioned as a do-it-yourself soda kit maker, had been all but left for dead in 2015 as sales of sodas started plummeting.
Faced with a cratering stock - and as sales at market leaders Coca-Cola (KO) , PepsiCo (PEP) , and Dr Pepper Snappleundefined faltered - SodaStream went back to the drawing board and reinvented itself as the maker of a gourmet sparkling water drink machine.
The efforts worked, SodaStream's sales skyrocketed, and the company's stock gained more than 125% in value during 2016.
But apparently, that wasn't the end of the story. There's still plenty left in SodaStream's tale... as well as more opportunities for investors to profit.
In Western Europe, the company's largest market, SodaStream has managed to put a machine on only 10% of countertops. That means still plenty of potential customers.
The growing market in the U.S. is another positive sign. The company has been increasing its in-store presence, with displays at trendy retailers such as Target (TGT) and Whole Foods Market (WFM) . But the full potential of this market has been barely tapped.
SodaStream remains a really exciting play for investors. We could even see another double in its stock price during 2017. Continue to keep an eye on its stock and grab shares on any price dips.
However, SodaStream isn't the only moneymaker out there. In fact, I know a trader who has been right more than eight out of 10 times, turning $5,000 into more than $5 million for himself. Click here to see how easy it is to follow his lead and collect thousands of dollars in "Free Money" every month.
The author is an independent contributor who at the time of publication owned none of the stocks mentioned.