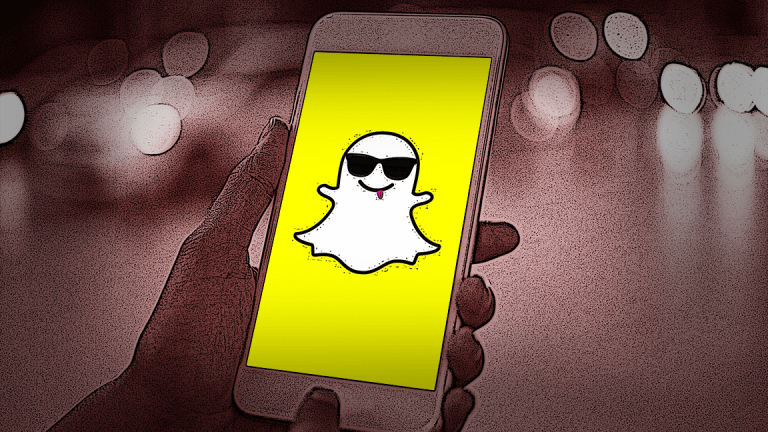 Publish date:
Snap's New CFO Has a Difficult Task in Making the Company Profitable
Analysts don't expect the Snapchat parent to become cash-flow positive until 2021. And even that forecast assumes significant revenue growth.
Analysts don't expect the Snapchat parent to become cash-flow positive until 2021. And even that forecast assumes significant revenue growth.
Ever since it filed to go public in February 2017, Snap (SNAP) - Get Snap, Inc. Class A Report has been dogged by questions about just how profitable it will be in the long run. And since then, the company's posting of (with one exception) a string of disappointing earnings reports hasn't done much to help matters.
Can new CFO Tim Stone change this narrative? His pedigree provides a reason to be cautiously optimistic. But between Snap's current cost structure and its future spending needs, making the Snapchat parent profitable and cash-flow positive will be far from easy. Especially if it doesn't continue posting strong revenue growth in the coming years.
On Monday afternoon, the Snapchat parent disclosed that Stone, a 20-year Amazon.com (AMZN) - Get Amazon.com, Inc. Report vet and currently the e-commerce/cloud giant's VP of finance, will become its CFO on May 15. He'll replace Drew Vollero, who has been Snap's CFO since mid-2015 and will be leaving the company on August 15.
Investors gave a thumbs-up to the news: Snap's shares, clobbered last week after the company missed Q1 sales, EPS and daily active user (DAU) estimates and forecast its annual revenue growth will "decelerate substantially" in Q2, rose 2% on Tuesday. They're still 35% below their $17 IPO price and 54% below their post-IPO opening trade of $24.
Stone's background could certainly be helpful as Snap tries to narrow its still-considerable losses -- following post-earnings estimate cuts, Snap's 2018 EPS consensus is at negative $1.16 and its free cash flow (FCF) consensus is at negative $822 million. Though it spends aggressively in the name of pursuing long-term opportunities, Amazon also has quite the reputation for running a tight ship (for evidence, check out an article or two about how efficiently Amazon's giant fulfillment centers are run).

Snap's operating expenses are still growing rapidly on an annual basis.
Two decades of working in such an environment presumably left Stone with some ideas he can apply as he tries to make Snap run more efficiently. In spite of recent job cuts that impacted about 7% of its workforce, Snap's headcount (3,069 at the end of 2017) is still close to Twitter's (TWTR) - Get Twitter, Inc. Report (3,372 at the end of 2017), even though Twitter's 2018 revenue consensus is more than twice as high as Snap's and the company (unlike Snap) relies heavily on its own data center infrastructure to provide its services.
However, it's worth keeping in mind that a large portion of Snap's quarterly spending isn't related to payroll but rather the cloud hosting payments made to Alphabet/Google (GOOGL) - Get Alphabet Inc. Class A Report and Amazon, via 5-year deals that were inked last year. Excluding stock compensation, Snap's cost of revenue rose 36% annually in Q1 to $196 million, or 42% of its total costs and expenses.
And of that sum, "hosting costs" totaled $139 million, a 40% annual increase. Also, $32 million consisted of revenue-sharing payments made to ad partners -- another expense that can't be lowered by trimming headcount.
Whereas rival Facebook (FB) - Get Facebook, Inc. Class A Report relies on its own giant hyperscale data centers to provide its services, and from all indications runs them pretty efficiently, Snap has to rely on Google and Amazon's data centers to do so, and (though a big client like Snap is bound to get discounts) Google and Amazon collect a margin in the process. Throw in the fact that Snap's 191 million daily active users (DAUs) are collectively viewing, sharing and uploading large amounts of video content, and it's not hard to see why cloud hosting expenses are due to weigh heavily on Snap's bottom line for some time.
Snap's operating expenses, meanwhile, rose 32% annually in Q1 to $273 million after backing out stock comp and restructuring expenses, in spite of the recent job cuts. Spending on R&D ($102 million), sales/marketing ($79 million) and G&A ($77 million) each accounted for a substantial portion of the total.
Odds are good that Stone will find some ways to make Snap's opex more efficient. But the scope of any cost-cutting will likely be tempered by Snap's need to continue making large R&D and marketing investments as Facebook rolls out one service after another meant to compete with Snapchat -- a few more were unveiled at last week's F8 conference -- and sees tremendous user growth for at least two of its Snapchat Stories clones (Instagram Stories and WhatsApp Status). And on the R&D side, the need to address Snapchat's polarizing redesign and continued Android app performance issues could make the company averse to cutting spending too much in the short-term.
Currently, analysts on average don't expect Snapchat to become profitable on a GAAP basis until 2022, and don't see the company delivering positive annual FCF until 2021. And even those estimates, it's worth noting, presume the company will post very strong revenue growth in the coming years. The consensus is for Snap's revenue to rise 45% this year to $1.19 billion, before reaching $1.73 billion in 2019, $2.44 billion in 2020, $3.26 billion in 2021 and $4.36 billion in 2022.
Snap's still-low average revenue per DAU -- it was just $1.21 on a global basis in Q1, and $2.10 in North America -- provides some reason to think the company still has a lot of headroom to grow its top line. As does the fact that a large portion of its ad revenue comes from video ads, and is thus well-positioned to benefit from efforts by video advertisers to reach younger consumers who are watching less and less TV.
But it's worth keeping in mind that Snap has struggled mightily to meet analyst revenue expectations and its own since going public. Back in 2016, the company reportedly sought to produce over $1 billion in revenue in 2017; it wound up generating $825 million. And around IPO, Snap's 2018 revenue consensus was around $2 billion (it's now about 40% lower).
Facebook's social media ad dominance -- driven in large part by its superior scale, data and targeting abilities -- has much to do with Snap's inability to meet lofty top-line expectations. And as Facebook's ad business continues firing on all cylinders or close to it, and as Snapchat's DAU growth slows meaningfully, it's worth asking whether Snap's long-term revenue estimates are still meaningfully too high.
Stone needs to hope that's not the case. Because if it is, the difficult task of wiping out Snap's red ink and cash burn could end up being an impossible one, at least for the next few years.
This column originally appeared on Real Money, our premium site for active traders. Click here to get more great columns like this.

Jim Cramer and the AAP team hold positions in Amazon, Alphabet and Facebook for their Action Alerts PLUS Charitable Trust Portfolio. Want to be alerted before Cramer buys or sells AMZN, GOOGL or FB? Learn more now.