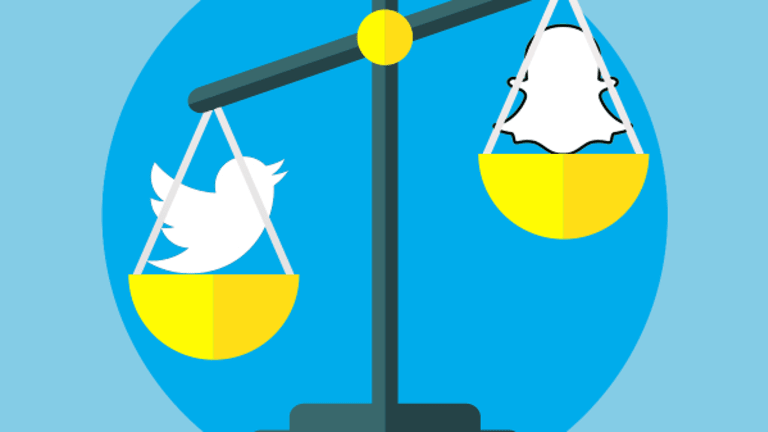 Publish date:
Snap May Be Down, but It Won't Go the Way of Twitter
The stock is down following its Initial Public Offering, but there's still promise.
The stock is down following its Initial Public Offering, but there's still promise.
The steep drop in share price of Snapchat's parent entity Snap (SNAP) - Get Report , has led pundits to compare its IPO to Twitter's (TWTR) - Get Report .
Snap's IPO price was $17 but the stock quickly hit $29, before dropping as far down as below $21 per share. The stock erased some of its loses on Wednesday, but remains well below its peak.
And that was enough to trigger Wall Street's bearishness on Snap's long-term capabilities. Unfortunately for Snap, it continues to get compared to the fallen stars like mobile game developer Zynga (ZNGA) - Get Report , action camera pioneer GoPro (GPRO) - Get Report and even local deal marketplace Groupon (GRPN) - Get Report .
Negative sentiment is on the rise and investors are clearly uncertain about Snap's future path. However, we feel that Snapchat is no Twitter and has enough wind in its sails to eventually drive profitability.
First, we'll address the company's criticisms. Investors who've had a tough time with Twitter will tell you how Snapchat could go down that same road and they'll also mention that Facebook (FB) - Get Report has an iron grip on the social media market plan.
After Twitter debuted at $26 per share, the company ended 2013 at $69 per share--more than double its IPO. However, by April 2015, Twitter's upward movements came to an end and by the start of 2016 the company's stock traded at $16.
Many social media networks like Facebook and Twitter discovered the power of video much later than Snapchat. Google's (GOOG) - Get Report (GOOGL) - Get Report YouTube played a major role in reflecting the kind of engagement videos can drive.
Snapchat's model, on the other hand, is focused squarely on video sharing. Self-destructing videos have become all the rage among millennials. It may be a little hard for older generations to appreciate, but any app that endorses simple sharing with smart privacy will always find traction among the younger generations.
Today, Facebook's Instagram, Twitter and even Whatsapp are trying hard to replicate that model.
Like many other tech IPOs Snap doesn't have a long operating history. Twitter didn't have one and Facebook also didn't bring much history of financial strength before its arrival on the IPO market.
However, Snap has shown a rapid rise in sales in a very short time period. Growth from 2015 to 2016 was exceptional as revenues jumped 589%, from $58.7 million to $404.5 million.
In its fourth quarter of 2016, revenues swelled 407%, to $165.7 million over the same quarter in the prior year.
By contrast, Twitter's topline grew about 100% between 2012 and 2013. This rate was steady in 2014, but then became sluggish in 2015, with 2016 seeing minimal year-over-year growth.
It's also important to note that Snapchat has far more daily users than Twitter. Snapchat went public with over 160 million daily users and $404 million in sales, compared to Twitter, which went public with 100 million daily users and $317 million in sales.
Finally, Snap's leadership seems largely stable. The two co-founders remain in key executive positions--Evan Spiegel is CEO and Robert Murphy is Chief Technology Officer.
By comparison, Twitter debuted on Wall Street with Richard Costolo as CEO, but he wasn't a founder. Twitter co-founder and current CEO Jack Dorsey came into the role just two years ago after Costolo resigned. Dorsey is also CEO of another listed company Square (SQ) - Get Report , which is facing its own set of challenges.
Experts may scrutinize Snapchat's valuation again and again, but its core product is game-changing.
Investors should keep buying Snap shares on dips, because when the next earnings scorecard is out, there could be significant share price gain.
---
As we've just explained, Snap is an excellent growth opportunity. If you're looking for other growth opportunities, we've found a genius trader who turned $50,000 into $5 million by using his proprietary trading method. For a limited time, he's guaranteeing you $67,548 per year in profitable trades if you follow his simple step-by-step process.Click here now for details.
The author is an independent contributor who at the time of publication owned none of the stocks mentioned.
Action Alerts PLUS, which Cramer manages as a charitable trust, is long FB and GOOGL.