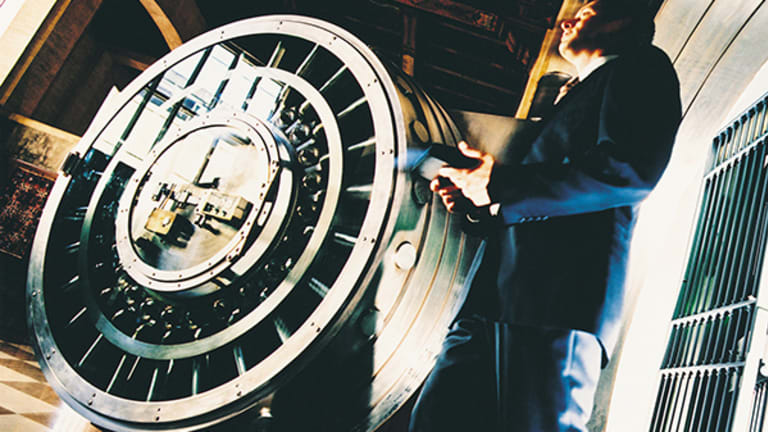 Smaller U.S. Banks Dodge Fed Crackdown on Short-Term Debt Funding
The Fed's new rule requiring banks to issue more long-term debt is in line with recent decisions to alleviate the burden on mid-size lenders.
As the Federal Reserve races to tighten financial industry regulations prior to the U.S. presidential handover, smaller banks are catching a break.
All but the biggest eight U.S. banks are exempt from a new Fed rule designed to reduce the risk of a run that might destabilize the global financial system. Under the rule, the largest lenders, which include the likes of New York-based Citigroup (C) - Get Report , must issue an estimated $49 billion of additional long-term debt, costing them as much as $2 billion in higher interest costs, based on estimates from the central bank.
The rule marks an extension of the relief increasingly granted to medium-size lenders like Dallas-based Comerica (CMA) - Get Report since September, when Governor Daniel Tarullo -- the Fed's point man on bank supervision -- gave a speech outlining plans to ease their annual stress tests. That preference is likely to continue under President-elect Donald Trump, said Gerard Cassidy, an analyst at RBC Capital Markets.
While all banks should benefit from a loosening of the rules under Trump, "if you're going to invest in banks on the basis of regulatory relief, you're going to invest in the banks with under $250 billion of assets," Cassidy said.
Regional bank stocks have gained 35% this year, versus a 26% rally for large banks. Comerica's shares are up 63%.
If large banks significantly underperform medium-size banks over the long term, shareholders in the large firms might push to break them up into smaller pieces, Cassidy said.
"The big banks can quell that if they can earn a rate of return" in excess of their cost of capital, the analyst said. That's typically around 10%. "If the economy really turns around and we get better interest-rate markets, less regulation, less capital needed, people will be able to get to those returns."
Under the Fed's new rule, banks are required to hold a minimum amount of "total loss-absorbing capacity," or TLAC, that would help to protect depositors in the event of steep losses, according to a statement. Following the Dodd-Frank Act of 2010 and international rules, the Fed will force firms to get a certain amount of their funding from long-term debt that isn't subjected to immediate redemption and can be converted into new stock. 
The rule will take effect Jan. 1, 2019. It was approved unanimously by the Fed's five current board members. Two seats are currently vacant, giving Trump an opportunity to appoint new members who might be more amenable to his stated preference for lighter regulation.  
The new rule is "one of the last critical safeguards that make up the core of our post-financial-crisis reform efforts," and it's based on "common-sense principles," Fed Chair Janet Yellen said in a statement.
"The biggest banks must bear the costs that come with their size," she said. "Specifically, these banks must bear the costs their failure would impose on the financial system and the economy."
One risk from the new rule is that a large bank's stock price may come under pressure if investors begin to speculate that they might face dilution from a conversion of debt into equity.
And time will tell if the measures are enough to stave off a large bank's failure, said David Hendler, principal at Montebello, New York-based Viola Risk Advisors.
"All this time and effort is not going to solve the problem," Hendler said. "There are banks that make money and know what they're doing, and banks that don't make money and don't know what they're doing."
In September, Tarullo said that minimum levels of capital -- the extra buffer of assets that are supposed to be available to cover any losses -- would increase for the largest banks, due to a "surcharge" designed to protect global financial stability.
In the same speech, he said that banks with less than $250 billion of assets would only be subject to data-driven "quantitative assessments," and not the subjective "qualitative" assessments that have tripped up several lenders.
Such decisions are based more on the logic that smaller banks are unlikely to pose a significant threat to the global financial system than on a political preference, Cassidy said.
"In practice, a $60 billion bank is not going to sink our economy," he said.
The new rule isn't without critics. Richard Bove, an analyst at Rafferty Capital Markets, noted that the regional banks could come under greater scrutiny if they engage in international activities, a significant restriction that could impede their ability to expand globally.
"It's one of the most devastating pieces of regulation that could come out of the Fed," Bove said.
What's more, he says, Trump's picks for top officials on financial and economic policy -- Steven Mnuchin for Treasury secretary and Gary Cohn for director of the National Economic Council -- indicate he may be more inclined to cut slack to larger firms. Both men are alumni of Goldman Sachs (GS) - Get Report , which has $880 billion of assets and extensive interconnections with the global financial system via its trading business.
EXCLUSIVE LOOK INSIDE: Wells Fargo is a holding in Jim Cramer's Action Alerts PLUS charitable trust portfolio.Want to be alerted before Cramer buys or sells the stock? Learn more now.