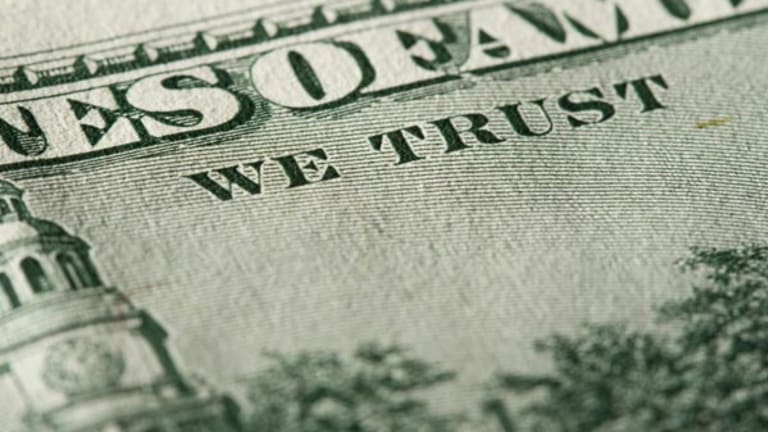 Small-Cap Materials Stock Could Soar 68%
Vulcan Materials, loathed by many analysts, may have some value for contrarian investors.
BOSTON (TheStreet) -- Vulcan Materials (VMC) - Get Vulcan Materials Company (Holding Company) Report is loathed by analysts, ranking as the 20th worst-rated S&P 500 stock. Two rate it "buy" while 13 rate it "hold." Three rank it "sell."
The construction-materials seller's stock has fallen 23% in a year.
Citigroup
, valuing Vulcan at $30, expects shares to drop 26%. Yet, value-focused
Morningstar
dissents, awarding Vulcan a five-star rating and predicting a climb of 68%.
Vulcan produces and sells so-called construction aggregates, ranging from crushed stone to concrete mix. The company's business is tied directly to construction activity, which has been in a trough since the recession hit. However, Vulcan has what Morningstar refers to as a "wide economic moat" or sustainable competitive advantages. There are few players in this niche field and, given ongoing housing woes, the likelihood of new entrants is remote. Consequently, 2011 may be an outstanding buying opportunity for opportunistic investors as sentiment for Vulcan is abysmal, but it will surely benefit from the eventual rebound in construction activity.
The issue, as always with value stocks, is the timeline of fundamental improvement. Vulcan's third-quarter net income decreased 76% to $13 million and earnings per share plummeted 79% to eight cents. Sales declined a more modest 4.5% to $743 million. On an adjusted basis (excluding one-time items), profit missed analysts' consensus forecast by a whopping 53%. Furthermore, sales missed the consensus by 10%. Vulcan has missed on the top line for eight consecutive quarters and the bottom line for four. It's no wonder that the company is panned by sell-side researchers. And a cursory glance at valuation probably deters most bargain hunters. Vulcan shares fetch a cash-flow multiple of 23, a sizable premium to index averages. Vulcan is down 32% from a 52-week high.
Understanding why Vulcan might be a great investment, despite horrific ratings, requires comprehension of the bias of researchers. Sell-side analysts are held to a 12-month horizon, so their task is to pick stocks
most
likely to deliver double-digit percentage gains over that span. Clearly, Vulcan doesn't fall into this category. In fact, it might even drop in 2011. But, long-term investors know that bargain hunting requires patience and the best value stocks are of companies that are out-of-favor, but likely to remain viable, with a high probability of an eventual profitable turnaround. Institutional investors prove the stock's worth.
Of the stock's 10 largest holders, seven purchased more shares during the third-quarter while one held steady and two decreased their stakes by a modest amount. More telling, 68 of Vulcan's 100 largest stockholders either held steady or amplified their bets during the latest reporting period. However, any equity with significant upside comes with material risk.
Morningstar rates Vulcan Materials debt BB, or below investment grade. The junk rating signifies the company's cash-generation difficulty and poorly situated balance sheet. At third quarter's end, Vulcan held $87 million of cash and equivalents and $2.8 billion of debt, converting to a less-than-ideal quick ratio of 0.7 (
TheStreet Ratings
prefers a quick ratio over 1) and a reasonable debt-to-equity ratio of 0.7. Vulcan would be fine if its business had rebounded in 2009, as most did. But, its sales volume is still down 50% from 2006 housing-peak levels and its cash flow and EBITDA are even down from 2009 levels. Its interest coverage ratio, at just over 1, is low.
The good news is that Vulcan has refinanced a significant portion of debt. Morningstar, assuming that Vulcan has repaid $325 million of notes that were due in December through a commercial paper facility, believes that there is another year of ample breathing room. Management has been upfront with shareholders. It cut the dividend from a high of 49 cents in 2009 and paid quarterly distributions of 25 cents in 2010. Assuming that payout is sustainable, the stock yields 2.4%, a decent, though not eye-catching, cushion for those who buy at current levels.
Vulcan's largest end market is residential construction, which is showing few, if any, signs of a near-term rebound. However, its second-largest end market, highway construction, may provide Vulcan's stock with a 2011 spark. The passage of the next multi-year federal highway bill will inevitably bring Vulcan some business and provide investors with improved visibility.
Those who fear significant budget cuts will crimp the stock should contextualize that fear. Federal highway spending generally comes from a Highway Trust Fund, which is replenished by a tax on fuel. The bad news: The fuel tax is a flat fee per gallon, so increasing fuel efficiency and elevating gas prices may indirectly hurt Vulcan's business.
To quote Morningstar, "Vulcan is highly leveraged to the health of the U.S. economy." It is leveraged to the health of state and federal budgets, to boot. Morningstar's $68 stock valuation is based on modeling that assumes a rebound in the gross margin to 30%, compared to a 2010 average of 13%, and a pop in sales to 230 tons within five years, well below the 2006 high of 255, which was tallied before the sizable acquisition of
Florida Rock
.
-- Written by Jake Lynch in Boston.
RELATED STORIES:
10 Dow Stocks Likely to Boost Dividends
Become a fan of TheStreet on Facebook.
Disclosure: TheStreet's editorial policy prohibits staff editors, reporters and analysts from holding positions in any individual stocks.