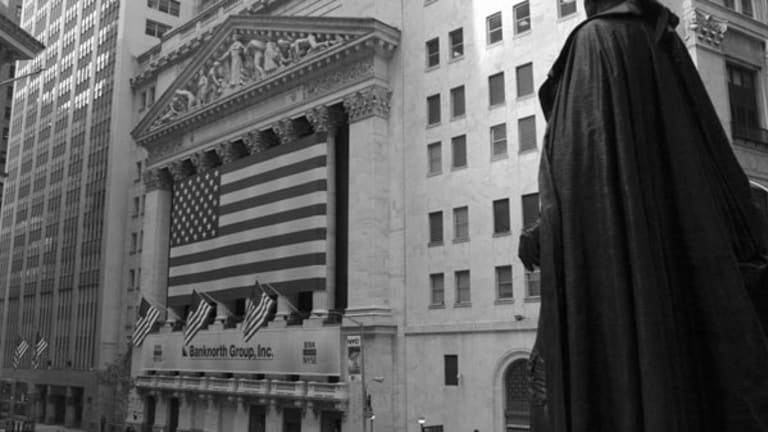 Small-Cap Crash Benefits Short Stock Funds
Here are the five open-end stock mutual funds that saw the greatest increase in TheStreet.com Ratings' system last month, and the five that saw the sharpest ratings decline.
When reviewing the five most improved and deteriorated ratings for open-end stock mutual funds of October what stands out are the twin crashes of small-capitalization stocks and real estate companies.
Two of the funds that jumped the most in TheStreet.com Ratings' latest round of ratings short the stocks of the Russell 2000 Index. Some of the members of this index have lost more than 95% of their value in the last year, including
Idearc
( IAR),
R.H. Donnelley
( RHD),
Downey Financial
(DSL) - Get DoubleLine Income Solutions Fund of Beneficial Interests Report
and
Elixir Gaming Technologies
(EGT)
.
The first of these funds,
ProFunds Ultra Short Small-Cap ProFund
(UCPSX) - Get Ultra Short Small-Cap ProFund Service Class Report
, tracks the inverse of the Russell 2000 Index with 200% leverage. The fund rose to a rating of B+ from a previous rating of E.
The second fund,
Direxion Small Cap Bear 2.5X Fund
(DXRSX) - Get Direxion Monthly Small Cap Bear 2X Fund Report
, does the same but with 250% inverted leverage. This fund is now rated B-, the lowest of our buy-equivalent ratings, up from E- the prior month.
Three of the five funds that dived the most in the recent measurement period focused on the real estate sector. Real estate securities, specifically real estate investment trusts, were hit especially hard.
Dropping from C+ ratings down to rock-bottom E- are
Rydex Real Estate Fund
(RYREX) - Get Rydex Series Fds Real Estate Fund Report
,
Adelante U.S. Real Estate Securities Fund
( LLUYX) and the
Dunham Real Estate Stock Fund
(DCREX) - Get Dunham Real Estate Stock Fund Report
.
It is not a surprise that these three funds would move together, because they all have large holdings of
Simon Property Group
(SPG) - Get Simon Property Group Inc. Report
,
Vornado Realty Trust
(VNO) - Get Vornado Realty Trust Report
,
Equity Residential
(EQR) - Get Equity Residential of Beneficial Interest Report
and
Boston Properties
(BXP) - Get Boston Properties Inc. Report
.
With each additional month of data, TheStreet.com Ratings updates its ranking scorecard, assigning new ratings to each fund. Below is the list of the five most-improved and five most-deteriorated open-end stock mutual fund ratings from Sept. 30 to Oct. 31.
For more information, check out an explanation of our ratings.For more coverage from TheStreet.com Ratings team, check out TheStreet.com Ratings section.
Kevin Baker became the senior financial analyst for TSC Ratings upon the August 2006 acquisition of Weiss Ratings by TheStreet.com, covering mutual funds. He joined the Weiss Group in 1997 as a banking and brokerage analyst. In 1999, he created the Weiss Group's first ratings to gauge the level of risk in U.S. equities. Baker received a B.S. degree in management from Rensselaer Polytechnic Institute and an M.B.A. with a finance specialization from Nova Southeastern University.