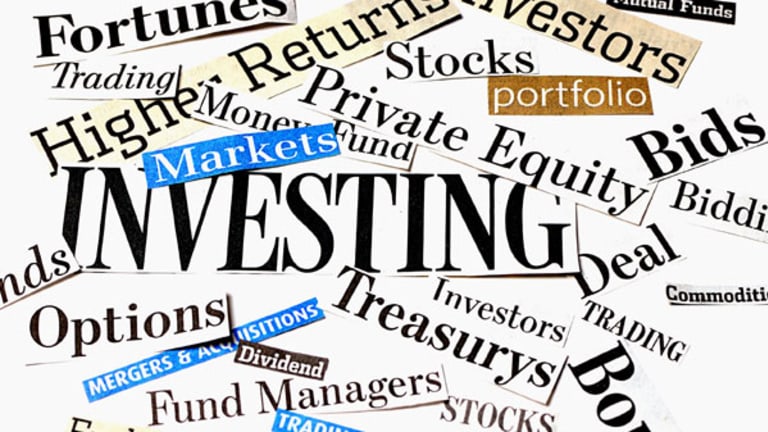 Small-Cap Biotech on the Verge of a Breakout: ABIO
Here's how to trade Arca Biopharma.
DELAFIELD, Wis. (Stockpickr) -- Small-cap biotech stocks are all the rage on Wall Street right now.
>>5 Stocks With Big Insider Buying
Just take a look at shares of Oxigene (OXGN) , which are ripping higher today by close to 100% after the company reported that its experimental drug Zybrestat, when used in conjunction with Roche's (RHHBY) Avastin, delayed the re-growth of ovarian cancer. The results of Oxigene's phase II study on Zybrestat are attracting big interest from traders since volume so far has eclipsed 17 million shares vs. its three-month average volume of 438,000 shares.
Another small-cap biotech stock that recently made a monster move to the upside was La Jolla Pharmaceutical (LJPC) - Get La Jolla Pharmaceutical Company Report, which I highlighted in Mar. 7's "5 Stocks Ready for Breakouts" at around $9.10 per share. Shares of LJPC have exploded higher since that article, with the stock hitting an intraday high of $19.50 per share on Tuesday. The catalyst that sent shares of LJPC off to the races was the results of its phase II study for GCS-100, a chronic kidney disease treatment, which showed a statistically significant improvement.
Yet another small-cap biotech stock that's moving sharply to the upside today is BG Medicine (BGMD) , which I recently featured in Feb. 24's "5 Biotech Stocks to Trade for Breakouts" at around $1.24 per share. If you refer back to my chart piece, you'll see that I think shares of BGMD are on the cusp of a major technical breakout that has the potential to send this stock significantly higher from current levels at around $1.35 per share.
>>Invest Like a Hedge Fund With the Pros' 5 Favorite Stocks
Considering how hot the small-cap biotech sector is right now, I have been scanning this sector like mad, and I believe I have discovered the next monster mover with shares of Arca Biopharma (ABIO) - Get ARCA biopharma, Inc. Report. Arca Biopharma focuses on developing genetically targeted therapies for cardiovascular disease. Its lead product candidate, Gencaro, is an investigational, pharmacologically unique beta-blocker and mild vasodilator being developed for the prevention of atrial fibrillation in patients with heart failure and reduced left ventricular ejection fraction.
This company has a major catalyst on the horizon with its plans to initiate Genetic-AF, a phase IIB/III clinical study of Gencaro in AF patients with heart failure and reduced left ventricular ejection fraction. Arca Biopharma believes that Gencaro has the potential to be the first genetically targeted cardiovascular therapy. The company holds exclusive rights to Gencaro and has been granted patents in the U.S. and Europe for methods of treating various cardiovascular disorders with Gencaro.
That phase IIB/III clinical study is due to start enrollment this month. That headline is coming very soon and could easily send shares of ABIO sharply higher. Even more important, shares of ABIO could start a monster run-up trade as excitement grows for the possibility of positive clinical results for Gencaro. This company has already done a capital raise on Feb. 4 at $1.70 per share. There could be more raises in the future, but I wouldn't expect another one in the near future.
>>5 Hated Earnings Stocks You Should Love
What I really love about shares of ABIO from a trading perspective here is the fact the stock has an extremely low float of just 11.75 million shares and a ridiculously high short interest. The current short interest as a percentage of the float for ABIO is gigantic at 27.2%. That means that out of the 11.75 million shares in the tradable float, 3.20 million shares are currently sold short by the bears. This combination of a small float with a large short interest would have me very worried as a short-seller of this stock if shares of ABIO start to trend higher soon.
If you consult the chart for Arca Biopharma, you'll see that this stock is bouncing higher today right off its 50-day moving average of $1.90 a share. This bounce is starting to push shares of ABIO within range of triggering a monster breakout trade that could produce one heck of a powerful short squeeze. That trade will hit if ABIO manages to trade above a key downtrend line that dates back to mid-January. That trade will start to trigger once ABIO starts to clear some near-term overhead resistance levels at $2.05 to $2.10 a share with high volume.
Traders who want to take advantage of a potential run-up play should look for long-biased trades in ABIO as long as its trending above some key near-term support levels at $1.83 to $1.70 a share and then once it breaks out above those key overhead resistance levels at $2.05 to $2.10 a share with high volume. Look for volume on that move that hits near or above its three-month average action of 1.07 million shares. If that breakout gets underway soon, then shares of ABIO could easily soar higher towards my first target zones of $2.50 to $3 a share. If those levels get taken out with volume, then ABIO has an excellent chance of tagging $4 a share in the next few months, especially if we get some positive news on Gencaro.
-- Written by Roberto Pedone in Delafield, Wis.
RELATED LINKS:
>>5 Utility Stocks to Charge Your 2014 Gains
>>5 Rocket Stocks Ready for Blastoff This Week
>>3 Stocks Under $10 Making Big Moves
Follow Stockpickr on Twitter and become a fan on Facebook.
At the time of publication, author had no positions in stocks mentioned. Roberto Pedone, based out of Delafield, Wis., is an independent trader who focuses on technical analysis for small- and large-cap stocks, options, futures, commodities and currencies. Roberto studied international business at the Milwaukee School of Engineering, and he spent a year overseas studying business in Lubeck, Germany. His work has appeared on financial outlets including CNBC.com and Forbes.com. You can follow Pedone on Twitter at www.twitter.com/zerosum24 or @zerosum24.