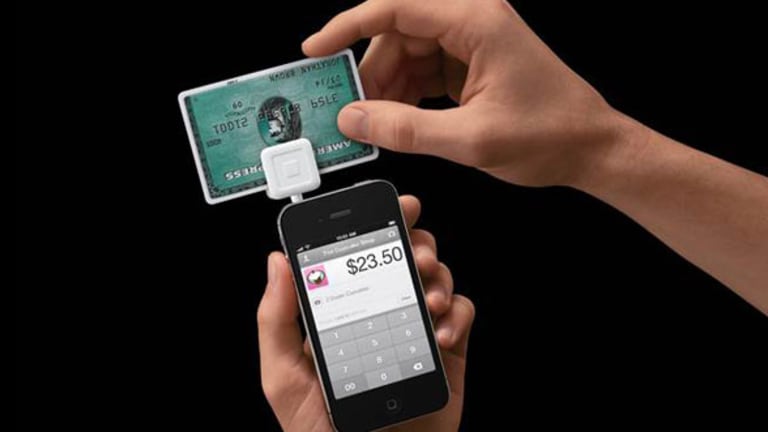 Small Business Owners Enjoying New Payment Systems, Fresh Optimism
According to Bank of America's fall small business owners survey, more than half are using new payment technologies, and 67% plan to hire in the next year.
More than half of small business owners are using new technology to accept payments, a new survey said, reflecting the rise of platforms like Apple's (AAPL) - Get Free ReportApple Pay and Square (SQ) - Get Free Report .
"More small business owners are adopting technology overall, and one of the ways they are adopting technology is to accept payments," said Sue Lonergan, a managing director at Bank of America Small Business, which released its fall survey on the state of small business owners last week. Among other findings, the survey revealed that 54% of respondents were using new technology to process payments.
Small business owners shouldn't be taken lightly. They account for 64% of private sector jobs, according to the Small Business Administration.  And some 67% of small business owners plan to hire more employees over the next year. In the same survey last year, only 50% said they expected to hire more.
"Small business owners are a lot more optimistic about the global economy and most optimistic about their local economy -- 70% of respondents said they expect to increase their revenue next year," she said.
Higher streams of revenue enable business owners to hire more workers. "A lot of the hiring is around their expected revenue growth," Lonergan added.
But amid the optimism comes a  few worries.
"The small business owners told us they are worried about the upcoming presidential election, the possibility of an increase in the minimum wage, and the prospect of higher interest rates," Lonergan said.
Presidential candidates have floated the idea of hiking the minimum wage, which would raise costs for business owners. Meanwhile, the Federal Reserve is likely to hike interest rates for the first time in nearly a decade when it wraps up its two-day policy meeting on Dec. 16. Higher interest rates would increase the cost of capital, making it more expensive for any small business owner looking to borrow money.
"What small business owners are worried about hasn't changed year-over-year," she added.