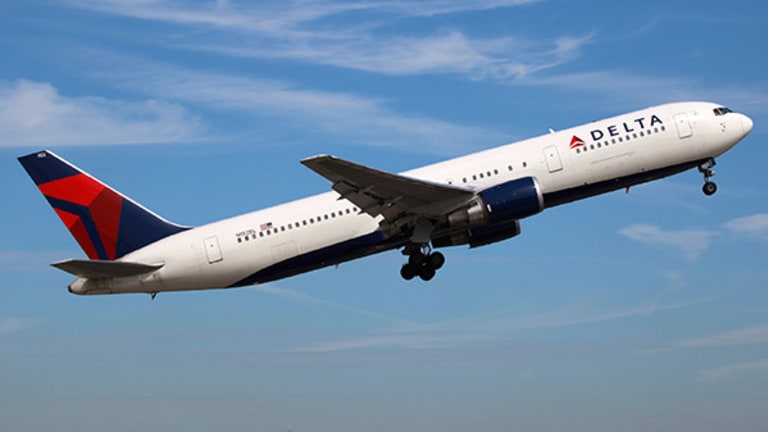 SLB, WBA, DAL: Jim Cramer's Views
Cramer shares his views on the unkillable market. Schlumberger, Walgreens and Delta Airlines are among the stocks discussed.
Jim Cramer shares his views every day on RealMoney.Click here for a real-time look at his insights and musings.
Cramer: Contested Election Could Mangle the Market
Posted at 11:26 a.m. EDT on Thursday, Oct. 20, 2016

The idea of this election dragging on past Election Day is a nightmare for investors. There's so much money on the sidelines, so much waiting to come in, that if Donald Trump contests as he said in Wednesday's debate and doesn't accept the verdict of the voters, or the alleged voters, or whatever we want to call the process, then we are not going to be able to mount the early November rally you'd expect when this big event is, at last, past us.
We are at a moment in time where something as simple as that statement I just made will be considered partisan. I don't care about politics, I care about stocks, and I think people have to recognize that having a more intrusive vs. a less intrusive government requires you to adjust your portfolio in a major way. Obviously, when it comes to regulation, Hillary Clinton stands for a more activist stance and Trump stands for a more passive one, and it matters more than ever. We need to have this election over with to figure out the way to go and, if we did, we could find a way to make money either way. We just need it over.
I think we underestimate right now how much of business hangs in the balance of Washington, not in the marketplace. Remember, stocks react to earnings and, more important, to the prediction of earnings, and anything that makes things less predictive makes us want to pay less for stocks. A contested election throws a monkey wrench in the entire predictive process.
If you don't believe me, just consider Thursday's news and how much of the direction of it depends on an active vs. passive governmental stance.
First, Walgreens (WBA) - Get Walgreens Boots Alliance Inc. Report is up big Thursday and it isn't because this Action Alerts PLUSname blew out the quarter. In fact, the substance of the quarter was nothing to write home about. I didn't like the revenues or the same-store sales. This stock's rallying because the company made it sound like the Federal Trade Commission would still bless the pending deal to competitor Rite Aid (RAD) - Get Rite Aid Corporation Report that the Street wants so much to get done. Under Clinton, you might never get approval of this deal. Under Trump, you might not even get an antitrust review. If he's true to his word of much less intrusion into the business world, this one sails through.
If you get a contested election, you could have no idea what to do here.
We saw a stronger-than-expected number from Kinder Morgan (KMI) - Get Kinder Morgan Inc. Report Thursday morning, and I have to tell you that if you get a Clinton win you might actually see this stock go higher because I believe it will be so much harder to get a new pipeline built given the ease with which the president and key agencies can block them if they so choose. Why does Kinder do well then? Because it has a fantastic existing network and the lack of potential competition could mean higher rates for Kinder pipes.
Deutsche Bank's (DB) - Get Deutsche Bank AG Report stock is percolating on the possibility of some deep-pocketed partners coming in to help rescue the bank from a severe Justice Department bargaining stance against a bank that it sees as contributing mightily to the housing crisis that precipitated the Great Recession. A Trump Justice Department's a wild card. A Clinton Justice Department would presume to play the same hardball game of the Obama administration.
The direction of the stocks of Walgreens, Kinder Morgan and Deutsche Bank are all about who's president because the president--him or herself--makes the kinds of decisions that impact these situations either directly or through agency appointments. Indecision about the results of this election would keep money on hold because of a lack of clarity, and suffice it to say that whoever you are for, clarity is what makes for higher prices.
Action Alerts PLUS, which Cramer co-manages as a charitable trust, is long WBA.
Cramer: It's Too Late to Catch the Bottom in Airlines and Oil Services

Posted at 7:15 a.m. EDT on Thursday, Oct. 20, 2016

Spotting bottoms can be among the most important traits of good stock pickers, because bottoms are the stuff of buying low and selling high.
The problem is that you usually can't spot a bottom until one is firmly in place.
Think about it. We are now talking about the possibility that the airline stocks have hit bottom. But if you look at the charts, you can see they almost all hit bottom at the end of June, with Delta Airlines (DAL) - Get Delta Air Lines Inc. Report at $33--it is now at $40--United Continental (UAL) - Get United Airlines Holdings Inc. Report at $37--it is now at $55--and American Airlines (AAL) - Get American Airlines Group Inc. Report at $25--it is now at $40.
Those were very hard bottoms to spot, because they came at the worst moment in the cycle--when plane capacity was expanding while fare wars were breaking out all over the place. The latter is still happening, but the former might be going away. You had to buy the stocks, though, when both fare wars and increased capacity seemed out of control.
Now I am wondering if the same thing is happening with the oil drillers and service stocks. Take the two biggest, Halliburton (HAL) - Get Halliburton Company Report , which reported a terrific number Wednesday, and Action Alerts PLUS holding Schlumberger (SLB) - Get Schlumberger N.V. Report , which reports Thursday. You could have waited for that excellent HAL quarter, or you could have bought HAL's stock at $49 Wednesday--or even at $33 during the last swoon down to the $30s. We haven't seen SLB's numbers yet, but I bet that $75 price is looking pretty darned good for a bottom with the stock now at $83.
The issue, like the airlines, though, is do you trust management. Halliburton has been bullish too early before--and it didn't work. This time, though, it really walked the walk, with some very good growth in the U.S. and a statement that the U.S. always leads the way.
Schlumberger could say the same thing.
So can you just go out and buy them? If you use the airline stocks' example, then the answer is that you are already too late for the real bottom--but you do tend to get a test that takes you about half way back to where the bottom was.
In other words, you missed it. But now you have to wait for a better, but not best, entry point because that entry point has passed.
Now it is true that $50 is looking like the new $40--the old line in the sand for oil.
That's not just because of the November freeze OPEC has announced. It is now looking like there was slightly more demand in October than there was in September.
I think that the way you have to approach this group now is to wait for a price break back to $48 to 49 for oil and then, if you haven't bought, you will get a better chance than now.
One thing is certain, though, the oil service stocks, like the airlines, put in a bottom when things were the worst: no pick up in pricing, meager rig growth and still-massive cuts in big productions around the globe -- which, to be sure, SLB has more exposure to than HAL.
So, if you haven't moved by now, wait.
But understand, both the airline and oil service bottoms came when things were ugliest. The all-clears? They are truly done well after things were all clear in the stocks, just not with the companies, because, as always, stocks anticipate a bottom well before one can be detected, or, for that matter, deserved.
At the time of publication, Action Alerts PLUS, which Cramer co-manages as a charitable trust, was long SLB.
Cramer: Let's Review Salesforce's Hacked Shopping List
Posted at 2:36 p.m. EDT on Wednesday, Oct. 19, 2016

What's Salesforce (CRM) - Get Salesforce Inc. Report going to do? What's CEO Marc Benioff going to buy next?
In perhaps the wildest M&A story I've seen, a hack of board member Colin Powell's email actually produced a file showing some potential acquisition targets for the company.
It's pretty startling for multiple reasons. First is that Twitter (TWTR) - Get Twitter Inc. Report isn't on the list, even as the stock was down at $14. All I can say is that Twitter's board must have been willing to sell itself after this list came out and that's the reason why it wasn't on the list, even as there are other companies mentioned that aren't for sale either.
There were 14 public companies on the list and I want very much to tell you what I think the possibilities might be after I have ruled some out right up front.
First, let's rule out the companies that have been acquired since the memo. Salesforce itself bought Demandware (DWRE) to further its e-commerce efforts. Second, Marketo (MKTO) , a marketing automation company, was purchased by Vista Partners. Another private equity firm, Thoma Bravo, bought Qlik (QLIK) , a data analytics company and frequent guest of Mad Money. NetSuite (N) , a cloud-based company that competes in the small and medium-sized business space with Salesforce.com, perhaps would have been a nice addition, but Oracle's (ORCL) - Get Oracle Corporation Report bidding for it and Larry Ellison owns enough of it to block anything hostile.
And Microsoft (MSFT) - Get Microsoft Corporation Report already bought LinkedIn (LNKD) , the powerful social mobile and cloud executive listing site, a company that we learned later was almost bought by Salesforce.
Next to be dismissed, unless it's a friendly merger of equals, is Adobe (ADBE) - Get Adobe Inc. Report , because the stock's value is bigger than Salesforce's. It's a natural but unlikely combination.
Two other companies that use Salesforce as a platform, Workday (WDAY) - Get Workday Inc. Report and Veeva Systems (VEEV) - Get Veeva Systems Inc. Class A Report , would be somewhat antithetical to Salesforce's model. It hasn't wanted to vertically integrate into the financial and human resources silos of Workday or the life-sciences business of Veeva, even as Workday CEO Aneel Bushri is a great friend of Benioff's and Veeva's run by an old and beloved Salesforcer, Peter Gassner. Both companies had great quarters and are justifiably richly valued.
There are a couple of other companies mentioned, Box (BOX) - Get Box Inc. Class A Report and Zendesk (ZEN) - Get Zendesk Inc. Report , a storage company and a customer service business, that seemed to be ruled out by the notation, "CEO has no interest." I think you can take those off the table, too, because there's no way Benioff's going to do anything hostile.
Another, Tableau Software (DATA) - Get Tableau Software, Inc. Class A Report , which reported a very soft quarter at the same time LinkedIn did and saw its stock similarly plummet, I think would be a bad fit because it's not really social, mobile or cloud-based, and those are imperatives for Salesforce.
ServiceNow's (NOW) - Get ServiceNow Inc. Report on the list and that's an unbelievably good company, one that uses cloud-based technologies to improve workflow. We've had CEO Frank Slootman on and this is one of the best technology companies out there. But the $12 billion company has the highest P/E multiple of any company I follow, 120x earnings, and while I think that's temporarily inflated -- the earnings are coming on strong -- I think that multiple's tough for Benioff to follow. You own NOW because it's a great company, not for takeover, although I should add that there's a notation saying Salesforce would be meeting with ServiceNow in late May. Obviously, nothing's come of it at least to date, though.
That leaves two companies, HubSpot (HUBS) - Get HubSpot Inc. Report , a $1.8 billion company that does marketing and Salesforce automation, and one of my favorites, Pegasystems (PEGA) - Get Pegasystems Inc. Report , a competitor of Salesforce that does mission-critical predictive marketing. This stock, which hit a 52-week high on speculation of a Salesforce bid after the leaked memo, to me makes the most sense of all the companies listed. It's not too big, $2.5 billion, it's very good at what it does, and it's nowhere as expensive as ServiceNow.
Now let's be clear. During the whole Twitter back-and-forth, Benioff repeatedly told me that he looks at everything and that he would buy something that would help his company grow but would not buy anything that would hurt shareholders, something that clearly ruled out Twitter when its stock ran to the mid-$20s.
Of these, I think Pegasystems would be the most logical, but you have to wonder that since this document is from six months ago, maybe it's been looked at and passed on. Still, it's a terrific parlor game, but one that's really pure speculation and therefore no reason to buy stock in any of these companies. Remember, I don't recommend stocks on a takeover basis, but fortunately the fundamentals of so many of these companies are great that I can't blame you for speculating in any of them.
Action Alerts PLUS, which Cramer co-manages as a charitable trust, has no positions in the stocks mentioned.
At the time of publication, Action Alerts PLUS, which Cramer co-manages as a charitable trust, was long SLB and WBA.