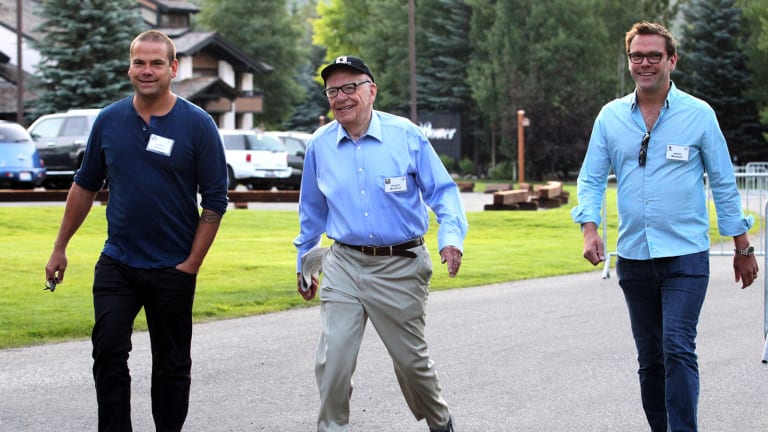 Sky Stock Trades Higher on Solid Customer Growth; Murdoch Takeover Awaits
Underlying growth at the British pay-TV firm was solid in the first half but operating profit was hit by broadcast rights inflation.
Sky (SKYAY) stock rose in early Thursday trading after the Murdoch-backed pay-tv firm reported solid customer growth for the first half of the year, although it saw only limited benefit at the bottom line as operating profit was dented by cost inflation for broadcast rights of English soccer.
The broadcaster, currently the target in a takeover attempt by Fox (FOX) - Get Free Report , added more than 500,000 new customers during the period, outpacing growth seen in recent years, and taking the total number of customers above the 26 million threshold for the first time.
Stronger customer growth sent revenue 12% higher to £6.4 billion ($7.7 billion). However, an increase in the price Sky has had to pay for the rights to broadcast English soccer's Premier League games meant that operating profit fell 9% to £679 million.
Broadcast rights inflation has been a persistent theme for Sky in recent years, ever since BT plc (BT) Group entered the pay-tv space with the launch of its BT Sports offering back in 2012, which led Sky to lose the broadcast rights to Europe's 'Champions League'.
"To put this into perspective, our first half operating profit of £679 million is down £65 million on the prior year despite absorbing an additional £314 million of Premier League costs," said CEO Jeremy Darroch, after hailing a 'good' financial performance.
The British firm is currently caught in the cross hairs of Rupert Murdoch's Fox as the American rival attempts to gain control of the 61% of the firm that it does not already own.
Sky shares were up 0.25 by 10:00 GMT to change hands at 1,006 pence, extending a month-to-date gain of 1.5% in January. The stock is up more than 27%, however, since Fox first made its takeover approach on Dec. 9.
It made an £11.2 billion ($14.3 billion) bid for the remainder of the asset in December although the deal has faced opposition from some minority shareholders, including The Local Authority Pension Fund Forum as some see the offer as undervaluing the company and have concerns about corporate governance at Fox.
Adding fuel to the fires of concern over the value of Fox's offer, UBS analysts raised their price target for the stock in the wake of the offer, to 1,370 pence while Fox's bid values the shares at just 1,075 pence. The shares have never actually traded at or above Fox's offer price, suggesting that the market might doubt whether a deal will actually take place.