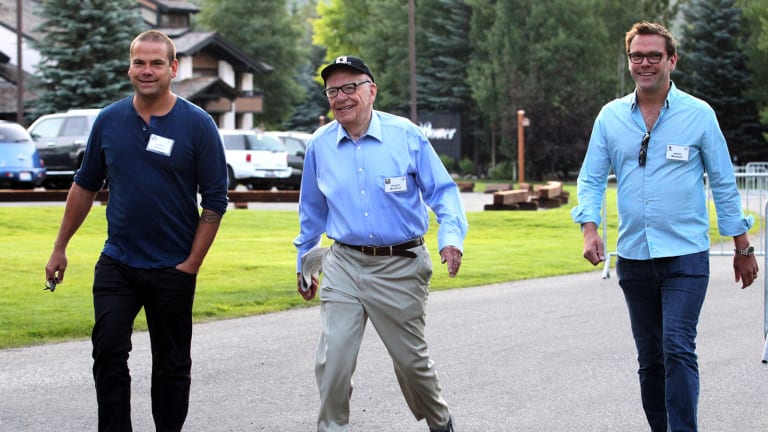 Sky Shares Dip Amid Concerns Over Shareholder and Regulator Deal Opposition
Reports of shareholder concern and regulatory risk keep Sky shares subdued Monday after Friday's $23 billion takeover bid.
Sky (SKYAY) stock fell Monday amid speculation of opposition from minority shareholders over the latest bid for the U.K. television and media firm from a Rupert Murdoch-led vehicle, Twenty-First Century Fox (FOX) - Get Fox Corporation Class B Report .
Reuters reported Sunday that a major shareholder is planning to vote against the deal out of concern that the price offered by Fox is too low. Sky shares fell by around 0.65% by 09:30 GMT to trade at 991 pence nearly 10% below Fox's offer price of £10.75 each.
Fox unveiled its play for Sky Friday with a bid that valued the satellite television provider at £18.4 billion ($23.22 billion), lifting shares some 30% in late afternoon trading.
"Our view is that Fox may make a relatively modest increase in its cash bid to make it look as though it has listened to other shareholders but there is unlikely to be a major revision upwards," said Liberum Capital analyst Ian Whittaker.
Whittaker wrote that any revised bid from Fox is likely to be as good as things get for minority shareholders in Sky, reasoning that the 39% ownership stake the suitor already has will mean a rival bidder is unlikely to emerge to drive the price higher.
Friday's offer comes six years after another takeover attempt of Sky failed due to a combination of concerns over regulatory approvals and the political fallout from a phone hacking scandal that ultimately led to the closure of one of Murdoch's most coveted print titles in July 2011: the News of the World.
Shareholder opposition is not the only risk that the latest deal might face - as its size is likely to mean that it is referred to regulator OFCOM within days.
News Corp, a different company but one that was still ultimately controlled by the Murdoch family, attempted a 2010 takeover of Sky at a price of 700 pence per share, which prompted concerns over the likely dominance of the combined entity in U.K. news media. The bid was ultimately rejected by Sky and withdrawn the following year.
This time around, the bidder has less of a presence in the U.K. news media, although analysts have not ruled out the regulator asking for some concessions on the deal.
"We suspect that similar conditions might be placed on Fox/Sky, even if it is News Corp, not Fox, that publishes newspapers: the reality is that both companies are controlled by the same family," said Berenberg analyst Sarah Simon.