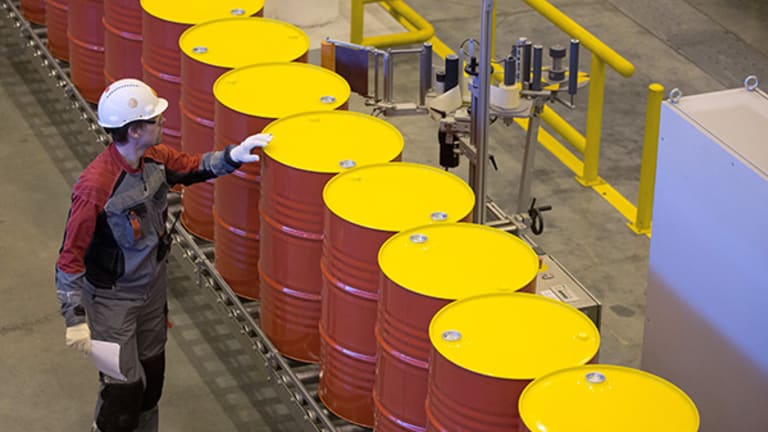 Six Oil Stocks That Could Be Impacted by OPEC Talks
Bill Barrett, Denbury, Hess, Marathon, Oasis and Whiting could feel the gyrations in the markets the most given their higher oil composition.
Bill Barrett, Denbury, Hess, Marathon, Oasis and Whiting could feel the gyrations in the markets the most given their higher oil composition.
Oil and gas stocks are in for a wild ride this week, as members of the Organization of Petroleum Exporting Countries, or OPEC, informally meet this week on the sidelines of an energy conference in Algiers to discuss a potential agreement to stabilize the oil market.
While not much is expected to come out of it (except possibly a framework for further discussions at OPEC's biannual meeting set for Nov. 30), oil prices - and oil-levered shares - are expected to go up and down depending on the rumors coming out of the talks.
Houston boutique investment bank the KLR Group expects six companies to be particularly impacted if oil prices swing wildly given their higher oil composition as well as operating and financial leverage. They include Bill Barrett ( (BBG) ), Denbury Resources ( (DNR) - Get Report ), Hess ( (HES) - Get Report ), Marathon Oil ( (MRO) - Get Report ), Oasis Petroleum ( (OAS) - Get Report ) and Whiting Petroleum ( (WLL) - Get Report ).
All six stocks were advancing Monday given higher oil prices, which were trading at more than $46 per barrel.
Like many other companies, Bill Barrett has been in a precarious position during the industry downturn, with Standard & Poor's reporting in June that the company could breach its minimum interest coverage ratio in its credit facility in the next year or two if commodity prices remain weak. Still, the Denver company - led by Scot Woodall -- said last month it planned to restart its drilling program in part because of improved well costs that could boost returns. Analysts expect it to shed more assets, specifically in Utah's Uinta Basin, where it holds 26,000 net acres.
Denbury, headed by Phil Rykhoek, has been working to deleverage its balance sheet. In June it sold the last of its non-core assets in the Rockies' Williston Basin to an unnamed buyer for $58 million. Its financial results have been looking brighter: Last week it reported earnings for its fiscal second quarter of $29 million, or 8 cents per share, beating analyst consensus of 2 cents per share.
Meanwhile, Hess - led by family scion John Hess - is thought to be in pretty good shape, with $7.7 billion of available committed liquidity to bridge the weak oil and gas environment. It could also sell or take public its 50% stake in its master limited partnership that holds infrastructure assets in the Rockies' Bakken Shale, which could give it another potential source of liquidity, Moody's Investors Service said in a report last week.
Marathon, headed by former Exxon Mobil ( (XOM) - Get Report ) executive CEO Lee Tillman, has shed $1.3 billion in non-core assets through the downturn and used the proceeds for acquisitions in better plays. In June it announced it was picking up Stack assets in Oklahoma via its acquisition of EnCap Investments LP-backed PayRock Energy LLC for $888 million. It's also been rumored to be interested in picking up private equity-backed Silverhill Energy Partners LLC, an oil and gas explorer active in West Texas' Delaware Basin that's being shopped around by Jefferies Group LLC.
Oasis - which is led by longtime CEO Tommy Nusz -- still has some work to do on asset sales, with analysts suggesting it get rid of its water disposal unit Oasis Midstream Services. The Houston company also been considered something of a takeover target as it's one of the few pure plays left in Bakken, whose prospects will improve once oil prices do.
And then there's Whiting Petroleum, another big player in the Bakken. The Denver oil and gas explorer, which is headed by James Volker, has sold some of its noncore properties, including 89,500 net acres in the Bakken/Three Forks area of North Dakota's Williston Basin in January to Vortus Investments-backed NP Resources LLC for an undisclosed sum. But it has other assets it could sell, including its Robinson Lake and Belfield gas processing plants, which have attracted some interest. Whiting has been thought to be a possible takeover by the likes of Exxon Mobil for its properties in the Bakken, along with Hess.