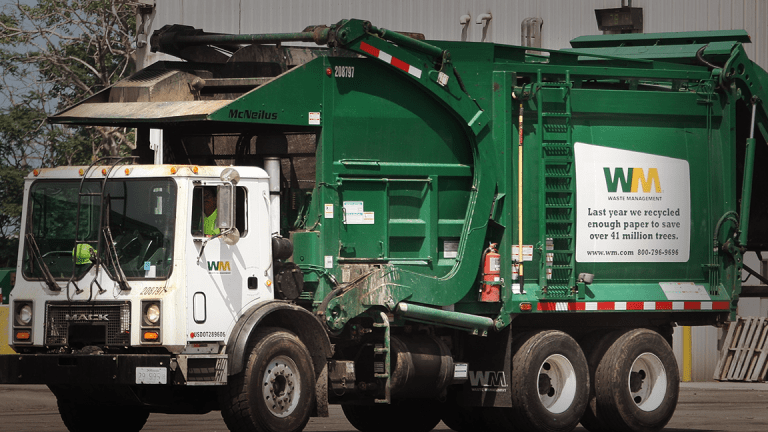 6 Economic Reasons Why Investing in Trash Smells Like a Good Idea
The investment fundamentals in the solid waste sector haven't peaked, say analysts at Stifel.
One person's trash can be an investor's treasure, according to a new note from Stifel that lauded the potential returns from the solid waste collection sector. 
The fundamentals of solid waste haven't peaked, according to analyst Michael Hoffman, even though recycled commodity prices have hit new 10-year lows. 
Expanding GDP and population growth coupled with what the firm said was favorable residential and non-residential construction trends mean that there will be volume growth and price leverage. 
Here are six reasons why investing in waste stocks like Waste Management Inc.  (WM) - Get Waste Management, Inc. Report , Casella Waste Systems Inc.  (CWST) - Get Casella Waste Systems, Inc. Class A Report , Republic Services Inc.  (RSG) - Get Republic Services, Inc. Report and Advanced Disposal Services Inc.  (ADSW) - Get Advanced Disposal Services, Inc. Report is a good idea. 
GDP - the Macro Driver
As U.S. GDP grows, the "cumulative benefits of stable GDP, a sustained pace of housing starts, incremental improvement in non-residential construction, and a recovery in industrial production growth to 3.3% in 2018, should translate into positive municipal solid waste volume growth of 0.5%-2.0% and reported price at 2.0% to 3.5% in 2018," the analysts said.
Positive Employment Data
The sector has been on a hiring spree, with solid waste collection employing 230,000 more people, or a 3.5% increase from the previous year, in January 2018. There wouldn't be more employees if there wasn't more trash to pick up.
Construction Spending Is Trending in the Right Direction
Construction sites are goldmines of solid waste and construction spending is trending in the right direction. Spending grew for the 78th consecutive month in January, rising 3.7% year over year. 
Housing Starts 
Over the past 60 years, housing starts in the U.S. have averaged 1.44 million units per year. Annualized housing starts were on pace to be 1.33 million in 2018, meaning there is room for growth in the coming months. 
Recycled Commodity Prices Are Falling
"In 1Q18, National OCC prices have averaged $98.57/ton, down 27% year-over-year, while California and Pacific Northwest regional price averaged $104.33/ton and $90/ton, down 26.5% and 31.9%, respectively. The consensus view is China papermaking demand remains strong," Stifel's note said. 
Diesel Prices Are Rising
Diesel prices were up 15.8% year over year in fourth quarter 2017 and nearly 18% in first quarter 2018. Those price increases result in a pass-through of the fuel surcharge waste management companies charge.