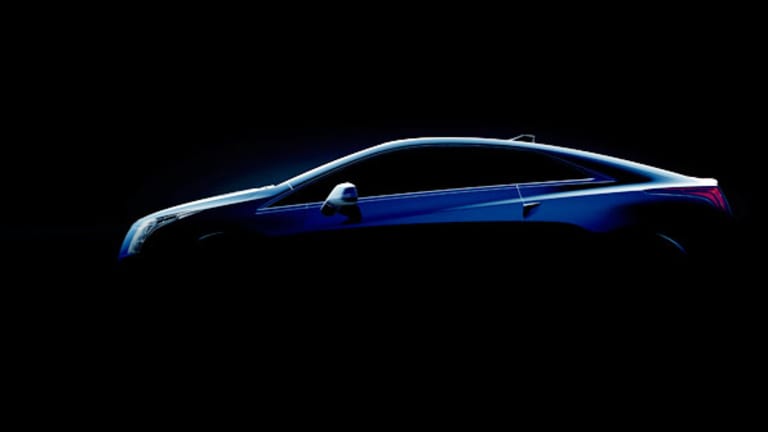 Six Hottest Cars at the Detroit Auto Show
Ford, GM and Toyota will all unveil hot new vehicles next week at the Detroit Auto Show.
DETROIT (
) -- Headed into the 2013 Detroit Auto Show, the auto industry is in a good mood, reflecting three years of rising sales and expectations for a fourth year of growth.
Even in a bad year, nothing cheers up the auto industry like the Detroit Auto Show, 2009 notwithstanding. The cameras flash, the reporters congregate and the executives are on comfortable turf, particularly because the Detroit show is geared toward them, rather than toward a particular region, as the Los Angeles show is geared towards California's secessionist auto buying tendencies.
Media days are Monday and Tuesday, and thousands of reporters from throughout the world will descend on Detroit to see the new cars and chat with auto industry executives from around the world. By the way, if you know of an available hotel room in downtown Detroit, let us know -- we are staying out by the airport. This is because it never occurred to us back in 2010 that what we should be doing is booking a downtown Detroit hotel room for next week.
As for the vehicles that will dominate the news at the show, the information about some of them is as hard to come by as a downtown hotel room.
For instance,
Ford
(F) - Get Ford Motor Company Report
is expected to unveil a concept for the 2015 F-150, which is important because 2013 is shaping up to be the year of the
. But so far Ford has had nothing to say on this topic.
In assembling our list of the six hot cars at the auto show, we talked with Edmunds.com Automotive Editor Ed Hellwig. This is what we know, so far.
Ford F-150 Concept
The story here is that the Dodge Ram is a great new truck that is winning multiple truck-of-the-year awards and the auto industry is obsessed with the introduction of the new
GM
(GM) - Get General Motors Company (GM) Report
Chevrolet Silverado truck, to the point of carefully counting, at the end of each of the past six months, GM's inventory of current model Silverados. If you are Ford, you no doubt are a little upset that your truck seems to be getting the cold shoulder. It has been the best-selling vehicle in the U.S. for the past three decades and it leads the next closest vehicle, the Silverado, by 35%, or about 200,000 vehicles, which basically is enough units to satisfy a small automaker with one or two successful vehicles.
So with the eyes of the automotive world on the Detroit Auto Show, it's time for Ford to make some noise.
Our only question is why did GM introduce the new Silverado in mid-December, rather than waiting a month for the auto show?
For the moment, our picture shows a 2012 F-150. Check back next week to see a picture of the 2015 concept truck.
Chevrolet Corvette
Perhaps Chevrolet wanted to focus all its attention on its new Corvette, which will be unveiled at a special event on Sunday night, before the doors to the auto show open.
Corvette only sold 14,132 units in 2012, but "anytime there's a new Corvette, it's a big deal," Hellwig said. "It's not a high volume car, but it's a halo car for GM and a showcase for GM technology. Everybody knows the Corvette name."
Speaking to reporters, something he rarely does, at a gathering in Detroit on Wednesday, GM CEO Dan Akerson said of the new Corvette: "I think (it) will be one of the beautiful cars ever made."
The 2012 Corvette is pictured above.
Toyota Furia
Toyota
(TM) - Get Toyota Motor Corp. Sponsored ADR Report
will debut its Furia concept on Monday afternoon with a unique presentation, a custom-built structure housing 30 of Samsung Display's new 46-inch transparent LCD screens. This is what it takes to catch anyone's eye at an auto show media day, where one can easily be trapped, unable to see anything, in a hoard of journalists, all of whom seem to have arrived earlier than you did.
By the way, the requirement to be considered a "journalist" for the purpose of attending the Detroit Auto Show media day is to have written three stories during the past year, so the barrier to entry is not high, especially given that most actual newspaper reporters, admittedly a dying breed, have written three stories during the past day. Toyota said it will be "the first automotive company to use this (Samsung) technology to reveal a vehicle at a major international auto show."
Ed Hellwig said the Furia is "thought to be a lightly massaged version of what will be the Corolla," which is a very high volume car in the very important compact car segment, where the
Honda
(HMC) - Get Honda Motor Co., Ltd. Sponsored ADR Report
Civic, Ford Focus, Chevrolet Cruze and Hyundai Elantra all compete for consumers who are focused on good gas mileage.
VW Crossover
Hellwig said he believes that VW will unveil a mid-sized crossover vehicle at the show.
VW has been growing in the U.S, where its 2012 sales rose 35% to 438,134. It spent $1 billion to build a plant in Chattanooga, Tenn. The VW Passat is built at the plant, which opened in April 2011.
The mid-sized crossover segment "is one of the last segments where VW doesn't yet compete in the U.S. and it's a segment they have hinted at entering," Hellwig said. "VW has all of its top executives coming over from Germany, and they don't come over here for nothing." The new vehicle could replace the Touareg (pictured), although it would be slightly larger: it is also possible that VW will keep the Touareg.
Here we should add that VW might be a great automaker but it certainly has room for improvement in the area of selecting names for its vehicles. Another weirdly named VW vehicle is the Tiguan, a smaller crossover which is unlikely to be replaced.
Cadillac ELR
The Cadillac ELR, a luxury coupe based on extended range electric technology, will be unveiled at the auto show. "It uses the technology of the Volt in a two-door Cadillac coupe," Hellwig said.
Production is scheduled to begin in late 2013 at GM's Detroit Hamtramck plant, which is also home to the Volt. The ELR is extended to be unveiled on Tuesday.
"The ELR will be in a class by itself, further proof of our commitment to electric vehicles and advanced technology," Mark Reuss, GM North America president, said in a prepared statement.
Lexus IS Sedan
Toyota's Lexus IS compact sports sedan will make its debut on Tuesday morning with three models: the IS250, the IS350 and the IS 300h, a hybrid, which will be available in international market.
Lexus has provided details which include a description of the Lexus spindle grille frontal design that will suggest "aggressive elegance, a more powerful road presence and a stronger brand identity."
Hellwig said the IS, like many newly introduced luxury cars, will attempt to compete with the BMW 3 Series. He said Lexus "didn't do anything real dramatic. They went with a very evolutionary tact and tweaked a lot around the edges."
-- Written by Ted Reed in Charlotte, N.C.
>To contact the writer of this article, click here:
Ted Reed