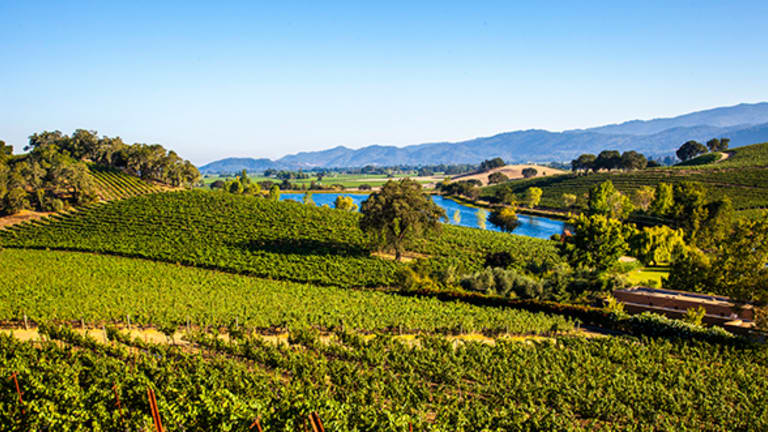 NEW YORK (TheStreet) -- Wine is one of the technology industry's great hobbies. Palo Alto, Calif. is only 80 miles from Napa, Calif., the center of the state's wine country, and lawyers, bankers, venture capitalists and entrepreneurs often make the drive north to socialize and unwind.
Getting an annual allotment of wine from an exclusive producer confers status upon the recipient in the same way being invited to invest in a hot startup does, and some of the most successful Silicon Valley entrepreneurs end up buying estates in Napa and starting their own labels.
Silicon Valley Bank, as Santa Clara, Calif.-based SVB Financial Group (SIVB) - Get SVB Financial Group Report is known, has both capitalized on the nexus between California's tech and wine sectors and helped strengthen it. According to executive vice president Rob McMillan, SVB has four full-time concierges who set up visits to wineries and events with winemakers for SVB's other clients. The bank did 300 wine-related events last year, McMillan says.
"The guys on the tech side love wine, and they're perfect clients for the guys in the wine business," he said last month over lunch at the Silverado Country Club in Napa. "When they come up here, what they really look for is for someone else to sort out the producers so they can have a good time."
That requires matching guest and producer. Some producers are happy to have a busload of visitors. But, says McMillan, referring to one of Napa's top vintners, "If I sent a bus to Bill Harlan, he'd kill me. You send the head of Intel Capital to him with his two buddies."
In fact, SVB helped Arvind Sodhani, who runs Intel Capital, vet several wineries before he purchased Sodhani Vineyards in St. Helena, Calif.
McMillan, now 58, didn't have such lofty ambitions when he started the bank's wine practice in the early 1990s. SVB was looking to diversify its business, which at the time was equally divided among the commercial, real estate and technology sectors. The last of those was generating a lot of cash, McMillan says, and the wine industry is cash-intensive.
SVB's timing was perfect. The bank made its first loan to a winery in 1994, the same year that the boomers' median age hit 35. As the boomers aged, they spent more money on wine, which drove demand for higher-end product.
At the time, McMillan says, "Bank of America Corp., Wells Fargo & Co., and the Farm Credit Council held virtually all the banking, but the business itself was shrinking and they each wanted to cull their portfolios of assets they viewed as underperforming or risky. All other lenders saw the business as inherently risky and we were the only other alternative. So those three financial institutions were the biggest source of our early successes, and early on, marketing consisted of picking up the phone."
That redounded to SVB's benefit, as the price of land in Napa County rose from about $50,000 an acre in 1995 to $320,000 today. Napa's fame rests on its robust red wines, which is reflected in the price of grapes. A ton of Napa Cabernet Sauvignon grapes goes for $6,000 today, compared to about $1,700 in 1995, while a ton of Napa Chardonnay grapes costs only $2,500 today vs. about $1,500 in 1995.
SVB's wine practice now employs 35 people and accounts for 6% of the bank's $14.6 billion gross loan portfolio, a third of which is devoted to software and Internet companies and another third to private equity and venture capital, with most of the rest split among life sciences and health care, hardware and SVB's private-banking unit.
McMillan handed over the day-to-day management of the business to William Stevens in 2004 and became an ambassador for SVB's practice, making speeches and publishing reports about the wine business. He says that he and the bank are "agnostic" about what kind of wine a client makes, but he strongly emphasizes the need to have a coherent marketing plan and a strategy for building brand loyalty.
Being able to buy wine directly from a producer may be a status symbol for consumers, but that sales channel is a lifeblood for many wineries. McMillan says that in 1995, there were 2,600 wineries and 3,000 distributors; today, there are 8,800 wineries and 700 distributors, and the average California winery makes 60% of its sales directly to consumers, either at tasting rooms or via mailing lists.
The increase in wineries and consolidation among distributors mean that wineries have to be creative about building their brands. California can't compete on price with countries such as Australia, Chile and Portugal, and selling fine wine requires creating a connection with consumers, McMillan says. "It's not just a bottle of chemicals that's being sold. It's defined by where the wine is produced, who the winemaker is, and what the emotional connection is with the consumer." Historically, wineries have done that by encouraging people to visit their tasting rooms or setting up meetings or dinners with the winemaker or owner.
But those are expensive ways to sell wine, and often impractical for wineries that want to build national brands. "Somehow you've got to figure out how to have an authentic consumer experience," McMillan says. "It can be at a country club in North Carolina where you could Skype an interview. You're talking about the winery, you're taking it out of the realm of commodity."
Similarly, both McMillan and SVB CEO Greg Becker say that the bank's wine business has been a key part of building its brand and connecting to Silicon Valley entrepreneurs. But while SVB has expanded to London and Asia, its wine business has stayed focused on the West Coast, with one conspicuous exception: SVB banked Steve Case when he launched Early Mountain Vineyards in Madison, Va., about 25 miles northeast of Charlottesville.