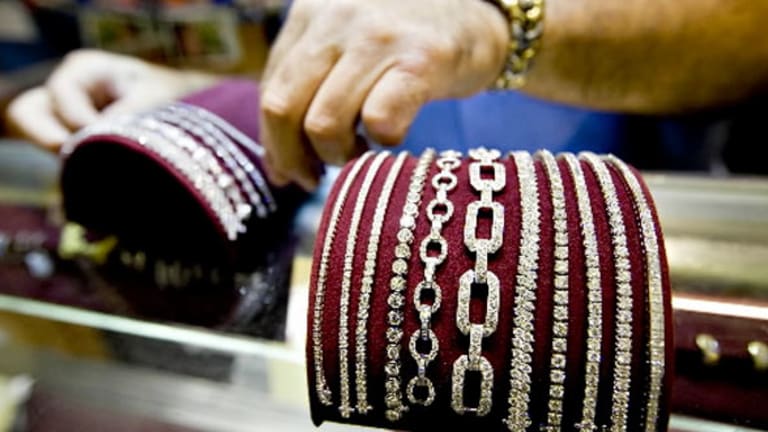 Signet Jewelers Tarnished by Questions on Accounting Practices
James Grant's investment newsletter raised questions on the company's business practices.
Signet Jewelers (SIG) - Get Signet Jewelers Limited Report was dealt another blow Thursday after James Grant's investment newsletter issued a bearish report on the company that raised questions about the company's business and accounting practices.
Shares of the Ohio-based jeweler have fallen 30% over the last year and were halted Thursday morning after they plunged nearly 12% as news of Grant's report spread. As trading resumed, shares recouped some of their losses by late morning and were down nearly 7% at the end of the day, then falling an additional 1% after hours to $91.62. Signet operates many mall-based jewelers such as Kay Jewelers, Piercing Pagoda, and Zale's.
The report came a week after Signet announced "record first-quarter earnings." Among the highlights of the report was a 20.4% increase in adjusted earnings per share to $1.95 from the year-ago quarter. Total sales also rose by 3.2% to $1.6 billion over the same period. In a statement released alongsided earnings, CEO Mark Light credited the company's recent success to sales strength in its "Ever Us" and other branded bridal collections.
Representatives from Signet did not immediately respond to requests to comment.
Despite Signet's exuberance, sentiment surrounding the company cooled slightly following earnings. Just after the company released earnings, Goldman Sachs downgraded its rating to neutral from buy, citing a "deceleration in business momentum that materialized in April and persisted into May." Meanwhile, Nomura lowered its price target on the stock to $148 from $169, while maintaining a buy rating, according to data compiled by Bloomberg.
Although there is generally support for the company by Wall Street analysts -- it currently has 16 Buy ratings, two Hold ratings and zero Sell ratings, according to analysts surveyed by Bloomberg -- there have been concerns about the company raised by customers and investors.
Just last week, Buzzfeed reported on allegations made by Kay Jewelers' customers that employees had switched already purchased diamonds for manmade or lesser-quality stones during scheduled maintenance and cleaning. The Buzzfeed report was mentioned in Grant's report as were comments made by Marc Cohodes, who is shorting the company.
"You are setting yourself up for a Lumber Liquidators (LL) - Get Lumber Liquidators Holdings, Inc. Report scenario where any news show can send in hidden cameras and then the stock gets cut in half," Cohodes told Grant's. "Who is to say that ABC or 60 Minutes doesn't walk into one of these stores with a hidden camera and gets the diamond appraised and the clerk hands it back not as the A-grade stone that the customer actually bought but as Moissanite or as a D-grade diamond instead?"
In an email to Real Money, Cohodes, who was the former portfolio manager of Copper River Partners, said he has been watching the company for nine months and it is getting worse.
While the allegations of switched diamonds are alarming, the crux of Grant's report -- and Cohodes' complaints -- are that Signet is really more of a finance company than a traditional retailer -- and, perhaps, it is not a very good finance company.
"Credit makes this a timebomb like both Conns (CONN) - Get Conn's, Inc. Report and Tailored Brands (TLRD) - Get Tailored Brands, Inc. Report ," Cohodes told Real Money, calling out the subprime lender for home appliances as well as the company behind such brands as Men's Wearhouse and Jos. A Bank.
In-store credit sales at Signet have risen to 61.5% in fiscal year 2016 from 52.6% in fiscal-year 2008. What is troubling about the growth in credit sales, is that the average FICO score in Signet's portfolio is 662, which is only marginally better than the 640 subprime threshold, Grant's report said.
Grant's report also questioned the manner in which Signet reports its default rate. At first glance, nonperforming loans account for 3.6% of gross receivables but there may be more danger lurking behind that number. It appears that Signet credits its customers' accounts as current even if they've only made a partial payment that month.
"Under the "contractual" method of accounting, a customer is counted current only if he or she has paid in full," Grant wrote. "You can see the lack of appeal of the contractual approach."
Causing more worry about Signet's credit portfolio is the increase in the number of times Signet or one of its brands was listed as a creditor in personal bankruptcy filings, Cohodes said. In the first quarter of 2016 there were 3,274 mentions of Signet in personal bankruptcy filings, up from 1,903 mentions in the first quarter of 2015.
Similar questions about Signet's credit portfolio were raised last week by Real Money contributor James Gentile after the company announced that it retained Goldman Sachs to securitize portions of its credit portfolio.
"Has Signet been lending to its customer base at terms and volumes that may prove to be unsustainable? Are the cracks starting to form in the borrowing base?" Gentile wrote last week, later adding, "If the volume of sales that Signet has been enjoying in the last three years is driven by loose lending, then look out below."