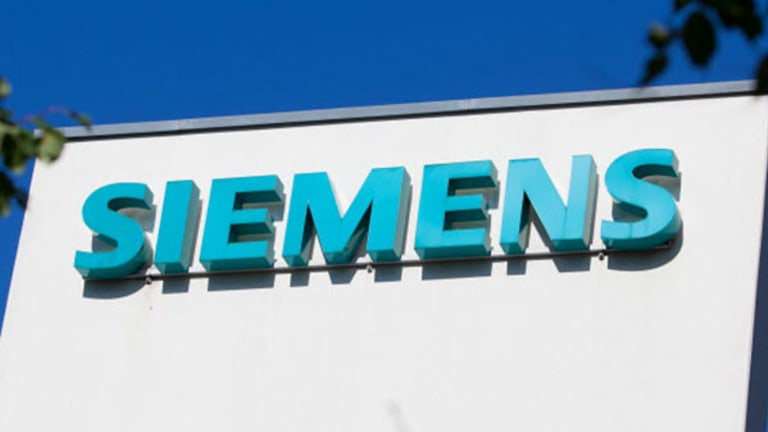 Siemens Stock Slides on Flat Earnings and Conservative Forecasts
The German industrial conglomerate beat forecast orders and revenues but fell more than 1% after EPS failed to move and guidance for the full year was left unchanged.
Siemens (SMAWF) fell more than 1% Thursday morning on flat quarterly earnings, as lost profits from discontinued operations and higher taxes offset increased sales and stronger margins.
Siemens, Europe's biggest industrial conglomerate, shares traded Thursday morning at €130.75 ($142.68), down €1.70 or 1.28% on their Wednesday close.
Earnings per share for the group's fiscal second-quarter were €1.79, up from €1.78 last year. Group revenues climbed 6% over the same period to €20.2 billion, while profit at its core industrial operations climbed 18% to €2.49 billion.
The increase in profit was due to "strong margin expansion in nearly all industrial businesses due to strong operational execution, and a €138 million positive effect from pension plan amendments," said Siemens.
Profit margins at the German group's industrial operation climbed to 12.1%, up from 10.9% in full year 2016, pushed higher by a sharp increase in margins at the digital factory business, which rose to 17.8%, up from 15.5% last year.
Siemens order book increased 1% to €22.6 billion, beating consensus expectations by about 5% and setting the company up for a strong full year result. Despite that beat, investors were left disappointed after the company declined to increase its guidance for the year. Consensus expectations for full year earnings, to the end of September, are €7.85 per share, above the company forecast EPS of €7.20 to €7.70.
Siemens "continues to outperform the markets," said President and CEO Joe Kaeser in a statement. "In the second half of the year we will focus on integrating Mentor Graphics and on a successful start of Siemens Gamesa Renewable Energy, while keeping a close eye on our operational performance."
Siemens closed a €4.5 billion acquisition of Mentor in March to expand its industrial software portfolio and last month closed a $1.3 billion deal to buy a 59% stake in Spanish wind turbine maker Gamesa to become the world's largest wind farm builder.