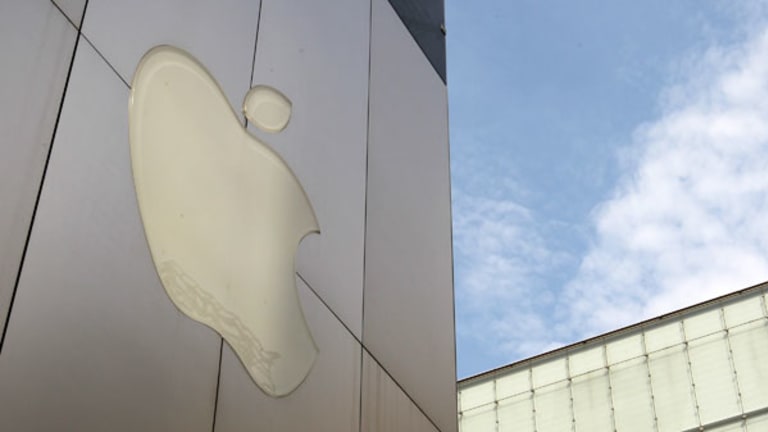 Should You Be Investing in Apple? Here's a Layman's Guide
First thing you need to know: Apple continues to bring to market products that fundamentally transform a person's life.
NEW YORK (Real Money) -- As the calendar turns over, here is a New Year's gift: a layman's guide to understanding Apple (AAPL) - Get Apple Inc. (AAPL) Report .
To assess your favorite company and stock, it's best to pretend you are being interviewed on TV.
Here is a personal self-interview.
Crazy iPhone unit estimates for the holiday season are starting to appear. Buy the stock?
If you weren't an Apple bull on Wall Street this year, then you likely underperformed the market unless you secured a home run elsewhere. You will be forced to become an Apple bull in January 2015. The fact is this: Apple continues to bring to market products that fundamentally transform a person's life. To me, every product from Apple offers new services and reasons to purchase the pricey hardware; those are things that fundamentally change the way people live each day. And that innovative whirlwind doesn't look set to abate by any means in 2015.
In fact, innovation from the company could become greater, amid upgrades to Apple Pay software, closer relationships with banks and retailers for Apple Pay, new Beats by Dre hardware (the brand was not just acquired for streaming services) and services, the Apple Watch, health and connected home technologies and, of course, the next round of iPhones and iPads.
Where is the notorious buzz on product at?
This holiday season, it was the Apple iPhone 6 and 6+ receiving the bulk of consumer interest, because the average U.S. consumer has still never heard of the Apple Watch or Beats by Dre (can't get the Apple Watch, either). The story on Apple is more about 2015 and beyond, as 2014 was done six months ago. Whenever the Apple Watch and its zillions of accessories hit the market in early 2015, consumers frantically buying the pricey iPhone 6 and 6+ this holiday season bode well for a non-essential product starting at $349. That appetite to wear an iPad mini on one's wrist could equate to rising sales and earnings projections by Wall Street on Apple, and a stock that not only climbs higher as a result, but lifts the broader market, given the tech giant's index weightings.
Also, don't rule out the possibility for a game-changing new hardware product (or, finally, Beats by Dre retail stores) from Beats by Dre next year, that is met with robust consumer enthusiasm and additional estimate raises by analysts. Holiday season 2014 was where the expensive Beats by Dre brand reached Main Street due to modest discounts at Apple stores, Wal-Mart (WMT) - Get Walmart Inc. Report and Target (TGT) - Get Target Corporation Report . In effect, via its light discounting, Apple has just created a new upgrade cycle for the Beats by Dre brand.
How big could Apple Pay be?
You are starting to see how big it could be by 2020, not precisely sure today. At the moment, Apple seems to be very much in the trenches, laying the foundation for the future of mobile payment. But anecdotal evidence suggests Apple Pay is going to be a nicely profitable venture for the company, one that will allow it to invest in other areas it sees for growth in the future, such as autonomous vehicles, TVs and the connected home.
I recently chatted at length with the co-CEO of Whole Foods (WFM) , Walter Robb, forTheStreet, who sounded pleased with the early impact of Apple Pay. Specifically, he noted consumers who are using Apple Pay are spending more per trip. The more consumers are spending, the more money for Apple and the more the company gains further sway with retailers and other partners.
By the way, as I said a couple of weeks ago coming off this Whole Foods interview, I believe the quarter has trended much better than expected in terms of same-store sales and earnings.
Should you be an Apple Watch bull?
Yep. I am bullish on the Apple Watch. The conventional wisdom on Wall Street is the Apple Watch isn't something a consumer needs in his or her daily life. That's precisely why Apple is getting into the watch business: to create a need. The Apple Watch is not like any wearable on the market, and the marketing and app ecosystem for it will suck people into dropping $349 to buy it.
Long-term outlook on Apple's stock?
What else are you going to own in tech other than Apple, Amazon (AMZN) - Get Amazon.com, Inc. Report ? It continues to toss up horrible earnings reports despite its competitive advantages. Google (GOOG) - Get Alphabet Inc. Class C Report  ? It's tossing money down the drain in all sorts of investments that may never come to fruition. Semiconductors? Good luck trying to assess them. Apple gives investors exposure to a consistently innovative company, one that is driving innovations that people are willing to spend premium prices on every single year. That is the hallmark of a winning long-term investment.
What I am Watching Next Week: Consumer Electronics Show
While the big-name tech companies will have their usual day in the sun at CES, I am locked into presentations by Skechers (SKX) - Get Skechers U.S.A., Inc. Class A Report , Whirlpool (WHR) - Get Whirlpool Corporation (WHR) Report and Under Armour  (UA) - Get Under Armour, Inc. Class C Report . Quite curious about how wearables and cloud-collected data will be infused into sneakers and apparel, and in a better way for Whirlpool smart appliances.
I sense we're about to get something game-changing from Under Armour in terms of a service -- I don't believe the company wants to make a foray into hardware.
Editor's Note: This article was originally published at 9 a.m. EST on Real Money on Dec. 31, 2014.
This article is commentary by an independent contributor. At the time of publication, the author held no positions in the stocks mentioned.