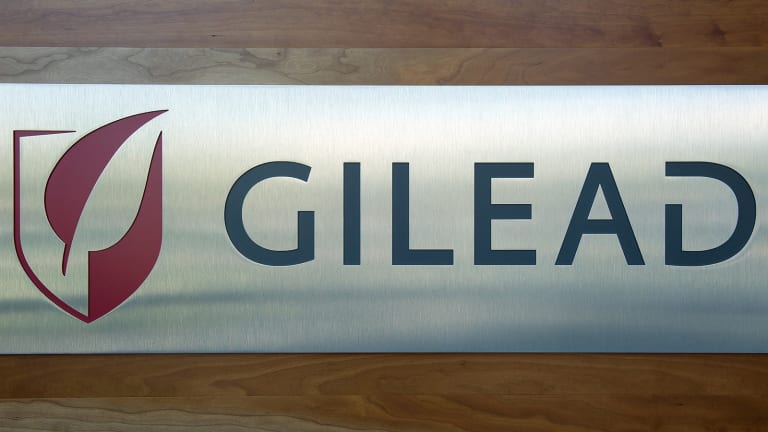 Should Gilead Split in Two?
RBC Capital analysts say this would free 'trapped value' on drug treatments.
RBC Capital analysts say this would free 'trapped value' on drug treatments.
Is Gilead Sciences (GILD) - Get Report going to take the knife to itself?
A note from RBC Capital Thursday on Gilead, which some are calling a "trial balloon," got a lot of chatter and -- judging by the pickup in Thursday call-option purchases, particularly with September and October expiration periods -- the chatter may not be idle.
RBC Capital suggested the drugmaker would be better off cutting its businesses right down the middle, adding that shares are likely to jump by as much as about 40% if management makes the cut.
The analysts said there is "trapped value" in Gilead's current combination of hepatitis C virus and human immunodeficiency virus treatments, with the HCV businesses less transparent against mounting competition.
The treatments are facing an environment of price erosion and eurozone uncertainties, added the analysts, led by Michael Yee.
But if Gilead divides itself and the HIV treatment businesses are set loose, RBC Capital says, a separate HCV treatment business would likely begin trading at roughly $40 to $50 per share, while the HIV treatment businesses would hit the market at $50 to $60 per share. And with Gilead closing at $79.57 Thursday, the bifurcated company would be worth 13% to 38% more.
The Foster City, Calif.-based drugmaker has long been pressured by its HCV businesses, with shares down 32% over the past 12 months, but RBC Capital says the company could better compete with Biogen (BIIB) - Get Report , Amgen (AMGN) - Get Report , Celgene (CELG) - Get Report and AbbVie (ABBV) - Get Report . (Biogen stock is held in Jim Cramer's Action Alerts PLUS charitable trust.)
The big question is whether management finds such a procedure urgent, the analysts added. And after speaking with management, Yee said that will likely depend on whether there is continued underperformance, such as more lowered guidance or if a like-minded activist surfaces.
"HIV and HCV are two distinct businesses that each make up about 50% of the company currently, yet they should have different valuations and distinct investor bases, in our view," Yee added. "Accordingly, we believe the combined entity of Gilead trading at 7x 2016 price-to-earnings may present long-term value because HCV headwinds are 'over-penalizing' a healthy HIV franchise, which should trade at a minimum of 12-15x."
Editor's Note: This article was originally published on Real Money at 6:30 a.m. on Aug 12.