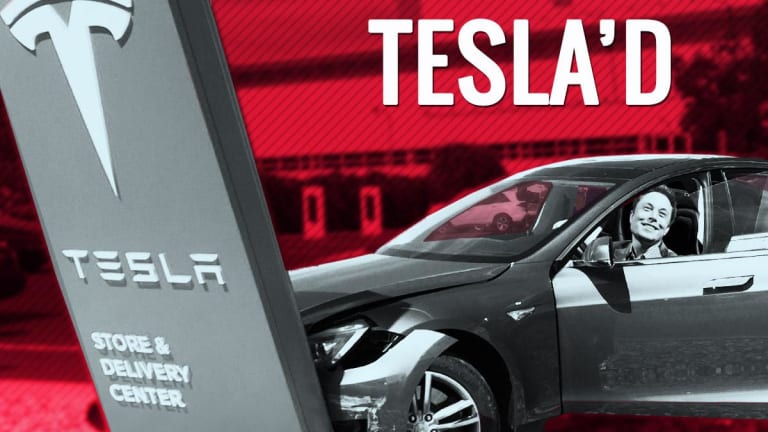 3 Reasons Apple or Alphabet Should Consider Buying Tesla
Here's the big question: With Tesla on the brink of profitability, is it de-risked enough to bring in Apple or Alphabet?
The debate on whether Apple (AAPL) - Get Apple Inc. (AAPL) Report or Alphabet (GOOGL) - Get Alphabet Inc. Class A Report should buy Tesla (TSLA) - Get Tesla Inc Report  is nothing new. But recent events give credence to this possibility.
Now may be a good time for one of the big-name tech titans to strike. Tesla is on the verge of profitability and positive cash flow, at least for the next few quarters. It also seems to have fixed many of its production issues. For Tesla, it could achieve its goals more quickly with a big infusion of cash and executive talent. 
Tesla Has Good Assets
There are three main things people aren't accounting for with Tesla, says Cesar Hernandez, the founder and managing director of Omnipublic, a public affairs and public policy firm that specializes in technology deployment.
The Gigafactory and the Supercharger Network are two of them, he said, "but beyond everything, it's the direction of the market, because everybody is looking to manufacture an electric vehicle."
Apple flirted with the idea of building its own cars a few years ago, before realizing how big of a task it would be. It then tried to partner with BMW, then Mercedes, before eventually working out a small deal to retrofit some Volkswagen Transporter T6 vans. The idea of "Project Titan" still hasn't died, though.
Alphabet has made large strides with its Waymo business and was apparently just a few weeks away from possibly buying Tesla when it was in its early days and had mere weeks worth of cash left.
But would Tesla ever sell?
"Some people might think this idea might be outrageous, but I think it would be advantageous for Tesla not to sell," Hernandez added. "It would be more advantageous to Google and to Apple to acquire Tesla, but I don't think they'll do that and I don't think Tesla's going to sell."
Striking a Deal for Tesla
Ted Gavin serves as the managing director and founding partner of Gavin/Solmonese where he is a restructuring and corporate insolvency expert. An interesting talk is almost guaranteed when speaking to a bankruptcy expert who drives a Model X and wishes Elon Musk would zip it on Twitter.
Like Hernandez, he reiterated a similar sentiment about Apple, Alphabet and Tesla. There's reason for the two tech giants to want in, given Tesla's electric car leadership, particularly as execution and production continue to improve. But will Musk let a deal work out?
Companies like Apple and Alphabet aren't likely keen on pouring in billions of dollars, just to have a stake similar to or smaller than Musk's, who owns a little more than 20% of Tesla's stock. For that reason, it would have to be a treasury stock deal or something unique that gets Apple or Alphabet involved, Gavin reasoned.
Further, if Tesla were to fall into distress, that would likely draw interest from large tech and other industrial and automotive companies. Either way, the brand would live on, Gavin explained. 
Who Has Leverage?
Gene Munster, a former tech analyst and the current managing partner at Loup Ventures, said his firm believes Tesla will reach profitability in the next year. The issue with Tesla tying up with another large firm is that it will want to maintain control over the user experience. However, if Tesla cannot become profitable, it loses that leverage to a potential buyer.
In that case, "Apple gains the upper hand and becomes the most likely investor or buyer. Both companies share a passion for hardware design, software, AI. Plus, Apple's balance sheet makes the combination viable.
"Google is the next most likely acquirer. We don't see a traditional automotive company as a potential acquirer, given they lack the cash needed to purchase Tesla even at a distressed valuation."
This article is commentary by an independent contributor. At the time of publication, the author had no positions in the stocks mentioned.