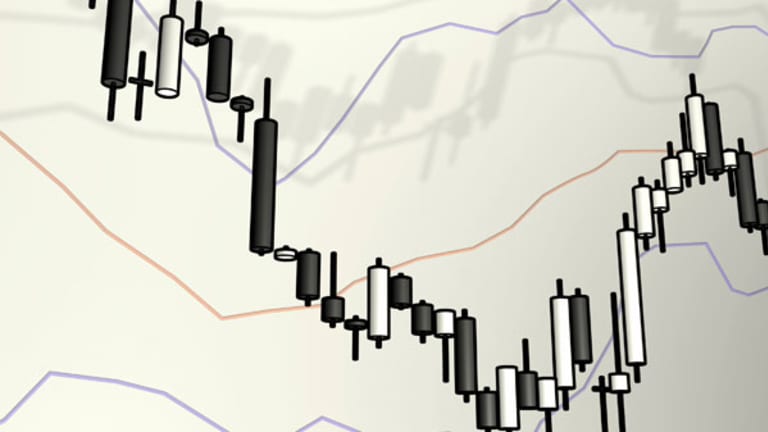 Publish date:
Short-Squeezing on Rising Analyst Expectations
These heavily shorted stocks could surge higher on any positive catalyst.
These heavily shorted stocks could surge higher on any positive catalyst.
BALTIMORE (Stockpickr) -- In this week's look at short-squeeze setups, we turn to analyst expectations plays.
On Wall Street, analyst expectations are more than just opinions; they're the benchmarks that investors use to gauge performance, the datasets that big funds use when directing their investment dollars, and more often than not the basis for big price movements come earnings time.
But why should an analyst's opinion matter so much? It's because the biggest analysts are right so often. Their opinions aren't a static call on whether to buy or sell a stock; rather, they change alongside an investment's gain potential. As analysts revise their expectations upward, early investors end up winning out.
And when a heavily shorted stock sees rising analyst sentiment, a short squeeze -- the buying frenzy that ensues when a heavily shorted stock starts to look attractive again to investors, causing share price to skyrocket -- is often in order. The short-interest ratio estimates the number of days it would take for short-sellers to cover their positions.
One of the best indicators of just how high a short-squeezed stock could go is the short interest ratio, which divides shares short by average daily trading volume in order to get a ballpark estimate of the number of days it would take for short-sellers to cover their positions. The higher the short ratio, the higher the potential profits when the shorts get squeezed.
Each week, Stockpickr creates a portfolio of stocks with high short interest ratios and the catalysts to trigger a squeeze. Here's a look at
, which focus on stocks with rising analyst expectations.
Amedisys
(AMED) - Get Report
provides home health care and hospice services in the U.S. and Puerto Rico.
Despite the perceived recession-resistance of health care plays right now, Amedisys has been far from immune to the market's swings and whipsaws; shares are currently down 8% year-to-date after a volatile run. That uncertainty has prompted a short interest ratio of about 14, which suggests that it would take 14 trading days, or almost three weeks, for short-sellers to close out their bets against the stock at current volume levels.
And with margins, growth and valuation numbers that better the health care facility industry average, there's plenty of reason to be long Amedisys. In fact, the company boasts 14% net profit margins that ring in at more than double the industry average of 5.9% and are 69% higher than the
S&P 500
average. Consistent revenue growth (39% higher in the trailing 12 months) has led to significantly higher overall profits, despite the decline in share price.
That's a value case that's been picked up on by the
Old Mutual TS&W Small-Cap Value Fund
(OSMVX). In addition to Amedisys, the fund counts small-caps
Jos. A Bank Clothiers
(JOSB)
and
Brink's Home Security
( CFL) among its 107 holdings.
HealthSouth
(HLS)
, another health care stock, is no stranger to being a favorite among short-sellers.
In 2003 the
Securities and Exchange Commission
accused then-CEO Richard Scrushy of falsely inflating the company's earnings by $1.4 billion, an overstatement of as much as 4,700% in certain years. Following a restructuring and significant accounting changes, the company was able to avoid Chapter 11.
Today, HealthSouth is a markedly different company. Pared of many of its unprofitable units and divisions, the new company is leaner and meaner, and it earned $226.4 million last year. Nevertheless, many of HealthSouth's ghosts continue to haunt it, including a short interest ratio of about 12.8. A number of surprisingly good earnings releases in the past few quarters coupled with continuously improving analyst sentiment could curb that. If the company's fourth-quarter earnings keep with the trend in early 2010, many of the shorts could be shaken out.
One firm that surely hopes so is
, an $8.3 billion Boston-based hedge fund that holds stakes in
BlackRock
(BLK) - Get Report
and
Dr Pepper Snapple Group
(DPS)
in addition to its $3.42 million stake in HealthSouth.
Department store chain
The Bon-Ton Stores
(BONT)
is similarly situated with short-sellers. Its short interest ratio currently sits at about 13.5.
But Bon-Ton has already showed many shorts that you don't want to be on the wrong side of this small stock. Following a crushing 2008 that sent shares sliding and short-sellers piling in, the stock gained 1,048% year-to-date in 2009 amid improving economic conditions for retailers.
To be sure, Bon-Ton is far from out of the woods; its November sales numbers revealed that comparable store sales slid 6% from 2008, and the company continues to operate at a loss. But with that loss narrowing and a higher earnings outlook on the horizon, analysts have been giving this department store some additional attention.
Yale finance professors Roger Ibbotson and Zhiwu Chen are hoping that that's the case. The two are the founders of
, an investment firm that specializes in fundamentals-based quantitative equity strategies. In addition to Bon-Ton, Zebra counts
Terex
(TEX) - Get Report
and
Sun Microsystems
( JAVA) among its holdings.
For the rest of this week's short-squeeze opportunities, including
Sybase
( SY) and
Buffalo Wild Wings
(BWLD)
, check out the
Rising Expectations Short-Squeeze portfolio
at Stockpickr.
And to find short-squeeze plays of your own, be sure to check out the
community for insights and investment ideas.
-- Written by Jonas Elmerraji in Baltimore.
Now see this week's Dividend Stocks>>>
Jonas Elmerraji is the founder and publisher of Growfolio.com, an online business magazine for young investors.