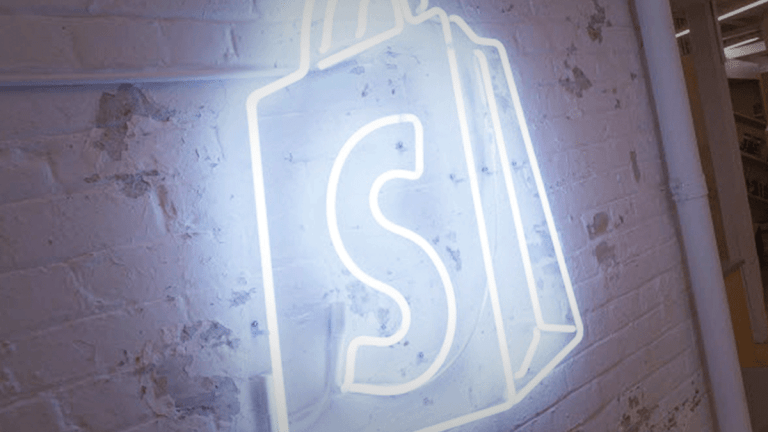 Shopify: Why You Should Stay on the Sidelines for Now
Shopify's growth is slowing and trades at a substantial premium. Eventually, the share price will come back down to earth and present a better entry opportunity.
If you've been long Shopify,  (SHOP) congratulations; the 167% return this year has been monumental and has dramatically outdone the S&P's 16% return.
All rocket ships eventually must align with reality, though, and the old maxim "a good company isn't always a good investment" keeps coming to mind at these valuations.
First, the good: Shopify's roughly 81% CAGR since its IPO has substantially outperformed the likes of Amazon's (AMZN) 47% and the S&P's 10% during the same period. Its 48% revenue growth continues to impress and outpaces Amazon's as well.
It's also extracting more value from its customers, increasing its average monthly revenues per user from $70 to over $110 over the last three years.
So why not dive head first into a long position?
While that revenue growth is robust, it's on the decline. Raw revenue resembles the up-and-to-the-right chart that's been Shopify's share price, while the rate of that growth injects some reality into the picture.
Source: MacroTrends.net
And while Shopify's recent revenue growth is better than Amazon's (~20%) or Ebay's  (EBAY) (~2%), you are paying handsomely for it. Shopify's price-to-sales ratio of 32 is 10x that of Amazon's and Ebay's P/S ratio of 3. That means you are paying 10x more for a dollar of Shopify's earnings than you are for a dollar of Amazon's.
With respect to Shopify's business, its merchant services has risen to over 55% of its revenue, a trend that looks like it will continue. But this business' lower margins compared to the subscription component will continue to dilute gross margins that are already a little below the aforementioned peers; Amazon's 60% and eBay's 77% come in higher than Shopify's 55%. 
And lastly, but certainly not least significantly, Shopify's operating losses continue to widen as operating costs have grown at a faster rate than have gross profits. Shopify's operating losses were only $15 million in all of 2015, but grew to $92 million for 2018. Shopify expects GAAP operating losses in the range of $145 million to $155 million for full-year 2019.
There is an overall positive story here, and I'm certainly not arguing for a bear case similar to the likes of famed short seller Citron Research's claim that Shopify will trade at $100 over the next 12 months (it closed Friday at $369.95). But unbridled bullishness never ends well, and Shopify trades like a company that must continue to grow at a rapid clip and is expected to improve its operating losses in the process. 
I would never have the gall to short a company that feels like it makes fresh highs each week; if you feel particularly negative on the Shopify story, long puts would be a much safer way to bet on a downside move. The recommendation here: stay on the sidelines and wait for a valuation that's a bit less exuberant.
Shopify and Amazon are holdings in Jim Cramer'sAction Alerts PLUS Charitable Trust Portfolio. Want to be alerted before Cramer buys or sells these stocks? Learn more now.
 The author has no positions in any of the stocks mentioned