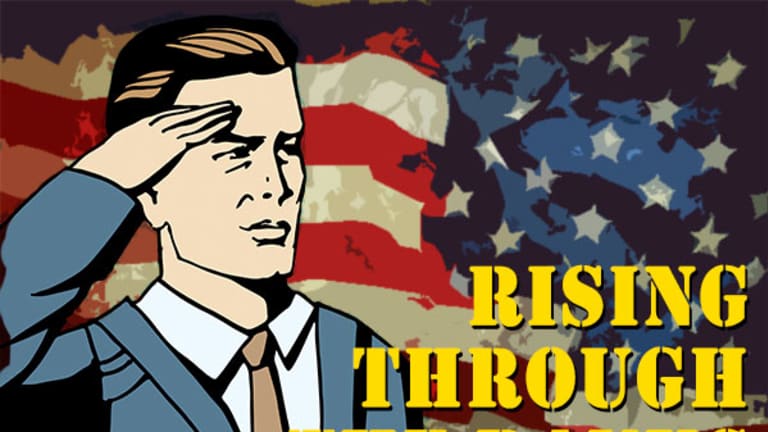 Shock and Awe: West Point Grads Use Military Strategy to Win Big as CEOs
How can West Point help your stock returns? West Point graduates leading Johnson & Johnson, Equinix, and Cameron International posted an average yearly return of 34% while the S&P declined.
Americans have long considered military experience an asset for the country's presidents, an opinion illustrated by the fact that more than half of them served in the armed forces, starting with George Washington.
Of those, two were graduates of the U.S. Military Academy in West Point, N.Y. The image of one of them, the Civil War general Ulysses S. Grant, is on the $50 bill today, an apt, if unintentional, metaphor for the effectiveness of military training in the financial world as well as the battlefield and the political arena.
In fact, U.S. corporations led by CEOs with military backgrounds have outperformed the S&P 500 significantly in the past year alone, posting an average gain of 7%, compared with the S&P's decline of 1.2%, according to data collected by BoardEx, a subsidiary of TheStreet that analyzes corporate relationships.
The three CEOs who attended West Point -- Alex Gorsky of Johnson & Johnson (JNJ) , Steve Smith of tech firmEquinix (EQIX) and Scott Rowe of oil-and-gas supplierCameron International (CAM) , fared even better, with an average return of 36%.
"What makes a particularly strong leader is one that understands that leadership works through communication and relationships," said Erica Peitler, a leadership performance coach who runs her own firm. "When you look at military leaders, they are constantly practicing 'message delivered, message received, message confirmed.'"
Along with communication, the CEOS themselves emphasized the importance of skills such as planning, discipline and teamwork in leading both troops and corporate employees.
"Clarity of communication is an enormous benefit that you can bring out of the military," Equinix CEO Smith, 58, said in an interview. The Redwood, Calif.-based internet services company's shares have more than tripled since he took over in 2007, climbing 43% to $319.36 in the past 12 months alone. "As you know, in the military, you're trained to do things in real time and real lives are dependent upon what you do."
After graduating from West Point with a bachelor's degree in engineering, Smith served eight years in the U.S. Army, including a stint as aide-de-camp, or confidential assistant, to the Commander-in-Chief of the U.S. Armed Forces in the Pacific.
His background helped him implement a strategy at Equinix that he calls "the 3 L's," shorthand for listening, learning and leading.
"When you go to a new business or make a transition from military to business, you need to really listen, then learn the business, and then start leading," he said. "Because if you do it in the opposite direction, you'll get yourself in trouble."
Smith has worked in the tech industry for nearly 20 years, with previous positions at both Hewlett-Packard and Electronic Data Systems. At Equinix, he's leading a company with more than 145 data centers in 40 metro areas whose customers include giants Amazon, Cisco, IBM and Microsoft.
Strategic planning is another of the capabilities honed by the military that play a vital role in corporate leadership, said Johnson & Johnson's Gorsky.
"You take a mission and you break it down and you do as much planning as possible before you actually have to go into, ultimately, the battlefield," he said. "The more thoughtful, the more detailed, the more specific your plans are -- at the same time always expecting the unexpected -- is just a mindset that you have to have in business."
With a market value of $299 billion, Johnson & Johnson sells pharmaceuticals, medical devices and consumer products. Its stock has climbed 62% to $108.50 since Gorsky became CEO in 2012.
"I don't think I would be where I am today, were it not for my experience in the military," the CEO said.
Cameron, whose return of 50% was the highest of the three companies with West Point leadership connections, recently reached an agreement to sell itself to Houston-based SchlumbergerSLB in a deal with an estimated value of $14.8 billion in cash and stocks.
The 44-year-old Rowe, who has been CEO since October, previously held senior leadership positions at the company including president and chief operating officer. He earned a bachelor's degree in engineering from West Point.
Admission to the military academy, which has an acceptance rate of about 40% is far from easy, requiring a discipline that few high school graduates possess. In addition to passing a physical fitness test and medical exam, students must be nominated by a member of Congress.
West Point chooses from a "pretty niche market," since 75% of American youth aren't qualified because of obesity and health issues, said retired Col. Robert McClure, who graduated from the school in 1976 and served 28 years in the Army before becoming CEO of the West Point Association of Graduates.
While working toward their undergraduate degrees, students receive rigorous physical and tactical training and learn to "respond quickly and accurately to their commanders under conditions of mental and physical stress," the school says.
"You learn very quickly to discern the important from the urgent, to prioritize and accomplish the mission," McClure said.
Cadets aren't charged tuition, but they're commissioned as second lieutenants after graduation and expected to complete at least five years of active-duty military service.
Gorsky, 55, graduated in 1982 and successfully completed the Ranger and Airborne schools, describing the training for these programs as some of the most challenging experiences of his life. He served six years in the military before ending his career with the rank of captain.
While his company's revenue declined 5.7% last year to $70 billion amid declining medical device sales and negative currency-exchange rates, its price-sales ratio of 4.3 still outpaced 1.8 for the S&P 500.
Gorsky, who holds a master's degree in business administration from the University of Pennsylvania's Wharton school, attributes some of his success to ensuring that the company's employees feel like they're part of a cause greater than themselves.
"The military prepares leaders exceptionally well for the conscious discipline and having the practice to have the performance and the productivity," said Peitler, the leadership coach. "It's like the corporate world in a lot of ways."
Indeed, the military's discipline is a quality from which Equinix's Smith says he still benefits.
"I'm very disciplined in how I think, how I act, how I behave, how I communicate," he said, noting that he still hangs his shirts a uniform distance from each other and groups them by color. "I think you learn that at an early age when you go through the academies."
In the corporate world, his discipline translates to a regular review of performance metrics that measure Equinix's efficiency and effectiveness.
"That discipline of a cadence of what you do weekly, monthly, quarterly is very, very important for running the business," he said. "We weekly check things, we monthly double-check it, we quarterly inspect it. So there's a cadence on running a business that's very similar to the cadence of leading a company or a battalion."