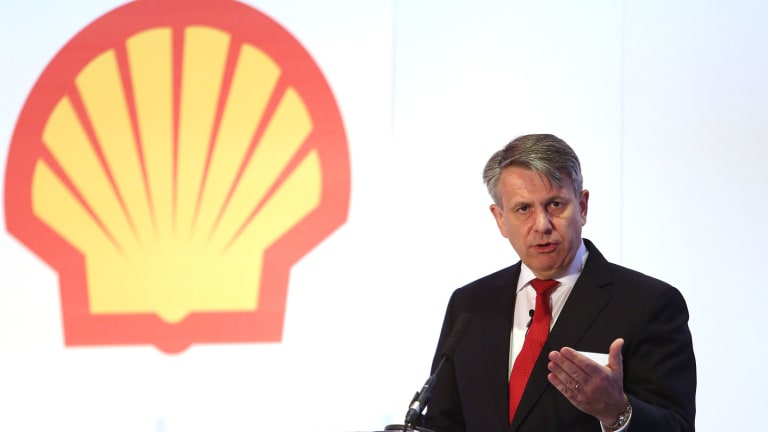 Shell Stock Gains on Reduction of Interest in Woodside Petroleum
Shell will sell a stake representing 64% of its interest in Woodside, Australia's largest oil and gas producer
Shell will sell a stake representing 64% of its interest in Woodside, Australia's largest oil and gas producer
Royal Dutch Shell (RDS.A) stock was near the top of the FTSE 100 Monday after it said it would reduce its stake in in Woodside Petroleum as the oil major continues its asset disposal program.
Shell will sell a stake representing 64% of its interest in Woodside, or 8.5% of the Australian company's entire issued capital, at a price of A$31.12 per share to equity investors, resulting in total pre-tax proceeds of A$2.2 billion, or $1.7 billion. The sale is expected to be completed on Nov. 14.
Shell shares were up 1.28% in the first hour of trading, changing hands at 2,449.5 pence and extending a three-month gain of 14.38%.
Upon completion, Shell's Australian subsidiary will continue to hold a 4.8% interest in Woodside, and has agreed that it will not it will not dispose of any of its remaining shares in Woodside, the largest oil and gas producer in Australia and the country's largest independent dedicated oil and gas company, for a minimum of 90 days from completion of the sell-down.
"This sale is another step towards the completion of our three-year $30 billion divestment programme, which is an important part of our strategy to reshape Shell, to deliver a world class investment case, and to strengthen our financial framework. Proceeds from the sale will contribute to reducing our net debt," Shell CFO Jessica Uhl said in a statement.
Shell began selling its stake in Woodside in November 2010, when it sold of 10% of Woodside's issued capital and retained a 24.27% interest, which was further diluted to 13.28% after the company did not participate in a dividend reinvestment program. In June 2014, Shell sold 9.5% of the company, bringing their stake down to 13.28%.
During the second quarter 2016, Shell management concluded that a change in Shell's level of involvement over Woodside's financial and operating policy decisions resulted in Shell no longer having significant influence. Its classification was therefore changed from an associate to an investment in securities with a $2.442 billion interest.
More of What's Trending on TheStreet: