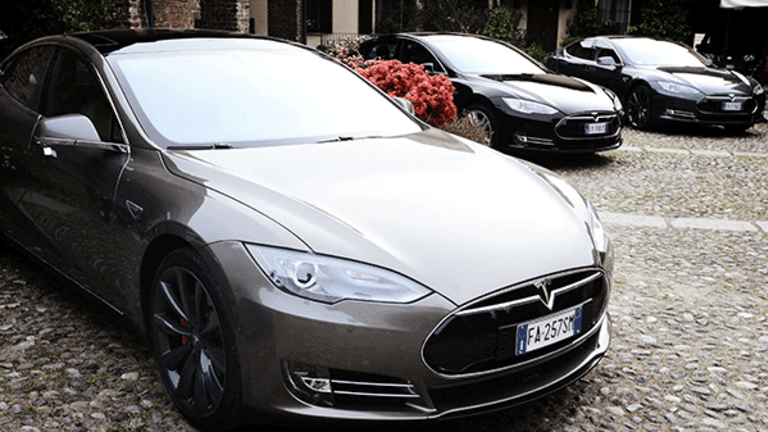 Shark Tank Star Kevin O'Leary on Why Tesla Shares Are Headed for an Epic Crash
Tesla shares are headed for a 40% drop, according to 'Shark Tank' star Kevin O'Leary, who is also chairman of O'Leary ETF Investments.
The party is over.
Tesla (TSLA) - Get Tesla Inc Report shares are set to crash, according to Shark Tank star Kevin O'Leary, who is also chairman of O'Leary ETF Investments.
"I'd argue there's a 30-40% downside in Tesla's stock," O'Leary said in an interview with TheStreet.
Tesla shares are up 51% since the start of the year, crushing the broad S&P 500's 6.6% gain.
"There are going to be self-driving cars manufactured by many companies," O'Leary said, "Tesla is the first and perhaps the best brand known, but if I were putting money to work today into this space, it probably wouldn't be in Tesla because it doesn't fit any of the criteria that I look at in terms of derisking my portfolio."
O'Leary said investors who believe in Tesla think it's going to be the only winner in the car space, a contention he's skeptical of.
Last month, Apple (AAPL) - Get Apple Inc. Report disclosed that it had received a permit to test self-driving technology on public roads. Apple is the largest holding of O'Leary's U.S. focused ETF, the O'Shares FTSE US Quality Dividend ETF (OUSA) - Get OShares U.S. Quality Dividend ETF Report .
O'Leary also doesn't like that Tesla doesn't pay a dividend.
"It's a cult stock," O'Leary said, adding that he does not own the stock. "If I'm looking at the automotive sector, why would I pay this valuation for basically a car company?"
O'Leary said Tesla investors think Tesla is a technology company, instead of a car company.
Watch more from Shark Tank's Kevin O'Leary:
Kevin O'Leary Talks Marijuana Money
Kevin O'Leary Explains Why He Doesn't Own Individual Stocks