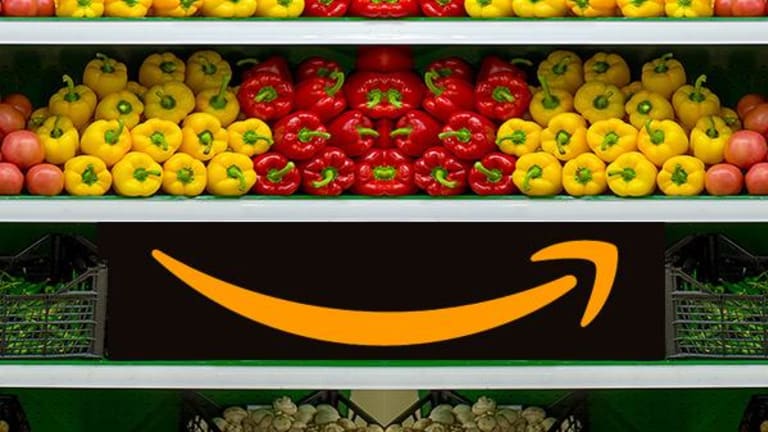 Shake-Up in Aisle 3: How to Invest in Amazon's Purchase of Whole Foods
Why does the world's largest digital brand want nab a grocery store? To increase its global brand. But have caution as you add ETFs to your shopping list.
Why does the world's largest digital brand want nab a grocery store? To increase its global brand. But have caution as you add ETFs to your shopping list.
In a whirlwind, one-month courtship, Amazon (AMZN) - Get Report and Whole Foods Market, Inc. (WFM) announced on June 16 that the two firms have agreed to merge, with Amazon will acquire Whole Foods Market for $42 per share in an all-cash transaction valued at approximately $13.7 billion.
Both companies anticipate the deal will close soon, likely in the second half of 2017.
Clearly, financial industry experts see major ramifications for the grocery industry - and for industry stocks and ETFs - from the Amazon bombshell. Some of that fallout has already started, with both grocery and retail stocks and exchange-traded funds suffering share declines after the merger was announced.
"This purchase is a shake up to the grocery industry," says Kristin Hull, founder and portfolio manager with Nia Global Solutions, in Oakland, Calif. "In the short run, our largest grocery store stocks, Walmart (WMT) - Get Report , Target (TGT) - Get Report  and Costco (COST) - Get Report  all fell Friday with the news".
Companies offering healthy and organic food products -- such as Dannon or WhiteWave Foods -- that will be sold or distributed by others "will do fine," says Hull. "However, brick and mortar stores and chains -- like Natural Grocers -- may suffer."
Hull says that as Amazon changes the very nature of the way we shop, these other go-to grocery stores will have a difficult time competing. "They'll either be scooped up by Amazon or others who have mastered the online/ home delivery process, or may lose customers and market share to convenient delivery sources," she says.
Other market insiders say the potential acquisition gets Amazon one step closer to controlling more market share of an industry they want to expand into.
"We all thought that at some point, Amazon would be the next large company to take over the world, similarly to Walmart in the '90s and early 2000s," says Ryan Kwiatkowski, a wealth manager at Retirement Solutions, in Naperville, Ill. "However, This rumor has continued to propel Amazon and Whole Foods' stock prices upward; with Barclays upgrading Whole Foods and raised its stock price target to $48. Whole Foods' stock is up 38% on a year-to-date, while Amazon's is up 33% compared to the S&P 500, up 9.5%, over the same time period."
The fallout has had a negative impact on exchange-traded funds that hold grocery store-related stocks. Funds that hold grocery stocks absorbed a battering in the two days following the Amazon-Whole Foods merger. Key industry stocks were battered - Kroger (KR) - Get Report , Supervalu (SVU)  and Costco lost 9.2%, 14.4% and 7.2% of their value on the news. Wal-Mart Target fell by 4.7% and 5.0%, respectively.
Funds that hold many grocery and retail stocks suffered as a result. The First Trust Nasdaq Retail ETF (FTXD) - Get Report , which holds Wal-Mart, CostCo and Walgreens, fell by 2.8%. In addition, the PowerShares Dynamic Retail Portfolio ETF, which holds Wal-Mart, CostCo, and Kroger Co., also fell, from $36 per share to $33 per share after the news, as did the Consumer Staples Select Sector SPDR Fund (XLP) - Get Report , which also lost ground (it holds Wal-Mart, CostCo, CVS, and Walgreens.)
The news of the merger had Wall Street professionals reeling, and had retail and grocery chain executives wondering what's coming next from the colossus of Seattle.
"This is an earthquake rattling through the grocery sector as well as the retail world," says Mark Hamrick, senior economic analyst at Bankrate. "We can only imagine the technological innovation that Amazon will bring to the purchasing experience for the consumer. Now, we can see in hindsight that its recent dithering around the brick-and-mortar experience, as an experiment, was only a rumbling of the seismic event in the offing."
Hamrick noted that, a day earlier, Kroger's stock posted a double-digit decline amid food price deflation and stiff competition in the grocery space. "We had no idea what was in the offing, almost immediately," he states. "For it and other long-existing players in the space, they have to be wondering whether a competitive time bomb has begun clicking."
Others say the merger shouldn't be greeted as a big surprise, as Amazon has been hinting at such a move for a few years now.
"Amazon has made a variety of moves over the past several years to boost their online grocery business, from their launch of Amazon Fresh, to their partnership with Instacart. However, consumer behaviors have made growth in the grocery space more cumbersome for Amazon," says Ryne Misso, director of marketing at Market Track.
Yet grocery stories are the last bastion of foot-patrol shoppers, who seem to still want to test the fresh fruit themselves and see their maple ham slices weighed with their own eyes. "A recent consumer survey conducted by Market Track reported that only 19% of consumers purchase groceries online, and only 14% use click and collect services,"
After the deal is complete, Amazon will have over 400 grocery store locations in major markets across the U.S., Misso adds. "Combine these new store locations and Whole Foods differentiated product assortment with Amazon's industry-leading online delivery infrastructure, and the acquisition is likely to position Amazon quickly as a power grocery player, and should further enable them to transform how Americans shop for their weekly groceries," he says.

With the Whole Foods move, Amazon is transforming omnichannel grocery completely, and putting some big-name competitors on the spot. "While Walmart aims at a more cost-conscious segment, it will still be forced to react," says Mihir Kittur, co-founder and chief commercial officer at Ugam, a retail data analytics provider "And if Amazon's frictionless, order online/pick up in-store model trickles down into other product categories, it will spell real trouble for competitors, also including Target."
Consumer packaged goods brands will be affected as well. "Previously, major brands like Unilever were in wait-and-see mode with regard to Amazon," he says. "Now they know that the retailer will be more of a competitor than a partner, and it could put a big dent in their business."
Thus, it's a good idea to keep a closer watch on ETFs that hold grocery and retail stocks going forward. With Amazon muscling in on the major grocer's turf, being O.K. with the status quo just isn't an option anymore.