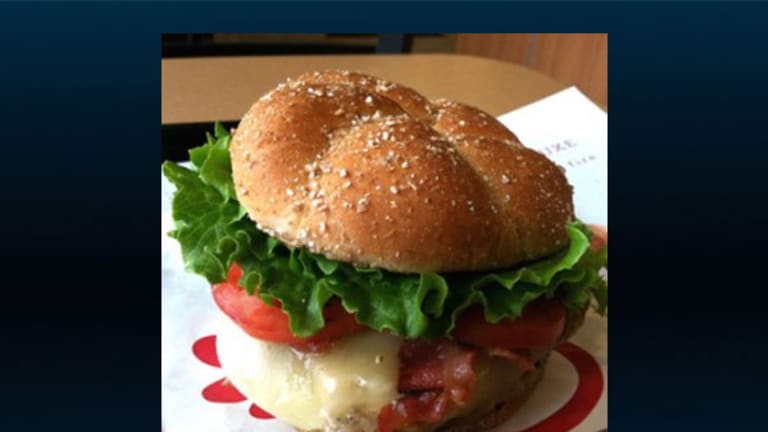 Shake Shack vs. Chick-Fil-A: Which Fried Chicken Sandwich Is Better?
Chick-Fil-A says it invented the sandwich in the 1960s but Shake Shack is giving chicken a hip, new gloss.
Chick-Fil-A says it invented the sandwich in the 1960s but Shake Shack is giving chicken a hip, new gloss.
NEW YORK (TheStreet) --Is the fried chicken sandwich ready to have its moment in the deep fryer?
A headline in the flood blog Eater proclaimed in July, Why It's Finally Time for a Fast-Casual Fried Chicken Explosion. The post goes on to detail an effort from a wildly successful new restaurant chain to upgrade a classic, the fried chicken sandwich.
Established chicken chain Chick-Fil-A claims to have invented the fried chicken sandwich in the 1960s. It started selling the treat in 1964 on a steamed bun with pickles. It now has 1,900 locations and makes about $6 billion annually. That's a lot of chicken.
Upstart fast-casual burger joint Shake Shack (SHAK) - Get Report has taken notice. Danny Meyer's IPO-fueled enterprise filed a trademark application for "Chicken Shack" earlier this year (sparking speculation of a sister chain to the flagship brand). This summer, Shake Shack has been testing a fried chicken sandwich at its three Brooklyn locations.
Like with its primary innovation -- better ingredients and preparation methods -- Shake Shack is aiming toward food habits of the future: While burger sales still eclipse chicken sales at fast-food restaurants, according to research firm NPD Group ($7.9 billion vs. $5.4 billion in the year ending March 2015), chicken is growing at a faster clip, up 3% in the same period, versus 1% for burgers.
So, we at TheStreet decided to see how the two chicken sandwiches stacked up. I went to a Shake Shack location in the hip Dumbo neighborhood in Brooklyn to pick up a dozen Chicken Shack sandwiches (along with a small fries and a vanilla milkshake -- it is 'Shake' Shack, after all). Meanwhile, a colleague of mine scooped up a sack of sandwiches from the Chick-Fil-A Express at New York University's food court at 5 University Place in Manhattan (it's the only location open in New York currently, though the company is currently building a large shop in midtown that is scheduled to open this fall).
Six lucky sandwich testers were selected among other staffers at TheStreet and we used the highly scientific "plate method" to determine a winner. After eating the sandwiches, which were left unwrapped, one on each plate so as to obscure their true origin, they each handed me the plate of the sandwich they preferred. I also voted (though, in the spirit of full disclosure, I knew which sandwich was which; I pledge here on the graves of the delicious chickens we consumed that I chose the sandwich I enjoyed best).
Both sandwiches had their advocates. Without knowing which was which, the testers praised the more premium appearance of the Shake Shack sandwich and what they perceived as a higher quality of chicken. Others thought that the Chick-Fil-A offering was moister, despite having no sauce, and, in its simplicity, just tasted better.
In the end, the vote -- again, using the precise plate method -- was extremely close, with Chick-Fil-A taking it four to three. In a less scientific survey, when extra sandwiches were passed around the office for those lucky enough to get one, the "smile" count was a tie for both products.