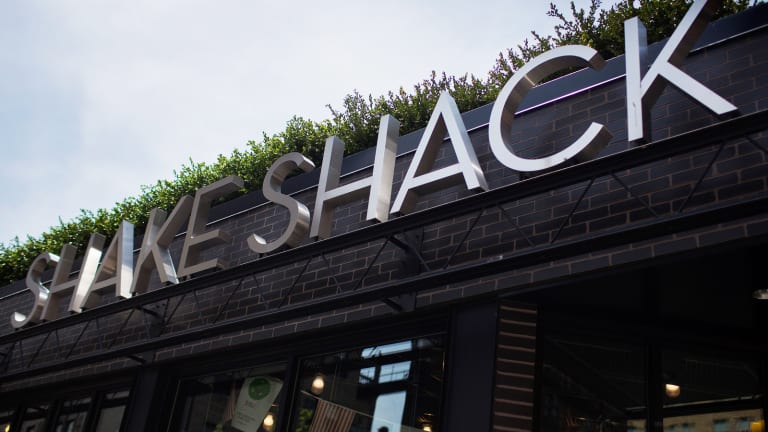 Shake Shack: Like the Burger, Not the Stock
Shake Shack is unlikely to make the same mistake that Boston Chicken made in terms of expansion -- and bankruptcy. But, nonetheless, here are the reasons to avoid the stock.
NEW YORK (Real Money) -- Tastes are fickle, and the market can quickly lose its appetite for the flavor of the month. This is particularly true of companies that sell familiar or popular products. People latch on to these companies, reasoning that if they enjoy the product, then the stock must also be great.
Many of you don't remember Boston Chicken, the precursor to Boston Market. For a short time, the stock was a stellar performer. On its November 1993 debut, the stock shot from $10 to $23. After all, it was a great concept -- a fast-food restaurant that sold chicken, but at the same time was vastly different and offered a superior product compared with its competitors. Boston Chicken seemed like a revolutionary concept 20 years ago.
Source: TradeStation
By late 1996, the stock traded above $40. But two years later, its shares would be worth pennies and the company would file for bankruptcy, a victim of overly aggressive expansion.
While dining at Boston Market is still enjoyable, just as an occasional visit to Shake Shack (SHAK) , diving into the food is not the same as diving into the stock. It's not to say Shake Shack is the next Boston Chicken. The two situations are very different. However, both are popular brands that became overstretched after their respective IPOs.
Shake Shack is unlikely to make the same mistake that Boston Chicken made in terms of expansion. In fact, the company only plans to open a total of 450 locations in the U.S. But with that ceiling on its locations, it'll be a long time before the company grows into its current valuation, and that's assuming nothing goes wrong along the way.
Shake Shack bulls may be worried about yesterday's market action. On a day when stocks rallied sharply, Shake Shack got smoked, losing 14% on heavy volume. The company has formed an evening star reversal pattern (shaded yellow), and the price action of the past two sessions has engulfed its recent rally.
Source: TradeStation
For a casual dining chain, the stock's valuation is simply too high. Perhaps Shake Shack deserves a premium to its peers, because its products are excellent. However, no stock deserves an enterprise-to-EBITDA ratio above 90, or a trailing price-earnings ratio of over 1000. Even if its product is ten times better than, say, Sonic (SONC) , it doesn't necessarily deserve a multiple that is over ten times as high.
Shake Shack's current valuation must have fast-food chains like Five Guys Burgersand Fries and In-N-Out Burger licking their chops at the thought of possibly going public. That brings up another issue: there is plenty of competition in this arena, and the barriers to entry are relatively low. There are only so many ways to prepare food, and Shake Shack's not-to-secret formula of high-quality, antibiotic-free burgers could be easily duplicated. Simply put, the product taste's a better than the stock.
Editor's Note: This article was originally published at 11:30 a.m. on Real Money on May 28, 2015.
This article is commentary by an independent contributor. At the time of publication, the author held a long position in SONC.