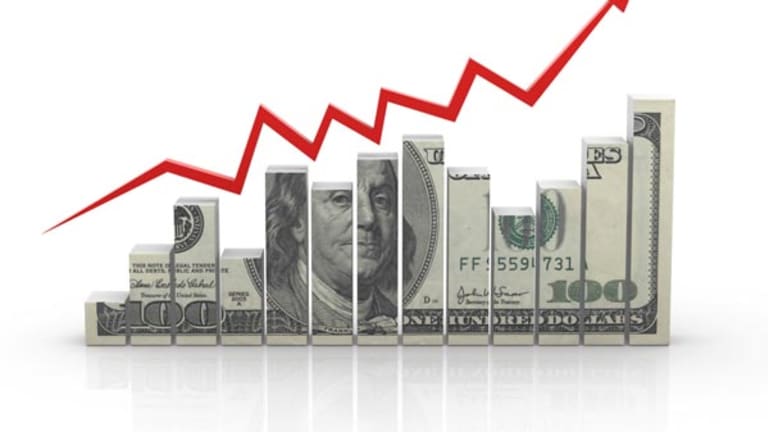 Seven Stock Funds With 'Yield Cushions'
If the occasional rally is tempting you to get into equity funds but the more frequent selloffs make the thought of 'dividend cushions' appealing, check out these funds.
For more coverage from TheStreet.com Ratings team, check out TheStreet.com Ratings section.
One conundrum confronting many investors in these uncertain times is this: On the one hand, some exposure to equities is needed so as not to miss the start of a new bull market, once one begins; on the other hand, it would be nice to know there is some sort of cushion in case the bear market isn't finished.
If the occasional rally is tempting you to get into equity funds but the more frequent selloffs make the thought of "dividend cushions" appealing, then check the seven funds in the accompanying table. Each has a grade from TheStreet.com Ratings in the "A" and "B" range -- equivalent to buy recommendations. In addition, these funds offer some protection with higher-than-average yields. Each of the funds is at least 50% invested is equities, with a few even achieving attractive yields while being close to 100% on the equity side.
With two utility funds, a pair of real estate investment trust vehicles and others with blends of stocks and bonds -- both domestic and international -- the table below offers a wide selection of ways to maintain some equity exposure with the possibility of yields as defensive hedges against further stock market erosion.
American Century Utilities
(BULIX) - Get American Century Utilities Inv Report
describes itself as a fund "for investors seeking to diversify their equity portfolio." Its investment strategy uses both "quantitative and qualitative management techniques as well as risk controls to build the portfolio."
BULIX's holdings include utility mainstays
AT&T
,
Verizon
(VZ) - Get Verizon Communications Inc. Report
and
Public Service Enterprise Group
(PEG) - Get Public Service Enterprise Group Incorporated Report
.
The giant
American Funds Income Fund of America
(AMECX) - Get American Funds Inc Fnd of Amer A Report
"seeks to provide current income while secondarily striving for capital growth."
"Multi-dimensional diversification" might be an apt description to AMECX's approach to investing. The fund may invest up to 25% of its assets in U.S.-based stocks that are not included in
S&P 500
. "In addition, the fund may invest up to 20% of its assets in lower quality, higher yielding nonconvertible debt securities. The fund may also invest up to 10% of its assets in debt securities of non-U.S. issuers, however, these securities must be denominated in U.S. dollars," according to the fund's description.
Top holdings of AMECX include
Chevron
(CVX) - Get Chevron Corporation Report
,
General Electric
(GE) - Get General Electric Company Report
and
Merck
(MRK) - Get Merck & Company Inc. Report
.
The other utilities fund on the list,
Gabelli Utilities
(GAUAX) - Get Gabelli Utilities A Report
, looks for opportunities outside the usual realm of utility industry investment choices.
GAUAX invests at least 80% of its portfolio in stocks of companies heavily involved in "providing products services or equipment for the generation or distribution of electricity gas and water that it believes have the potential to achieve either capital appreciation or current income," the fund states. "The fund may also invest in foreign securities. The fund may invest up to 25 percent of its total assets in securities of non-U.S. issuers."
Non-utility
Halliburton
(HAL) - Get Halliburton Company Report
joins
El Paso
(EP) - Get Empire Petroleum Corporation Report
and
Allegheny Energy
(AYE)
as major holdings of GAUAX.
The intentions of
Oppenheimer Quest Opportunity Value
(QVOP)
seem to extend well beyond what might be expected of a fund with an above-average yield.
The value fund says it "normally invests mainly in securities that it believes are undervalued in market place." It may also invest in foreign securities and use derivative investments "for hedging purposes or to seek higher investment returns."
Among the top holdings of QVOPX are stocks such as
Exxon Mobil
(XOM) - Get Exxon Mobil Corporation Report
and Halliburton, not surprising in a yield-oriented vehicle.
Rochdale Dividend & Income Portfolio
(RIMHX) - Get City Nat Rochdale Equity Income N Report
seeks both income and long-term capital appreciation. The more traditional equity-income oriented fund invests 50% of its assets in dividend-paying equity securities and 25% in dividend and income generating foreign securities, including emerging markets.
Dominating RIMHX's portfolio are blue-chip stocks like
McDonald's
(MCD) - Get McDonald's Corporation Report
,
Anheuser-Busch
(BUD) - Get Anheuser-Busch Inbev SA Sponsored ADR (Belgium) Report
, Exxon Mobil and
Wal-Mart
(WMT) - Get Walmart Inc. Report
.
With "dividend" in its name, the
Stratton Monthly Dividend REIT Shares
(STMDX) - Get Sterling Capital Real Estate Instl Report
looks to invest at least 80% "plus any borrowings for investment purpose in common stocks and other equity securities of real estate investment trusts," or REITs. The fund, which provides shareholders with monthly income, looks to invest in companies with strong dividend payouts.
The other REIT fund in the table, the
Vanguard REIT Index Fund
(VGSIX) - Get Vanguard Real Estate Index Inv Report
, opts for an indexed approach, as is common with the Vanguard Group.
VGSIX invests about 98% of its assets in equity REIT stocks, in an attempt to track the performance of the Morgan Stanley Capital International U.S. REIT Index. The fund invests in the stocks that make up the index and the remaining assets are allocated to cash investments.
Richard Widows is a senior financial analyst for TheStreet.com Ratings. Prior to joining TheStreet.com, Widows was senior product manager for quantitative analytics at Thomson Financial. After receiving an M.B.A. from Santa Clara University in California, his career included development of investment information systems at data firms, including the Lipper division of Reuters. His international experience includes assignments in the U.K. and East Asia.