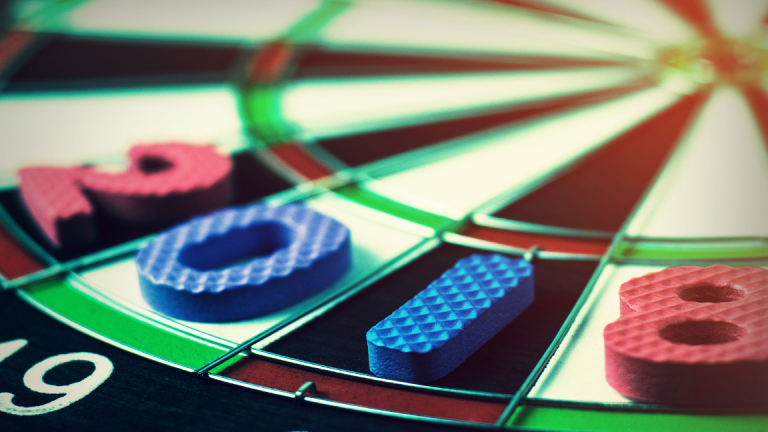 7 Can't-Miss Small-Cap Stocks
The market favors the small cap stocks right now, says Morgan Stanley. Here are several picks to consider.
Looking for good small to mid-cap stocks? We got you. 
According to new research from Morgan Stanley, small-caps are poised for more out-performance this year thanks to the prospect for M&A and solid U.S. economic growth. Already, the small-cap Russell 2000 undefined has tacked on about 5.6% this year, better than a relatively unchanged Dow Jones Industrial Average undefined . 
Here are several small to mid-cap stocks Morgan Stanley says you should consider. Reminder: do your own homework on these names.
8x8 Inc. 
8x8 (EGHT) - Get 8x8 Inc Report has built a cloud communications platform which offers customers voice, chat, conferencing and application integration. It is addressing a $75bn+ market that has traditionally been dominated by on-premise and standalone solutions. We are not yet calling that growth will resume to the 25% rate the company targets exiting FY19, as the company has a lot of work still to do improving execution, but we do think that the valuation will begin to get more credit for 20% growth levels on its path to 25% growth over the next year. Our confidence in 8x8's growth "floor" in the high-teens is based on perceptions of the quality of the product, market disruption taking place, VAR checks, and third-party estimates of overall cloud communications growth rates, with current improved execution bridging to 20% growth. Current valuations for peer SMID cap SaaS companies growing ~20% are ~5.5x EV/19e Revenue, vs EGHT's current level of 5.0X.
ADT
ADT (ADT) - Get ADT Inc. Report , the largest home security company in a growing, recession-resilient industry, is our top SMID Overweight pick in Business Services. We see steady operating growth, accelerating cash flow, and a very compelling valuation. We believe ADT's brand (95% awareness) and service differentiates the company from intense competition from technology and DIY rivals, and positions it as a partner-of-choice for higher-growth segments. Lowering attrition is key to future growth, and we expect service and selection initiatives will drive 120bps of further reduction in attrition by 2020. We expect new customer adds to stabilize now, as the shift in customer targeting (credit scoring) is largely complete. We project that ADT's free cash flow will reach ~$980 million by 2020, up from ~$400 million in 2017. Improving subscriber acquisition cost (SAC) should enable the company's adjusted EBITDA to grow without incremental investment. Optimizing SAC spend (~65% of CFO) should be achieved through: 1) collecting higher upfront fees, 2) greater mix of commercial/DIY customers, 3) lower equipment costs through renegotiated agreements with suppliers, and 4) more efficient marketing spend. Our $15 PT implies a levered FCF yield of 7% on our 2019 estimate, vs 14.5% currently.
Advance Auto Parts
We are bullish on AAP (AAP) - Get Advance Auto Parts Inc. Report because external and internal conditions are becoming more favorable. Externally, DIY Auto demand should improve from here; weather trends are starting to turn from a headwind to a tailwind and the car parc is becoming "less bad" in 2018. Internally, it looks like the turnaround could be beginning to yield results. We think ongoing improvement leaves room for upside to F2018 guidance (comps flat to -2% and 0-50 bps EBIT margin expansion). We are modeling flattish comps and ~70 bps EBIT margin expansion to reflect our view AAP's efforts gain traction throughout the year; our EPS estimate of $7.00 is ~4% higher than consensus ($6.72). Although we are cautious about long-term margins in the industry, we rate AAP Overweight ($130 PT) as the business should now be turning a corner from an execution standpoint.
Alcoa 
Alcoa (AA) - Get Alcoa Corporation Report is our high-conviction Overweight idea in our NA Metals and Mining SMID universe based on its attractive cash flow generation profile and positive long-term trends supporting prices in the aluminum complex. AA is a key beneficiary of US tariffs on imported aluminum, which should help the company restart smelting capacity in the US. We believe China's supply side reforms and its focus on environmental policy are sustainable drivers of global long-term aluminum and alumina prices. Alcoa's management has committed to returning half of excess free cash flow to shareholders beginning 2H18, which could serve as a catalyst for the stock. At a blended 6.3x EV/EBITDA, on our forecasts, we estimate the stock is reflecting aluminum prices 11% below spot (and 5% lower than our 3-year average price forecast) and alumina 38% below spot (and in line with our 3 year view). AA is currently trading at a FCF yield above 15% based on the spot price, and ~10% on our 3-year price outlook.
Ambarella
While recent earnings have been under some pressure, we are excited about the company's new computer vision products, with increasingly tangible autonomous driving applications. We view these chips as a natural extension of the company's core video processing capability, and they are intended to allow customers to flexibly design systems for complex machine vision analytics, a field that is accelerating rapidly because of advances from deep learning/AI. We believe 2018 computer vision applications in drones and surveillance cameras should drive revenue for Ambarella (AMBA) - Get Ambarella Inc. Report . Perhaps more importantly, the company demo-ed a fully autonomous vehicle with its CV cameras and software and announced next-gen CV2 chips at its Analyst Day in March. We see potential for announcements of development relationships in autonomous driving - Tier One auto relationships, while not in our base case for 2018, could become integrated into strategic valuations of the company, and are key to our $120 bull case.
American Axle & Manufacturing
AXL (AXL) - Get American Axle & Manufacturing Holdings Inc. Report is our top pick in US Autos & Shared Mobility. If there is extended life for Auto 1.0, we believe that AXL is poised to benefit, and our estimates are above consensus for 2018, 2019, and 2020. While, among our coverage, American Axle is most exposed to a downturn in US SAAR, we estimate a decline in US SAAR of less than 5% for 2018, and the company should benefit from a higher mix of light trucks and SUVs. Management guidance for over $1.5 billion of free cash flow from 2017 through 2020 is (almost) equivalent to the market cap of the company. We believe that the stock has the potential to re-rate on positive estimate revisions and as free cash flow is used to de-lever / de-risk the company.
Antero Midstream 
Antero (AR) - Get Antero Resources Corporation Report is an MLP in the Appalachia region that provides midstream energy services for upstream producer Antero Resources (AR). AM is a unique midstream option with a peer-leading balance sheet, funding position, and capital efficiency that sets up for double digit organic DCF/unit growth into the next decade. AM's unit price performance has lagged amid structural uncertainties caused by AR's strategic review and negative sentiment around gas pricing. However, we continue to have high visibility into AM's growth trajectory over the next few years which does not appear to be reflected in valuation - on our forecasts, AM trades at a discount to other E&P-sponsored MLPs (10.2x 2019e P/DCF vs. peer median of 10.8x) despite 2-3x the DCF/unit growth over the next several years. We believe AM warrants a premium valuation vs. these peers, and anticipate multiple expansion as AM realizes peer-leading growth and, with greater structural and strategic certainty in coming months, we believe there is a good opportunity for the underlying value in the AM family to be again be in investor focus.
TheStreet presents on May 22: "How to Stomach Market Volatility." Hosted by Fisher Investments and TheStreet's Jim Cramer, the exclusive live webinar will give you the tools to successfully navigate market volatility and discuss why having a wealth manager is more critical than ever before. Quickly register for the event here.