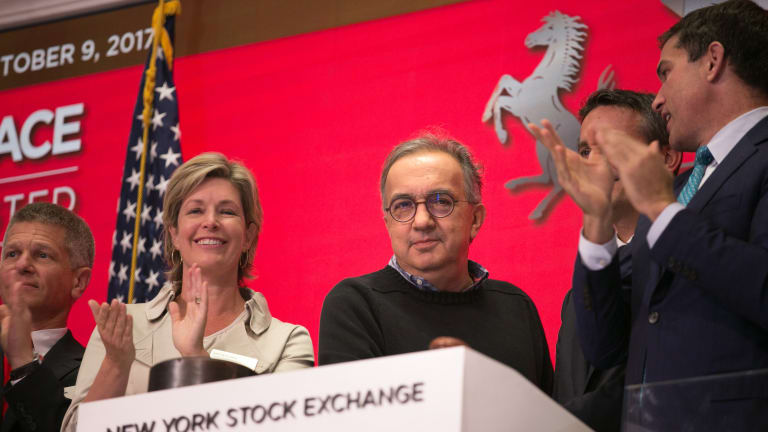 Sergio Marchionne in His Own Words: Why Ferrari's IPO Has Been So Successful
Sergio Marchionne was replaced as CEO following complications from shoulder surgery. TheStreet looks back at what he told us about the Ferrari IPO.
Sergio Marchionne died at the age of 66 on Wednesday. 
One of Sergio Marchionne's greatest achievements: the resounding success that is the Ferrari (RACE) IPO.
Wall Street has sent the the supercar maker's stock up an impressive 148% since the company went public in late Oct. 2015. For Ferrari, its public company success under Marchionne -- who was replaced as CEO of Fiat Chrysler (FCAU) and Ferrari over the weekend due to complications from a recent shoulder surgery -- can be boiled down an expanded product line and the rising wealth effect among consumers. 
Ferrari isn't just a car company, it's a lifestyle brand then CEO Marchionne told TheStreet in an interview in Oct. 2017. Marchionne used that lifestyle brand positioning to introduce new Ferrari models and play up its racing heritage across general merchandise. 
Ferrari has also enjoyed the benefit of a higher stock market, which has fueled solid demand for pricey supercars.
Ferrari saw shipments gain a solid 6.2% in the first quarter, driven by increases around the globe. The 488 and GTCLUsso were the main fuel behind the quarter, followed by the 812 Superfast. A new Portofino -- a 591-hp twin-turbo 3.9-liter V-8 beast -- began shipping in the second quarter.
Adjusted operating profits rose 12.6% in the first quarter. 
Louis C. Camilleri, a long-time Phillip Morris (PM) executive and Ferrari board member, will replace Marchionne as the company's CEO.
"While we expect near-term volatility as the stock digests the leadership change, we'd buy the stock on any pullback," says Credit Suisse analyst Michael Binetti. "Marchionne didn't achieve RACE's successes alone. Further, proposed CEO Camilleri (Philip Morris Chairman, RACE board member) has a strong track record and knows RACE intimately, which should mitigate any disruption risk."