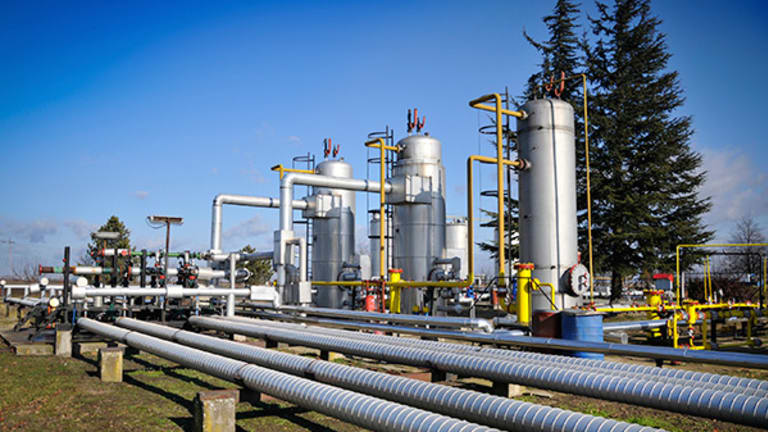 Senator Debbie Stabenow Takes On Kid Rock and Michigan Pipeline On The Same Day
Two Michigan senators are calling for a halt in construction.
Senator Debbie Stabenow addressed two possible threats to the state of Michigan last Wednesday, July 12 - and only one of them was Kid Rock.
The same day the singer formerly known as Robert James Ritchie announced his intention to unseat Stabenow in the 2018 election, Stabenow and her fellow Michigan senator Gary Peters sent a letter to the acting chairwoman of the Federal Energy Regulatory Commission raising concerns about the construction of Energy Transfer Partners' (ETP) Rover pipeline, a 713-mile natural gas pipeline set to run through the state this fall.
The two democratic senators are calling on a pause in construction on a segment of the pipeline near Pinckney, a small town in Michigan's southeast, and a reexamination of the route.
"[The] final route that was selected will result in a high-pressure natural gas pipeline running less than 300 feet from a YMCA campground for children," the senators wrote. "In addition, the approved route will encircle 90 neighboring homes and pass under what we understand to be the only three roads available for evacuation and access by emergency responders in the event of a pipeline explosion."
Colette Breshears, a Genscape natural gas analyst who has been tracking Rover's progress, said a pause in construction on this particular segment would not necessarily delay the pipeline's overall construction schedule. That said, she noted that a decision by FERC to accede to the senators' requests could add additional costs.
"It may be difficult to 'skip' this section and come back at a later time due to the logistics needed for pipe and heavy machine delivery which could introduce additional cost and delay if the current construction schedule does not allow enough buffer time," Breshears said in an email.
Rover's construction contracts require it to pay between $800,000 and $1.3 million a day for delays, according to the company's filings with FERC. In addition, the company owes its contractors between $407,000 and $687,000 for so-called "move-around costs," should the company have to complete segments out of order.
Breshears said it was unlikely that further review from FERC would result in a different route, given that the commission reviews alternative routes during earlier phases of the approval process. In their letter, the senators suggested that Rover used "incorrect terminology" when discussing the route proposal.
The senators were not immediately available for comment, and it was not clear what incorrect terminology they were referring to. In a brief notice issued Thursday, July 13, FERC's Office of Enforcement said that Rover did "not fully and forthrightly disclose all relevant information" during the approval process, though that investigation appears to be regarding environmental issues. FERC did not disclose the details of the investigation.
Investors in Energy Transfer and its parent company, Energy Transfer Equity (ETE) , tend to be sensitive to delays in pipeline construction. Rover has already been facing delays after a 2 million gallon spill in April that led FERC to order a halt in horizontal drilling in certain crucial segments.
DTE Energy (DTE) - Get DTE Energy Company Report , which is behind a proposed pipeline that will compete with Rover, is a major donor to both Stabenow and Peters. The company is Stabenow's third largest donor, having contributed $84,350 between 2011 and 2016, according to OpenSecrets. The company is Peters's eighth largest donor, having contributed $75,550 since 2007. That data includes contributions from DTE's political action committees, employees, owners, and those individuals' immediate families.
A spokesperson for Energy Transfer said in an email that they "look forward to continuing constructive dialogue on the project."