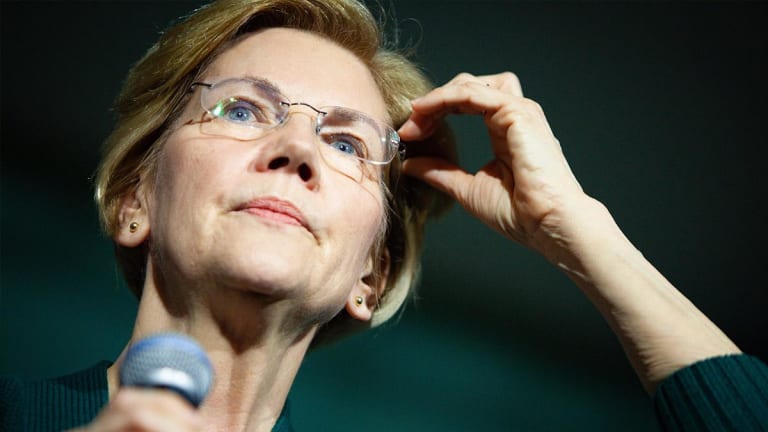 Elizabeth Warren Ad Taunts Billionaires Over Wealth Tax Plan
Persistent critic Leon Cooperman unloads on senator and presidential candidate, according to report.
Sen. Elizabeth Warren is launching a new ad campaign based on her proposal for a wealth tax, according to a published report Wednesday.
In the ad, Warren, who is seeking the Democratic party presidential nomination, calls again for a wealth tax to fund her policy initiatives, and includes interview clips of billionaires complaining about her. The campaign has booked time on CNBC to run the spot, CNBC reported.
The critics include Leon Cooperman, who, after viewing the ad, told a CNBC reporter "She's [Warren] disgraceful. She doesn't know who the f--- she's tweeting. I gave away more in the year then she has in her whole f----ing lifetime," according to a tweet of the comments.
Last week, Warren released a calculator to help billionaires figure out how much they'd pay under her plan.
The calculator specifically targeted Cooperman, saying: "You'd pay $151 million next year under Elizabeth's wealth tax. This amount, which you likely won't even feel, will help us invest in education from birth through college and help finance health care for everyone." It added, "Good news -- you'll still be extraordinarily rich! And if history is any guide, if you do nothing other than invest your wealth in the stock market, it's likely that your wealth will continue to grow."
Cooperman spent 25 years at Goldman Sachs before starting the Omega Advisors hedge fund in the early 1990s. Warren's calculator estimates his net worth as $3.2 billion. He has pledged to give away most of his fortune as part of the giving pledge campaign launched by Microsoft (MSFT) - Get Report co-founder Bill Gates.
Gates' tax estimate, according to the calculator is $6.379 billion, based on a net worth of $107 billion.
Microsoft is a holding in Jim Cramer's Action Alerts PLUS member club.