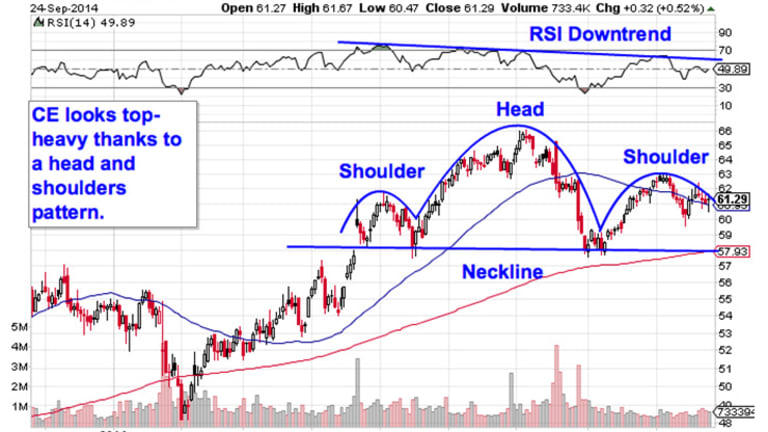 Sell These 5 Toxic Stocks Before the Next Drop
It's time to unload these stocks from your portfolio.
BALTIMORE (Stockpickr) -- The top talk is back this week, following another S&P 500 retreat from the 2,000 mark and a big black eye on the long-awaited Alibaba (BABA) IPO last week.
Are stocks putting in a top here? No, not likely.
Regardless, the past week's correction has still been a critical reminder that the individual names you own matter a whole lot -- particularly because the big indices, such as the S&P, have grossly understated just how hard some individual names have pulled back in September. For instance, social media stocks are off an average of 2.5% since the start of this month, and the energy sector is down more than 6%.
That could just be the start. Some specific stocks look ready for an even bigger drop in the sessions ahead. That's why, today, we're taking a closer look at five "toxic" names to avoid in September.
Buying big, "safe" blue chips doesn't make you immune from owning bad stocks. In fact, every single name on our list today is a large-cap stock that's worth more than $10 billion in market value. So this isn't just a list of stocks to avoid -- if you already own one of them, then it could be time to sell.
Just to be clear, the companies I'm talking about today aren't exactly junk. By that, I mean they're not next up in line at bankruptcy court. But that's frankly irrelevant; from a technical analysis standpoint, sellers are shoving around these toxic stocks right now. For that reason, fundamental investors need to decide how long they're willing to take the pain if they want to hold onto these firms in the weeks and months ahead. And for investors looking to buy one of these positions, it makes sense to wait for more favorable technical conditions (and a lower share price) before piling in.
For the unfamiliar, technical analysis is a way for investors to quantify qualitative factors, such as investor psychology, based on a stock's price action and trends. Once the domain of cloistered trading teams on Wall Street, technicals can help top traders make consistently profitable trades and can aid fundamental investors in better planning their stock execution.
So without further ado, let's take a look at five toxic stocks you should be unloading.
Whole Foods Market
Up first is natural grocer Whole Foods Market (WFM) , a stock that's been cratering ever since the calendar flipped to 2014. Since January, shares of Whole Foods have shed nearly 34% of their price tag. And while shares have been holding sideways for the last few months, WFM is starting to look toxic again thanks to a textbook technical pattern.
Whole Foods is currently forming a descending triangle pattern, a bearish price setup that's formed by horizontal support to the downside (in this case at $36) and downtrending resistance above shares. Basically, as WFM bounces in between those two technical lines, it's been getting squeezed closer to a breakdown below that $36 price floor. When that happens, we've got our sell signal in this stock.
Sellers are clearly in control of shares down here, and while this setup has been forming for the last few months now, we're finally within grabbing distance of the bottom of the pattern. If $36 gets violated, then look out below.
Statoil
I mentioned that energy stocks have been bleeding in recent sessions, and Norwegian oil and gas company Statoil (STO) is a perfect example. The bad news for Statoil longs is that this stock looks primed for lower levels for the exact same reasons as we're seeing in Whole Foods this week, just in the shorter-term. STO is a descending triangle trade with a breakdown level at $27.50.
Why all of the significance at $27.50? It's not magic. Whenever you're looking at any technical price pattern, it's critical to keep buyers and sellers in mind. Patterns such as the descending triangle are a good way to quickly describe what's going on in a stock, but they're not the reason it's tradable. Instead, it all comes down to supply and demand for shares.
That $27.50 level in STO is the spot where there's previously been an excess of demand for shares; in other words, it's a price where buyers have been more eager to step in and buy shares at a lower price than sellers were to sell. That's what makes a breakdown below support so significant -- the move means that sellers are finally strong enough to absorb all of the excess demand at the at price level. STO doesn't officially become toxic until $27.50 gets violated.
Relative strength adds another red flag to the setup in Statoil. This stock's relative strength line broke through its uptrend just before the end of June, an indication that STO has been underperforming the S&P since then. As long as the new downtrend remains intact, STO's underperformance should continue.
Capital One Financial
Capital One Financial (COF) is starting to look "toppy." Shares of the big bank have had a pretty reasonable run so far this year, staying within about a percentage point of the broad market's performance all year long. But Capital One's ability to keep pace with the S&P looks questionable in the final months of the year.
That's because COF is currently forming a double top pattern. The double top looks just like it sounds: it's a bearish reversal trade that's formed by a pair of swing highs that top out at approximately the same price level. The sell signal comes on a violation of the support level that separates the tops, that $78 price floor in the case of COF. If shares break down below that most recent swing low, then we're seeing a major change in trend.
The 200-day moving average has been a good proxy for Capital One's uptrend year-to-date. If that red line gets violated, then it adds some extra fuel to the downside fire in shares. If it happens, it's likely to coincide with our $78 breakdown.
Noble Energy
Another big energy stock that's looking toxic in September is Noble Energy (NBL) . Noble hasn't done much performance-wise this year, tracking sideways going all the way back to the first quarter. But that sluggish performance could look bullish by comparison if support at $68 gets taken out here.
Noble is currently forming a head and shoulders top, a setup that indicates exhaustion among buyers. The setup is formed by two swing highs that top out at approximately the same level (the shoulders), separated by a higher high (the head). The sell signal comes on a move through NBL's neckline at $68, a level that's been important from a technical standpoint going back to March. Don't put too much stock into the bear trap at the end of July -- it was an earnings-induced swing that corrected within a few sessions. Since earnings are still more than a month away here, the next violation of $68 won't come with the same reprieve.
For traders looking to go short NBL on the breakdown, the 50-day moving average is a logical place to park a protective stop.
Celanese
Last up on our list of toxic stocks is Celanese (CE) , another name that's showing off a pretty textbook head and shoulders top right now. For Celanese, the sell signal comes on a move through $58.
The side indicator in the CE trade is momentum, measured by 14-day RSI. Our momentum gauge has been in a downtrend since the middle of April, making lower highs even as CE's price made higher levels over the course of the head and shoulders pattern. That's a bearish divergence that points to more downside this fall.
Lest you think that the inverse head and shoulders is too well known to be worth trading, the research suggests otherwise: a recent academic study conducted by the Federal Reserve Board of New York found that the results of 10,000 computer-simulated head-and-shoulders trades resulted in "profits [that] would have been both statistically and economically significant."
That's a good reason to keep an eye on both Noble and Celanese level this week.
To see this week's trades in action, check out the Toxic Stocks portfolio on Stockpickr.
-- Written by Jonas Elmerraji in Baltimore.
RELATED LINKS:
>>4 Stocks Triggering Breakout Trades With Unusual Volume
>>5 Dividend Stocks Ready to Pay You More
>>How to Trade the Market's Most-Active Stocks
Follow Stockpickr on Twitter and become a fan on Facebook.
At the time of publication, author had no positions in stocks mentioned. Jonas Elmerraji, CMT, is a senior market analyst at Agora Financial in Baltimore and a contributor to TheStreet. Before that, he managed a portfolio of stocks for an investment advisory returned 15% in 2008. He has been featured in Forbes , Investor's Business Daily, and on CNBC.com. Jonas holds a degree in financial economics from UMBC and the Chartered Market Technician designation. Follow Jonas on Twitter @JonasElmerraji