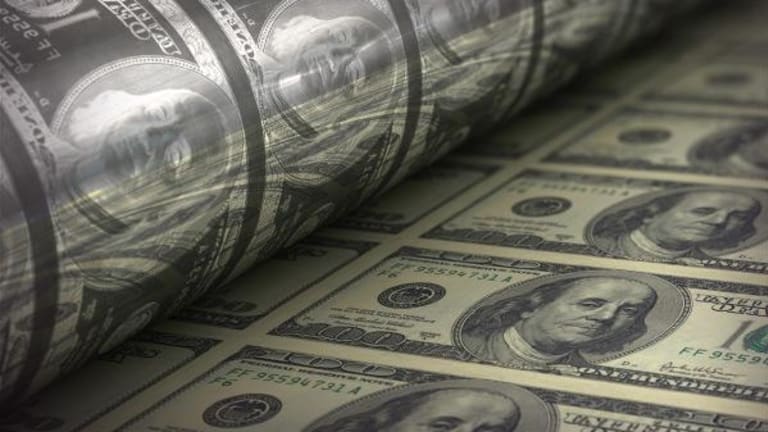 Sell the Dollar in May and Go Away
Here are three dollar trades that should work this month.
"Sell in May and Go Away" should work well for the U.S. dollar. In fact, if there's one underlying market theme so far for 2017, it's that the Trump administration thinks a weaker dollar is in America's interest.
Now I'm no fan of the U.S. dollar, and apparently, neither is President Trump. So, selling the dollar is easy -- but against which currencies is where it gets a little more complicated.
Personally, I'm a big believer of taking positions when the market is heavily invested and positions are backed by hubris. In other words, I look for places where market participants are so confident that no amount of data will change their mind.
Let's check three of these out:
The NAFTA Trade
These past few weeks have seen the greenback rally against both the Canadian dollar and the Mexican peso. Obviously, fears that Trump would scrap the North American Free Trade Agreement drove folks into these positions, but so did fears of a Canadian trade war sparked by the White House recently announcing 20% tariffs on Canadian softwood.
However, I believe these U.S. moves are simply negotiating tactics to bring Canadian and Mexican leaders to the table to renegotiate NAFTA. After all, it's a lot simpler to tweak NAFTA than to scrap it and start all over again.
I think the White House will soon affirm its commitment to NAFTA, but secure strong support to renegotiate certain elements from Canadian and Mexican leaders. In other words, I believe the dollar is ripe for a sell off against both its Canadian and Mexican counterparts, with USD/CAD dropping back below 1.3500 and USD/MXN below 19.00.
The European Trade
With Trump looking for lower U.S. interest rates for longer, I think the European Central Bank has the opportunity to bring an end to quantitative easing sooner rather than later.
Trump is looking to run the U.S. economy "hot," with low interest rates, higher growth and a stoking of inflation. I see that as an opportunity for Europe to play catch up, with an expected narrowing of interest-rate differentials.
I can imagine U.S. rate hikes on hold and eager ECB members talking European rates higher to normalize interest rates and dampen inflation expectations. That would make the euro rally to above 1.0900 against the greenback.
The Korea Conundrum
North Korean saber-rattling (closely followed by U.N. Security Council and full Senate meetings at the White House) has given rise to thoughts of a pre-emptive strike by America and her allies on North Korea. After all, Pyongyang is clearly trying to build up long-distance nuclear-missile capability.
Given that there's is no tradeable North Korean currency, market players have sold proxies instead. The Japanese yen has weakened against the dollar over the past week as tensions with North Korea have risen.
But once again, we can see the U.S. rhetorical ramp-up on North Korea as a smokescreen for encouraging Chinese involvement. I believe there are only so many U.S. nuclear submarines and aircraft carriers that China will tolerate in the waters off of Asia before Beijing steps in and silences North Korean aggression. After all, I assume the Chinese would rather manage the issue than have America flexing its military muscle in the region.
For this reason, I see the recent jump higher in USD/JPY as an opportunity. I don't expect 114.00 to hold as support for long -- in fact, we dropped below that on Wednesday morning -- and I see a move below 100.00 in the coming months.
The Bottom Line
Add it all up and selling the dollar in May and walking away holds merit in my mind. There are a number of stretched dollar trades that are ripe for reversal, be they NAFTA-, European- or Korean-related.
This past quarter has seen market players taking Trump's comments as certainties rather than just negotiation stances, but I think the reality is that we'll see a watered-down conclusion.
(This column originally appeared on May 1, but has been updated with new information.)
Sell in May and Go Away:
This article is commentary by an independent contributor.