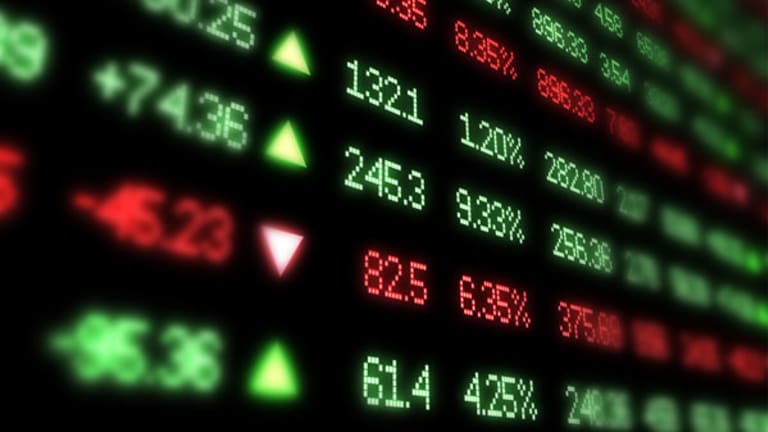 Sell on Trump Presidency Troubles?; What's Wrong With Under Armour: Jim Cramer's View
Cramer shares his views on whether to sell on Trump troubles and asks, what's wrong with Under Armour?
Jim Cramer shares his views every day on RealMoney. Click here for a real-time look at his insights and musings.
Cramer: Selling on Trump Presidency Troubles? Are You Kidding Me?
Originally published May 17 at 6:44 a.m. EST
Oh, my, did it dawn on the Pajama Traders that Trump might be in trouble? Or did it dawn on the Pajama Traders that it might have an impact on the market?
Whatever. I guess the "biggest crisis yet" headlines jarred someone into action, as the futures were hit hard last night and have been trying to make a comeback all morning.
I find it refreshing that the notion of the "troubled" presidency is at last hitting the radar screen of some of these overnight traders who play with the futures. There are finally enough overextended stocks, particularly in the Nasdaq and in the Chinese internet plays, that a selloff could have some staying power. Perhaps they know that some big firm is going to suggest selling equities today.
Whatever.
If there is someone selling futures with the idea that perhaps Donald J. Trump will not get his economic package through, all I can say is: are you kidding me? That's been the theme now for weeks, as the president has lost Republican after Republican with all of these sideshows of his own creation and his naivete about the way the government really works, from the executive branch to the legislative to the courts.
He missed that civics class, I guess.
I personally think it is time for some of these Nasdaq names to cool off. They can't keep going up on nothing, or on the absence of anything other than "retail's not doing well".
At the same time, I think that there will be plenty of people talking about how the VIX is so low that "I told you so."
Either way, remember what brought us up here: the fundamentals. There have been so many good quarters and only a handful of bad ones, and the bad ones have been really concentrated in the Amazon (AMZN) -battered portion of the economy.
So let's see what the futures bring us, but don't be so quick to panic because the futures guys woke up and realized that the president's in trouble.
I mean, is that really all that revelatory?
_________________
Cocktails & Cramer
Join Jim Cramer on May 23 for an exclusive party at Bar San Miguel, his Brooklyn tavern.
You'll get to watch a screening of Mad Money, after which Jim will arrive fresh off of the CNBC set to mingle, pose for photos and answer your investing questions.
Participants will enjoy dinner, drinks, an autographed copy of Jim's book Get Rich Carefully and a free one-year membership to Action Alerts PLUS, Cramer's VIP club for investors. (Current AAP members will receive one extra year of membership for free.)
When: Tuesday, May 23, 6 p.m.-9 p.m. EDT
Where: Bar San Miguel, 307 Smith St., Brooklyn, N.Y.
Cost: $375 per person
Space is very limited, so click here to reserve your ticket to this exclusive event today.
Action Alerts PLUS, which Cramer co-manages as a charitable trust, has no positions in the stocks mentioned .
Cramer: Here's What's Wrong With Under Armour
Originally published May 16 at 5:46 a.m. EST
Some stocks just don't get much respect.
Take Under Armour (UAA) . When Under Armour last reported, it was widely hailed as the bottom. There was ample evidence that the stock had become overly hated, that there were way too many bears. There were more sells than buys.
Well, it caught some upgrades, but in the end, it didn't matter. The stock's right back to where it was.
Then I figured, when Stephen Curry started to dominate again maybe things would pick up. I figured it would stir some buyers.
Nothing.
Finally, last week Kohl's (KSS) reported a half-decent quarter and praised Under Armour as a major reason why sales came back during the quarter. It was the most bullish testimonial for UAA imaginable, and I thought for sure it would have an impact.
But it was like a tree falling in the woods. Some of that was Kohl's saying that Nike (NKE) is still hot. And we know that Adidas (ADDYY) is a strong story with endless legs.
Still, it makes you wonder if something else is out there. Now we will hear Footlocker (FL) Friday and perhaps the story there is a slowdown, although I doubt it.
Perhaps this underperformance is just a testament to how hard it is for anything but tech to come bounce back to life. This one just sticks out like sore thumb. I know it is still expensive. My best theory about why it might not be rallying is that Macy's (M) and JC Penney (JCP) have to close a ton of stores, which means a lot of UAA merchandise will be floating around in the system.
Maybe it will take a concerted effort by Action Alerts PLUS charity portfolio holding TJ Maxx (TJX) --where I think a lot of their wares will end up--to clean out the inventories before this thing can stage a move higher.
Action Alerts PLUS, which Cramer manages as a charitable trust, is long TJX.
Action Alerts PLUS, which Cramer manages as a charitable trust, is long TJX.