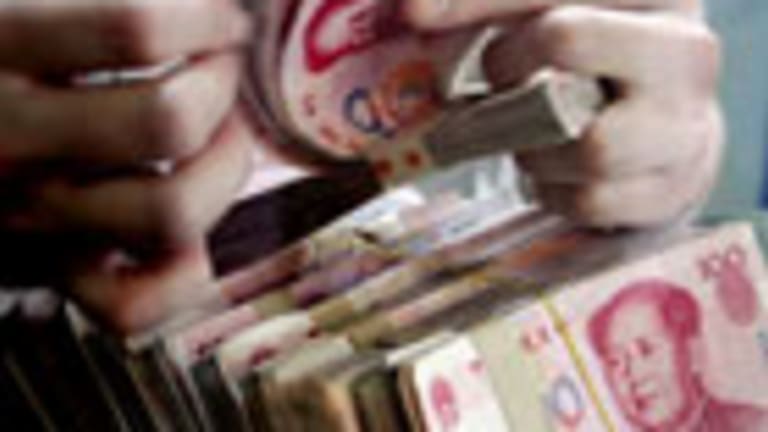 Sell-Off Alert: Rout in the Chinese Stock Market Bubble Has Begun
China's stock market is in a bubble, and now that bubble is bursting.
China's stock market is in a bubble, and now that bubble is bursting.
NEW YORK (Real Money Pro) -- Investors are constantly faced with questions such as are valuations overstretched, is the coming earnings season going to be a boom or a bust and what will be the final outcome of the Greek referendum?
Here is one question you won't have to answer: Is China's stock market in a bubble? Yes it is, and now that bubble is bursting.
After I wrote about the China stock bubble in April, the Dow Jones Shanghai Index climbed an additional 20%. Those gains quickly evaporated, and the path of least resistance is now lower.
That quick rally and even quicker reversal make a point about the nature of bubbles. They can be fantastic money-making opportunities, provided that you understand that investors realize they are in one.
Making money in a bubble is easy, but keeping it is the hard part. It is a tough lesson to learn, and investors in China's markets are learning it now.
What happens next? The Dow Jones Shanghai index chart alerted us to this bubble, and now it projects further downside. Check out the head-and-shoulders pattern on the index.
In technical analysis, everything is defined by what precedes it. The massive run-up that preceded this bearish pattern makes it all the more ominous.
When markets rise with such alacrity, the backing-and-filling action that creates support and resistance levels is bypassed. Although this allows a market to rise quickly, that speed of movement is also evident on the downside.
If you caught the moving average convergence divergence sell signal on June 16 (arrow), kudos to you. But shorting this market is also a dangerous proposition.
China longs are hoping to sell into strength, and they had a brief opportunity to do so at the open last night, thanks to the People's Bank of China.
On Saturday, China's central bank announced a reduction in its key one-year lending rate of 25 basis points to 4.85%.
The PBOC also announced a 50-basis-point reduction in the reserve requirement for many banks.
This led to a brief rally at the open last night before another day of devastating losses.
Could it be that the PBOC saw this plunge coming and was attempting to cushion the blow?
CNN, citing BNP Paribas, recently reported that traders in China are opening an average of 170,000 new trading accounts per business day, which is 10 times last year's rate.
China's stock market is brimming with novice investors, and novice investors tend to be poor risk managers. Expect a cascading series of margin calls to drive China's markets even lower.
This article was originally published on June 29 at 9 a.m. EDT on Real Money Pro.
This article is commentary by an independent contributor.