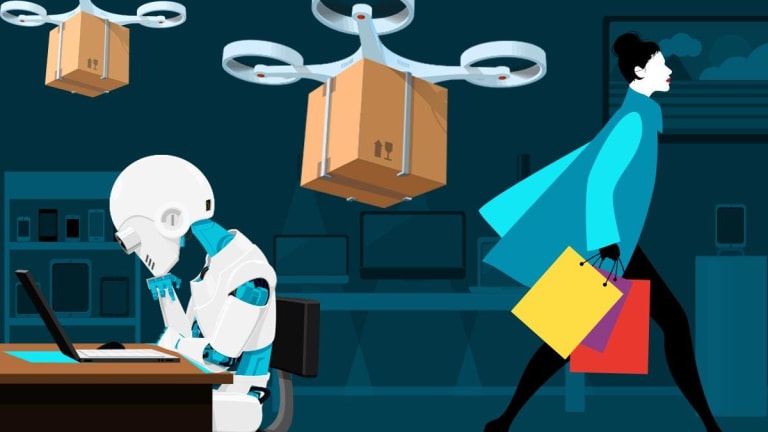 Self-Flying Aircraft Are Coming Before Autonomous-Driving Cars
And you can already invest in the companies developing the tech.
Autonomous vehicles are one of the hottest investment trends of 2018.
But that's not limited to self-driving cars.
While most investors fixate on the race to get self-driving cars on the street, some of the biggest aerospace firms on the planet are working on bringing autonomous aircraft to a sky near you. Earlier this month, news hit that Boeing Co. (BA) - Get The Boeing Company Report is leasing 100,000 square feet of research and lab space at MIT for autonomous research.
Likewise, Lockheed Martin (LMT) - Get Lockheed Martin Corporation Report and its Sikorsky helicopter subsidiary are working on a pair of unmanned rotary-wing testbeds that are making fully autonomous flights under test conditions already.
(Boeing isn't being left behind here - its Aurora Flight Sciences subsidiary's AACUS program is working on autonomous cargo helicopters.)
Why is autonomous flight so compelling for investors? In part, it's because it's relatively low-hanging fruit.
Unlike driving, with its sophisticated computer-vision challenge due to infrastructure that was developed more than a century ago, aviation is far better suited to autonomy. In fact, the vast majority of flight hours worldwide are already flown with the somewhat simple automation provided by current-generation autopilots.
Likewise, autopilots on large modern jets have actually been able to land autonomously for decades (automatic landing systems are actually legally required for aircraft to land in the extremely poor visibility afforded by CAT III conditions).
Computer vision isn't needed for most fixed-wing flight.
And the FAA's ongoing NextGen program of modernizing the U.S. airspace system could be the shift that makes integrating autonomous aircraft into the national airspace system actually happen in the years ahead.
(The FAA is currently about halfway through its NextGen rollout.)
Autonomous helicopter flight is a bit trickier.
While the challenges of aircraft control have already been solved with advanced autopilots and auto-hover systems found in large turbine helicopters, the bigger challenge is the typical mission of a rotary pilot: low flight around urban areas, often in congested airspace. Higher-order decision-making (like that used for collision avoidance) is more complex in this environment - and the AI systems being built today reflect that.
More importantly, if Boeing or Lockheed can crack the code for autonomous helicopter flight, the technology is likely to be valuable well beyond traditional helicopter customers. Between air taxis and autonomous drone deliveries, safely integrating self-flying aircraft into the national airspace system (and, just as importantly, certifying that technology with the FAA) is going to be an immensely valuable technology.
It's a safe bet that some of the software piloting retrofitted military choppers at Boeing and Lockheed R&D units today ends up making its way to lots of other applications.
For that reason, odds look good that you'll set eyes on your first autonomous commercial aircraft before you get driven around by your first autonomous car.
And best of all, you can invest in companies like Boeing and Lockheed right now.
Lockheed Martin is a holding in Jim Cramer's Action Alerts PLUS member club. Want to be alerted before Jim Cramer buys or sells AAPL or GOOGL? Learn more now.
This article is commentary by an independent contributor. At the time of publication, the author held no positions in the stocks mentioned.