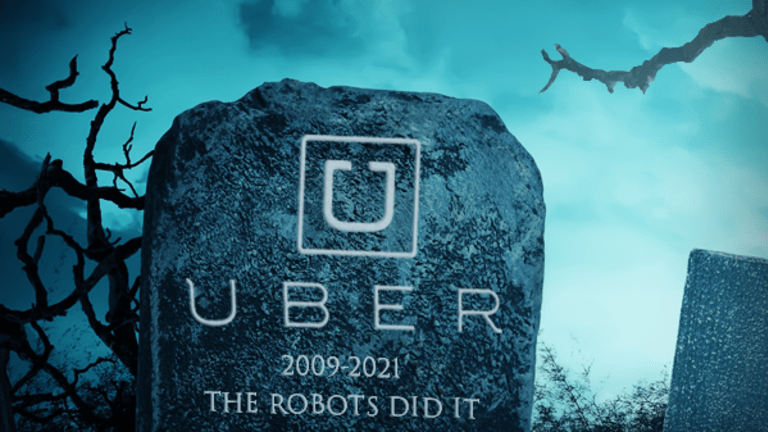 Self-Driving Cars Could Erase the Edge That Drove Uber To Success
The company's success was based on its network advantage. That may be a goner.
Uber Technologies' growth story stands out as one of the wildest in startup history: Beginning with only three cars in 2009, the company matured rapidly into the big fish of the ride-hailing pond, with $6.5 billion in revenue in 2016 and a valuation of about $70 billion.
Former CEO Travis Kalanick drove that expansion by understanding and harnessing the power of the "network effect" -- the self-reinforcing advantage of having the most drivers and the most users.
By rapidly accelerating Uber's development around the globe -- even offering bonuses to drivers in places where there weren't enough users yet to support the market -- the company ensured that within a few years, riders could catch an Uber in places from San Francisco to Chennai, India, in minutes.
Now, the rise of autonomous driving -- and the potential arrival of fleets of self-driving vehicles in 2021 -- threatens to wipe out the value of Uber's driver network. That would destroy the company's business model, forcing it to start over from square one.
"They have an urgency, a strategic urgency to create their own operating system," Stanford University economist Tony Seba said. "The number of drivers doesn't matter anymore."
Broadly put, automated driving refers to the use of vehicles that can rely on sensors and artificial intelligence in addition to human input, or with no human input at all. While there are already vehicles on the road that are are partially autonomous, the threat to Uber would come with cars that require next-to-no driver involvement, such as those that don't even have steering wheels. 
For starters, they could force the company to make huge capital expenditures to build an automotive fleet of its own. Currently, it relies on cars owned by its drivers. 
"When you don't have a driver, these services [such as Uber and Lyft] suddenly lose the vehicles themselves," IHS Markit analyst Jeremy Carlson said. 
Seba, whose studies focus on the future of transportation, said self-driving cars would give the biggest competitive advantage to companies that already have experience operating a fleet of vehicles.
The threat to Uber isn't simply that car companies such as Ford (F) - Get Ford Motor Company Report will dominate the self-driving market, but that big automakers will use their dominance to expand into ride-hailing.
That expansion could be facilitated by a broader trend in the auto market away from personal ownership and toward a service or subscription model, similar to the shift in the music industry from CDs and records to streaming services such as Spotify. 
"The way that automakers are envisioning it going forward, instead of being paid for owning a vehicle, it will be paid for miles traveled," Autotrader executive analyst Michelle Krebs said. "It could be a monthly fee, or a fee like Uber, how far you travel."
Seba predicts that the service model would be 10 times cheaper than owning a car for the average American, thanks in part to declines in insurance and maintenance costs.
That drop, roughly the same as the one offered by the 1908 Ford Model T compared with the horse and carriage, will mean that individual ownership of vehicles will plummet, he said.
Traditional automakers will have to enter the ride-hailing business or risk hemorrhaging customers, and their ability to quickly build a fleet puts them in a good position to do so, he said. 
"[Ford] can build 10,000 cars and get into the market," Seba said. "They are one click away, one app away, from becoming a leader, because Uber doesn't have any advantage besides whatever branding advantage they have with the customer."
Jeff Miller, head of Uber's business development team, disagrees. Analysts such as Seba underestimate the company's edge and the market's loyalty, he said.
Miller doesn't believe the road will be dominated by autonomous cars anytime soon, and said Uber's driver network will still have an edge since humans can make trips that he predicts would stymie self-driving cars, such as excursions in bad weather conditions or along atypical routes.
The capital expenditure necessary for a competitor to enter the market, he added, would be enormous.
"The promise of self-driving is core to our mission of providing reliable transportation, everywhere for everyone. This technology is an important part of the future of transportation -- a future which we intend to be a key part of," an Uber spokesperson said in a statement. "We're keeping our heads down to build the best and most innovative products out there to serve riders, drivers and cities."
Nonetheless, a recent report said that Uber lags behind the major automakers in developing self-driving technology.
According to Navigant Research, Ford, GM, Renault-Nissan and Daimler are running the leaderboard when it comes to autonomous vehicle production, ahead of Uber as well as Google's tech-centered self-driving car spin-off, Waymo.
"[Automakers] have necessary pieces such as manufacturing, service, distribution, and support infrastructure to make viable mobility businesses," report author Sam Abuelsamid wrote in a blog post. "Additionally, automakers have a proven ability to deliver physical products -- not just the components and software that control them."
Indeed, the desire to put the software and hardware under the same roof has led major automakers to buy or invest substantially in software companies that focus on artificial intelligence.
Ford, which recently elevated the head of its mobility division to CEO, has said it plans to have a fully autonomous vehicle on the road by 2021.
In February, the company announced a $1 billion investment over the next five years in Argo AI, a company founded by Google and Uber leaders that Ford hopes will develop new self-driving car technology.
Separately, the company's ride-sharing service, Chariot, is set to expand into eight cities this year, recently moving into Seattle.
Another U.S. automotive heavyweight, General Motors (GM) - Get General Motors Company (GM) Report , has made its own big AI investment: Cruise Automation, which it bought for $580 million in early 2016.
Around the same time, the company invested heavily in Uber-rival Lyft, infusing $500 million into the company before a partnership between Lyft and Waymo expanded the front.
The company could deploy "thousands" of driverless cars as early as 2018, according to Reuters.
Uber hasn't side-stepped car manufacturers entirely: Kalanick, the former CEO, wrote in a blog post that he learned "making cars is really hard" after visiting an auto plant.
In January, the company announced plans to partner with Daimler, the maker of Mercedes-Benz cars, noting at the time that a big part of Uber's strategy would be using automated vehicles built by other companies.
Uber has also partnered with firms such as Volvo Group -- whose XC90 it has used to test its tech, somewhat ungracefully -- and has received investments from Toyota and Google Ventures, the venture arm behind Waymo.
Analysts have said that the company could tap former Ford CEO Mark Fields to try to gain ground with major automakers -- though the executive was reportedly pushed out of Ford because he wasn't moving fast enough on automation. 
Another challenge for Uber is that its manufacturing partnerships aren't exclusive.
While Uber has teamed with Volvo and Daimler, both of those companies have their own, independent autonomous driving projects.
Volvo plans to roll out autonomous cars with its partner Autoliv in 2021, while Daimler has partnered with Bosch to make "robo-taxis" and a ride-hailing app. The company declined to say whether the app would involve Uber.
The partnership with Daimler could be a "hedge by Uber in the event that its in-house technology development does not work out," according to the Navigant report.
Uber's self-driving car division is said to be facing a "mini civil war," and testing has been mired in bad press. After failing to apply for autonomous testing permits in California, Uber lost its authorization to try out vehicles there, raising questions about whether it's prepared to compete with long-established companies in a heavily regulated market.
"I'm constantly asked who is going to be the winner in this," said Krebs, the analyst at Autotrader. "There won't be just one winner, because there will have to be many solutions."
Visit here for the latest business headlines.