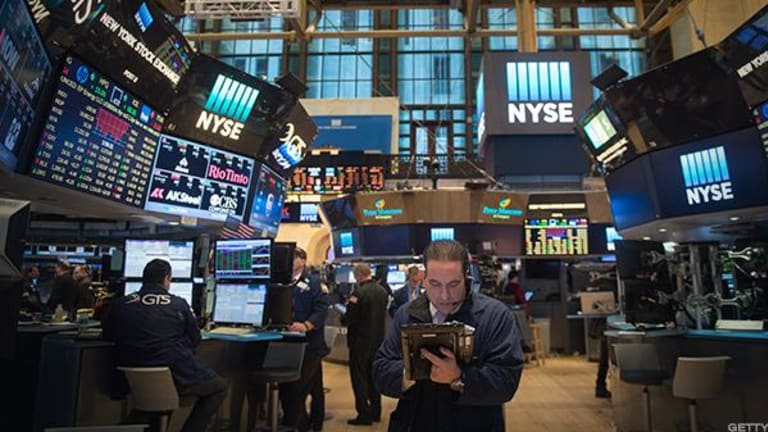 Seeing Signs of Selling but No Signs of Panic ... Yet
Tuesday's selling may have shaken out some weak holders. But there are no signs of panic yet.
This column originally appeared on Real Money, our premium site for active traders. Click here to get great columns like this from Jim Cramer and other writers even earlier in the trading day.
There was a big change in the market Tuesday. No, it wasn't that Nasdaq retreated back to the early June lows. That was somewhat expected based on the analysis I did of the Nasdaq's TRIN just over a week ago (not to mention the Sentiment Cycle). Instead, it was that both stocks and bonds went down on the same day.
Typically, we see a rush to bonds once stocks start to falter. But that didn't happen Tuesday, and that's the change. Several people have asked if that is an island up there on the iShares Barclays 20+ Year Treasury Bond ETF (TLT) now, and the answer is "yes." But to me, an island on an ETF such as TLT can be misleading because bonds -- the underlying instrument -- trade 24/7 -- while TLT does not. So, TLT often has gaps on the chart.
Focus instead on the uptrend line that comes in just over 126 in the chart below:
That's the first support level. If that breaks, folks might pare back their newly found views on "lower for longer." (That is, if they haven't already.)
Then there's the Nasdaq Composite. It hasn't made a "lower low" yet, so I would note that while it still looks like the pattern we saw on the chart of the Sentiment Cycle, unless and until Point G below breaks and the Nasdaq goes to a lower low, I don't think we've gotten to the "panic phase" yet:

Instead, the Nasdaq Composite's uptrend line actually remains intact for now:
What's curious is that a break below 6,100 would break both this uptrend line and the twin lows from early/mid June at the same time (it all depends how thick your pencil is).
But if you want some positives from Tuesday, let me supply them. First, the Nasdaq Composite filled its gap from just over a week ago. Second, the Nasdaq's TRIN hit 1.66, its highest reading since mid-April. Let me point out that in mid-April, the Nasdaq fell for two more days (30 points each day) before it found a floor, interestingly enough, at the uptrend line.
A high TRIN does tend to mean there was a lot of selling, and selling means we're cleaning out weak holders -- which is ultimately bullish. Also, the volume for the QQQ was high on Tuesday, and high volume in the QQQ often means there was some modicum of panic.
Finally, Tuesday's put/call ratio overall was very low at 77%, while the equity put/call ratio was a mere 60%. Neither speak of any level of panic.
It seems the panic was in the buying of VIX calls, as the put/call ratio for the VIX was 16%. Readings under 20% look extreme to me. They're a bet on a higher VIX, which typically means they're a bet on a lower stock market. So, the contrarian call here is for the market to rally.
We've had five such readings this year, including one in January, one in March and one in April. Those three saw the market rally within days (once after falling a bit more in the ensuing one or two days). We've also seen two such readings in June, but both have led to sideways markets so far.
In sum, there were signs of selling on Tuesday -- but not any signs of panic.
(This item has been updated.)
Visit here for the latest business headlines.
Read More Trending Articles:
The Federal Reserve Is Too Optimistic in the Face of a Stealth Economic Slowdown: Market Recon
The 14 Worst Cruise Ships on the CDC's Sanitary Inspection List
When Walgreens Finally Acquires Rite Aid, It Will Be a Terrifying Drug Selling Monster
Helene Meisler writes a daily technical analysis column and TheStreet.com Top Stocks. For more information,
. Meisler trained at several Wall Street firms, including Goldman Sachs and SG Cowen, and has worked with the equity trading department at Cargill. Under no circumstances does the information in this column represent a recommendation to buy or sell stocks. She appreciates your feedback;
to send her an email.